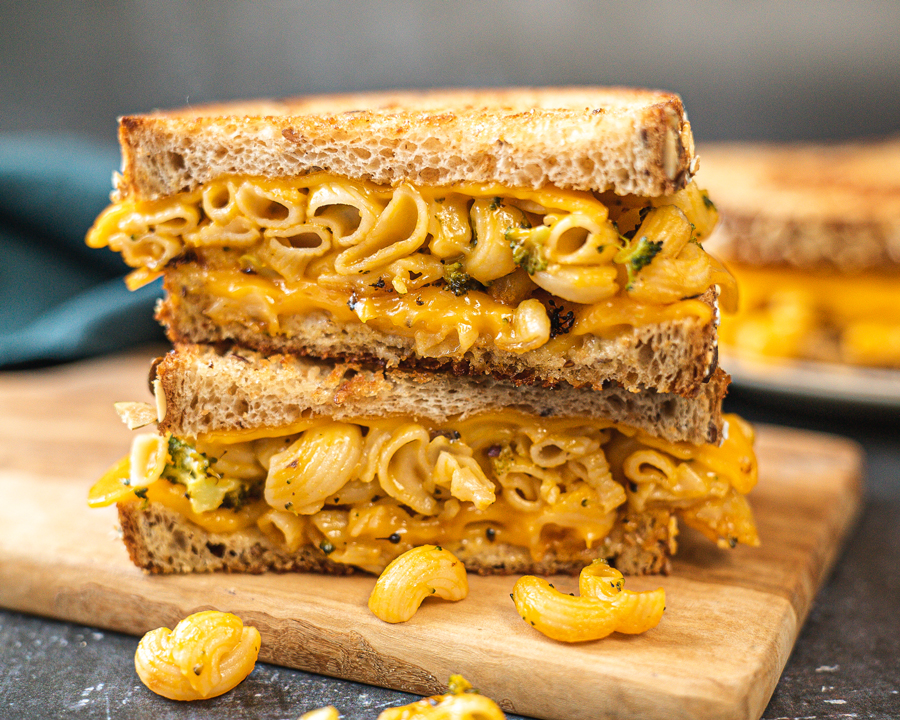 10-mins Easy Grilled Vegan Mac and Cheese Sandwich

Vegan Grilled Mac & Cheese Sandwich
Food waste is one of the biggest issues we are facing right now as human species. Over 800 million people are suffering from severe malnutrition worldwide and about 36 million die from lack of food (Foodtank). While 108 billion pounds of food is wasted in the United States every year. Shockingly, nearly 40% of all food in America is wasted, this inequality due to the over-consumption of food can be avoided by shifting the way we think about food. We can prevent famine, food waste and overproduction of CO2 emissions to our atmosphere by recycling leftover food! Not only does this prevent food waste, but it also saves money that you can allocate to other essential budgets.
I know, that eating reheated leftovers can get boring because as vegan foodies, we love trying new and unique recipes all the time! So I want to start sharing more simple recipes that you can easily spice up and make leftovers taste like a new meal every time! In this recipe, I am using leftover Vegan Mac & Cheese to recreate a Grilled sandwich by adding in some more cheese and your favorite veggies. I love coming up with fun and simple recipes by using ingredients you may already have in your fridge.
Alternative ways to make this recipe:
You can insert almost any leftover from your meals like veggies, pasta, or casseroles! Roasted veggies like peppers, tomatoes or brussels sprouts are great options. You can also use other types of short pasta with vegan cream sauces or thick tomato sauces.

Grilled Mac & Cheese Sandwich
Back in college, there was a grilled cheese corner shop that opened up just between 12:00am~3:00am on weekends just for those late-night munchies after the clubs. I remember one of the best-selling items on the menu was this grilled cheese with mac and cheese sandwich. Fast forward, I am recreating my own vegan version of this recipe. If you are having a late-night craving or need something quick for a lunch break, this savory, cheesy vegan sandwich is an absolute necessity for recycling your leftovers in the fridge. If you love sandwiches and mac and cheese, this is truly the best combination to hit the spot.
How many servings does this make?
This recipe is made for 1 serving but you can always increase the serving size with your leftovers.

INGREDIENTS FOR GRILLED CHEESE MAC AND CHEESE (VEGAN):
KITCHEN EQUIPMENT:
PHOTO

Mac and Cheese Grilled Cheese Sandwich
By mixing in some veggies with leftover mac and cheese and adding it to a grilled cheese sandwich, you can enjoy a fun new meal using things you already have in your fridge.
Instructions
Chop leftover veggies into small pieces and mix into mac and cheese.
Butter the outsides of 2 slices of bread.
Scoop approx ¼ cup of mac and cheese mixture onto one slice of bread, spread evenly and top with the other slice of bread.
Cook in a preheated pan until both sides are golden brown.
Slice and enjoy!
Hey welcome to The Edgy Veg
– we veganize popular food recipes for vegans, plant-based diets, eco-conscious eaters & people who are trying to eat more plants over… y'know animals or their by-products. We hope you enjoy this tasty vegan recipe!
---
Looking For More Vegan Sandwich Recipes?
Made this recipe? Let me know what you think by leaving a ★★★★★ star rating & comment below. It truly helps me & I really appreciate any support! Feel free to share your food photos on social and tag me @edgyveg so I don't miss it!