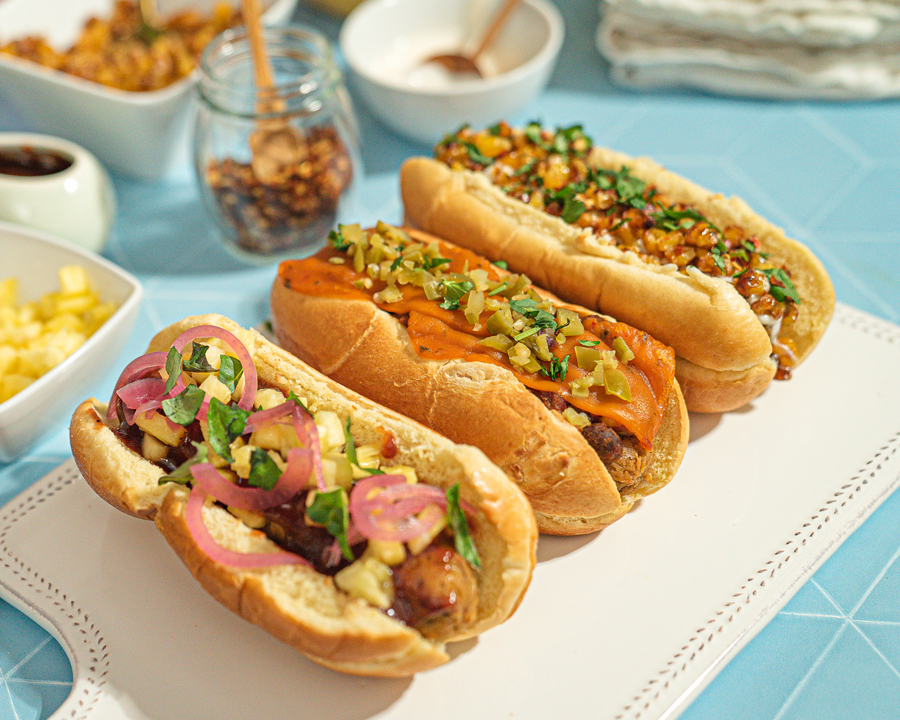 Mix & Match Vegan Hot Dog Party Tray

Vegan Hot Dog Party Tray
Is it raining outside? No problem. Springtime is the perfect season to host an indoor party that you can arrange with some of your closest friends and family for a backyard BBQ party. Whether it's game day or an indoor carnival-themed birthday party, Vegan Hot Dogs are a crowd-pleaser. Take your party up a notch with minimal effort with this Mix & Match Vegan Sausage Party Tray. DIY sausage bar is definitely an Instagram-worthy dish and you don't want to miss out on this eye-catching and tasty treat!
All you need for this recipe are your favorite plant-based sausages, grilled, and choose from your favorite topping combinations to pair with the sausages – the full recipe is provided below.
For this recipe, I chose 3 very popular flavors: Chili cheese dog, Mexican street corn, and Hawaiian BBQ. You can also use the same toppings on vegan patties as well if you are more of a (vegan) burger person.
If you want more indoor DIY Vegan party tray ideas, you can also check out the Easy Date Night Charcuterie Board, Vegan Cheeseball, Vegan Grazing Board.
Alternative ways to make this recipe:
You can combine the toppings with a vegan burger recipe or replace the plant-based sausages with Carrot Hot Dog Recipe instead. There is so much freedom in combining plant-based "meats" with endless topping combinations. Share with me some of your favorite hot dog recipes in the comments below or tag me on Instagram.

DIY Vegan Sausage Bar
DIY Vegan Sausages are a great way to serve your guests with minimal cooking time and delicious kitchen hacks. If you are new to the vegan lifestyle or want to consume more plant-based foods, substituting the foods you already.love and enjoy is a great way to transition and enjoy this lifestyle. Let's normalize vegan options as a necessity for sporting events and potluck parties where everyone can have a bite.
How many servings does this make?
You can make as many hot dogs as you'd like. The best way to portion out your food is by counting at least 2~3 vegan hot dog options per guest so that everyone can try at least one of each flavors.

INGREDIENTS FOR DIY SAUSAGE BAR (VEGAN):
Mexican Street Corn
Chili Cheese
Hawaiian
KITCHEN EQUIPMENT:
PHOTO

DIY Vegan Sausage Bar
This is such a fun way to serve a meal with minimal effort and no one will believe it's plant-based. Sports events and parties are really all about the food anyway.
Ingredients
Mexican Street Corn
Chili cheese
Hawaiian
Instructions
Mexican Street Corn:
Mix corn, oil & salt together and roast on a lined baking sheet at 400F for 20-30 mins or until golden and crunchy. Mixing once or twice.
Top sausage with lime mayo, sprinkle with roasted corn and cilantro and garnish with chili flakes.
Chili Cheese:
Add cheese to the top of the sausage.
Melt a slice of cheese under the broiler
Top with chopped jalapenos and crushed ruffle chips.
Hawaiian:
Add all toppings to the sausage.
Hey welcome to The Edgy Veg – we veganize popular food recipes for vegans, plant-based diets, eco-conscious eaters & people who are trying to eat more plants over… y'know animals or their by-products. We hope you enjoy this tasty vegan recipe!
---
Looking For More Vegan BBQ Themed Recipes?
Made this recipe? Let me know what you think by leaving a ★★★★★ star rating & comment below. It truly helps me & I really appreciate any support! Feel free to share your food photos on social and tag me @edgyveg so I don't miss it!