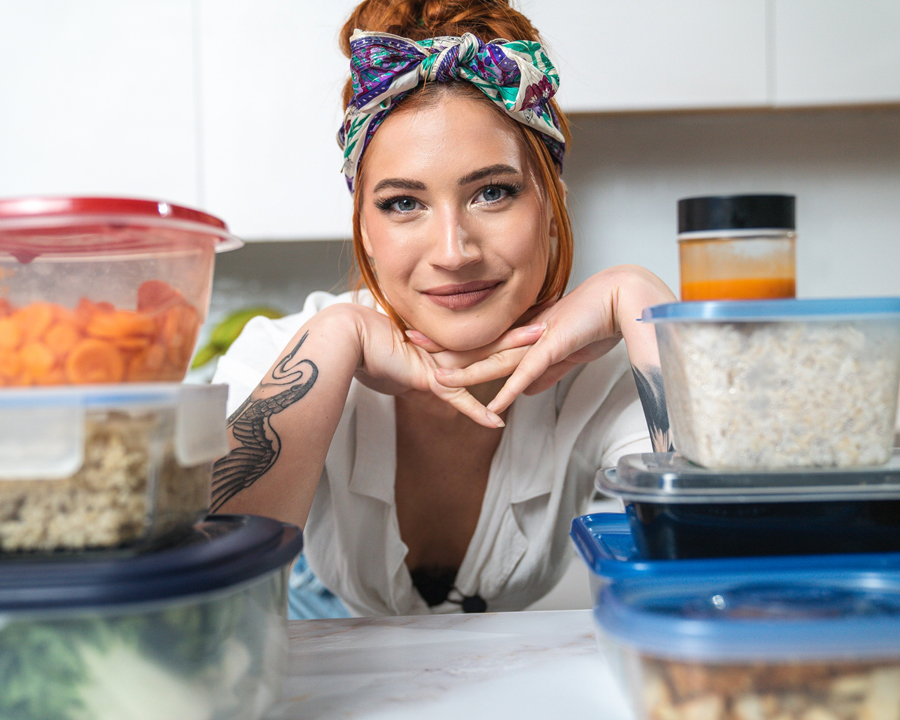 2-Step Easy Meal Prep Tips for Vegans
These past few years have been very unpredictable, to say the least. With COVID impacting the way we live, our daily routines and habits have shifted. As a health enthusiast and a vegan chef, I have been recreating ways to help educate and inspire aspiring vegans to transition to this lifestyle. But I understand that being vegan does come with the initial investment of time and resources because you will be cooking 99% of the time. With this in mind, I wanted to share with you a list of meal prep tips that can help you save money and time throughout the weeks so you can better prepare for your next healthy meal.
If you can relate to any of the pain points of meal prepping, this blog is for you!
Inflation has caused food prices to tank, so you are trying to save money by cooking more at home.
Meal prepping is not as enjoyable because you prefer spontaneity for food.
Meal prepping for 5 days of the week on a Sunday night is unsustainable because it's just too much work.
Microwaveable meals are unappealing.

Related Post: Top 10 Cooking Tips for New Vegans
Here are my tips for making vegan meal prep that you actually want to eat
1. Prep & Plan with Portions In Mind
Freestyling in the kitchen is fun until it tastes horrible! We all have a little too much fun in the kitchen sometimes and end up creating meals that are almost unsalvageable. Toavoid food waste, pick and prepare recipes you want to make for the week and make sure you actually love them! You can start by picking different ingredients based on portions For example, what is your base (carbs), proteins, veggies, and sauces you want to combine? You can start by checking stocks of all the items in your pantry and fridge to start creating meal preps around what you already have. You can make so many variations using the same ingredients.
Here is an example of one week's plan, swap out for what suits you.
Bases:
Wraps
Quinoa and/or rice
Potatoes (diced) toss with oil, seasoning salt, & pepper & roast
Protein
Veggies:
Sliced Carrots
Greens like; Arugula, Spinach, Bok Choy
Cherry Tomatoes
Broccoli (raw & roasted)
Diced Cucumber
Sauce: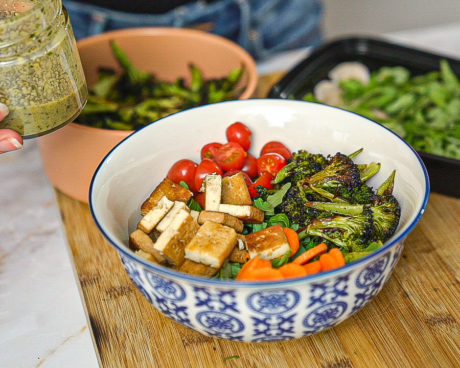 Related Post: Top 12 Vegan Viral TikTok Recipes
2. Make Your Ingredients Easily Accessible
Prepare everything as soon as you get home from the grocery stores after you have compiled your list. When your fridge is packed with already chopped and washed veggies, it will save you hours of cooking time. This way, you can just grab any of your prepped ingredients to make a stir fry, build a salad, or even just snack on them when you need to refuel! When your fridge is fully stocked with all your favorite ingredients, your creativity is endless.
Tips:
Use a food processor to cut your veggies! This will literally cut your prep time in half. You can slice, chop or even dice all your veggies for the week.
Roast some veggies & keep some raw for variety, and store them in airtight containers.
Pre-cook your grains & proteins & pick more than one so you don't get meal prep burnout by eating the exact same meal every day
Example meals:
Stir-fry: veggies just need to be sautéed before adding cubed marinated or cooked tofu and sauce then serve over rice
Bowls & Salads: you could make a different bowl or salad every day simply by switching up ingredients. Use a base, and some fresh or roasted veggies & protein to make a bowl or lunch or do the same but with greens as a base. potatoes are awesome in salad or bowl as well.
Tacos: Use the tacos or tenders for tacos with greens, and chopped tomatoes
Wraps: make a buffalo wrap with tenders, spinach and buffalo sauce, or a burrito with chili.
Hey welcome to The Edgy Veg – we veganize popular food recipes for vegans, plant-based diets, eco-conscious eaters & people who are trying to eat more plants over… y'know animals or their by-products. We hope you enjoy this tasty vegan recipe!
---
Looking For More Vegan Meal Prep Recipes?
Let me know what you think by leaving a ★★★★★ star rating & comment below. It truly helps me & I really appreciate any support! Feel free to share your food photos on social and tag me @edgyveg so I don't miss it!