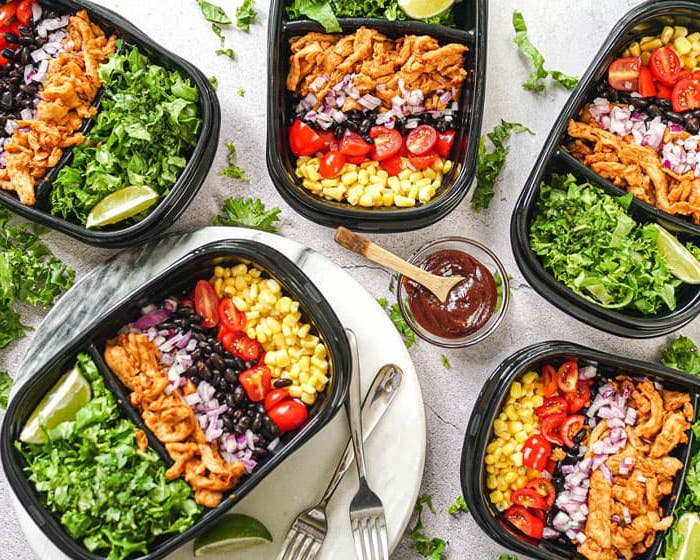 Vegan Salad (Meal Prep Idea)
If you love new vegan salad ideas AND meal prep, you'll love this vegan soy curl chicken salad recipe! This is a delicious back-to-work or back-to-school meal prep lunch that you can make in 10 minutes!
This vegan salad can also be a burrito bowl meal prep since it's lettuce, black beans, cherry tomatoes, corn, onion, lime, and vegan chicken strips (soy curls). It's perfect for a lighter lunch or if you prefer, you can add some extra heartiness with rice, quinoa, guacamole, vegan cheese and/or additional dressing. 
Related Recipe: Bento Box Lunch Ideas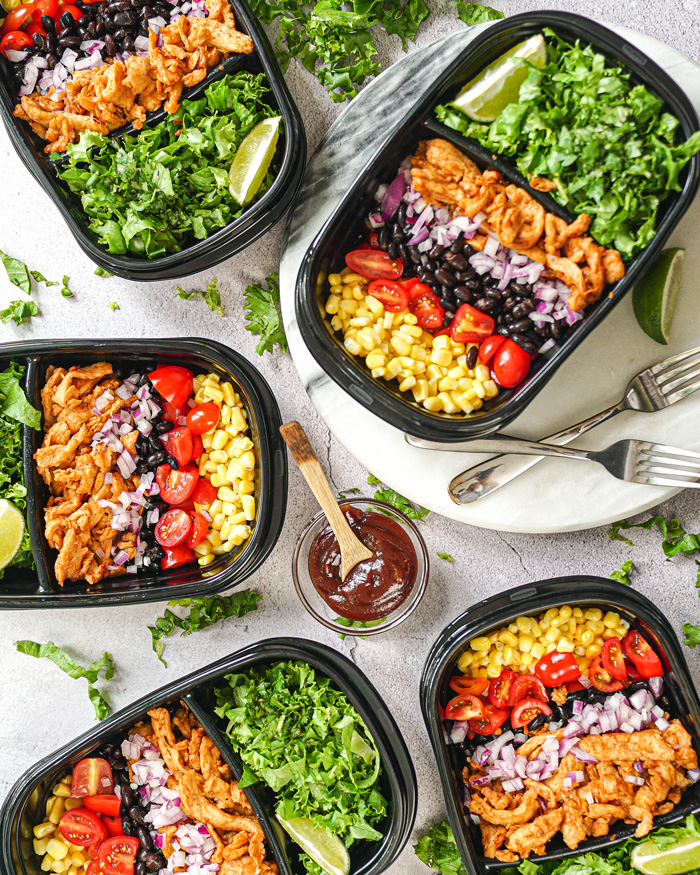 Vegan Salad – Meal Prep Idea
Meal prepping this vegan salad is super easy and perfect to grab and go for a busy day at school or work.
All you need to do to make this vegan salad is cook the soy curls, and layer the salad in, mix the pico de gallo and serve with dressing on the side. 
Related Post: Meal Prep Lunch Idea: Charcuterie Lunchbox
INGREDIENTS FOR MEAL PREP SALAD (VEGAN):
KITCHEN EQUIPMENT I USED:
Full Recipe Down Below
Vegan Salad (Meal Prep Idea)
If you love new vegan salad ideas AND meal prep, you'll love this vegan soy curl chicken salad recipe! Perfect back-to-school or back-to-work meal prep lunch!
Instructions
In a large pan, heat 1 tbsp olive oil over medium-high heat. Add soy curls and cook until health through and slightly charred in areas 5-8 minutes. Transfer soy curls to a large bowl and toss with BBQ sauce. Set aside.
**I like to add a piece of paper towel or cut cloth to the bottom of my meal prep containers to soak up moisture. This is completely optional, but I find it helps to keep veggies fresh and not soggy.
In 5 meal prep containers, evenly divide up the BBQ soy curls, black beans, corn, tomato, red onion, cilantro, and lime.
Place romaine lettuce into sandwich bags or dividers, and portion dressing, if using, into containers or jars.
Store prepped salads in the fridge for up to 4 days.
To Eat: When you are ready to enjoy your lunch, add romaine to the rest of the ingredients, squeeze the lime wedge and shake up the salad. Dress with dressing, if using, and enjoy!
Nutrition Information
Serving size:
1 serving
Calories:
272
Fat:
6.4g
Carbohydrates:
25.6g
Sugar:
9.8g
Fiber:
12g
Protein:
18.6g
---
Hey I'm Candice aka The Edgy Veg – I veganize popular food recipes for vegans, plant-based diets, eco-conscious eaters & people who are trying to eat more plants over… y'know animals or their by-products. I hope you enjoy this tasty vegan recipe!
---
Looking For More Vegan Meal Prep Recipes?
Made this recipe? Let me know what you think by leaving a ★★★★★ star rating & comment below. It truly helps me & I really appreciate any support! Feel free to share your food photos on social and tag me @edgyveg so I don't miss it! 
Share My Recipe on Pinterest