Vegan Salad (Meal Prep Idea)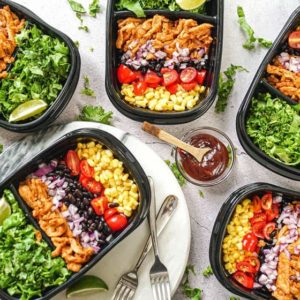 In a large pan, heat 1 tbsp olive oil over medium-high heat. Add soy curls and cook until health through and slightly charred in areas 5-8 minutes. Transfer soy curls to a large bowl and toss with BBQ sauce. Set aside.
In 5 meal prep containers, evenly divide up the BBQ soy curls, black beans, corn, tomato, red onion, cilantro, and lime.
Place romaine lettuce into sandwich bags or dividers, and portion dressing, if using, into containers or jars.
Store prepped salads in the fridge for up to 4 days.
To Eat: When you are ready to enjoy your lunch, add romaine to the rest of the ingredients, squeeze the lime wedge and shake up the salad. Dress with dressing, if using, and enjoy!
Serving size:
1 serving
Calories:
272
Fat:
6.4g
Carbohydrates:
25.6g
Sugar:
9.8g
Fiber:
12g
Protein:
18.6g
Recipe by
The Edgy Veg
at https://www.theedgyveg.com/2021/09/09/vegan-salad-meal-prep/