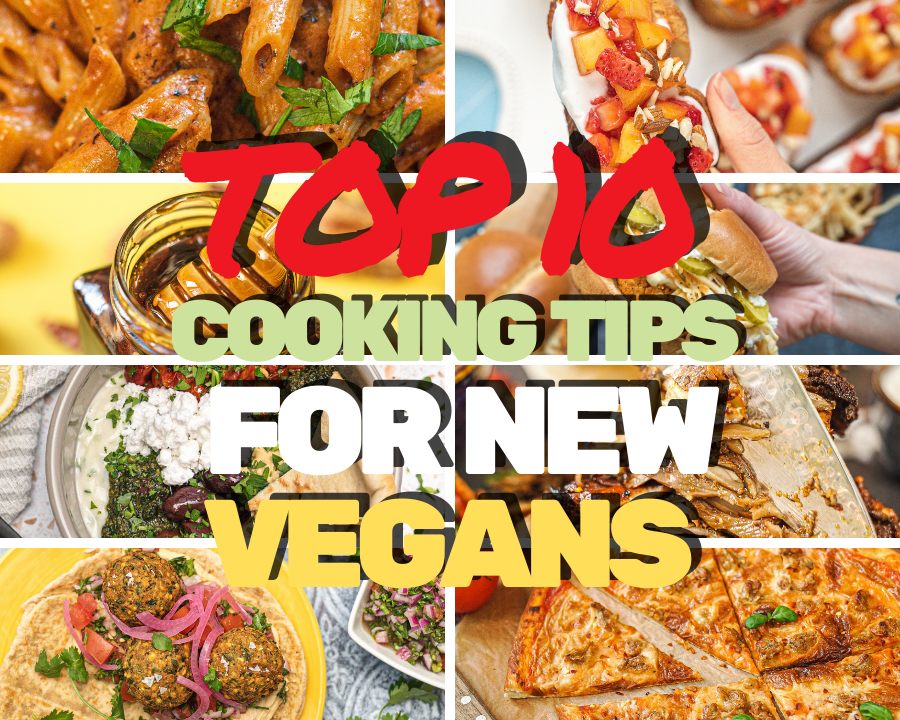 Top 10 Cooking Tips for New Vegans
TOP 10 Cooking Tips for New Vegans!
Are you considering going vegan and not sure if you are ready to jump into the waters? Rest assured, I have been a vegan for more than 14+ years now and I have helped thousands of people transition into their vegan lifestyle. I understand that it might be intimidating to go vegan right away, so I wanted to share with you my Top 10 Cooking Tips for New Vegans on this blog post. You can also check out my video where I talk about 10 Things I wish I knew Before Going Vegan. I am so excited for you to explore an endless amount of recipes with a plant-based diet.
Is plant-based cooking harder than meat-based cooking? 
Well, it depends on how much time you are willing to invest in learning new recipes. Just like acquiring any new skill, it requires practice, patience, and a little bit of creativity. As long as you keep an open mind with the right intentions to change into your vegan lifestyle, you will enjoy cooking delicious vegan foods. You might even surprise yourself in the process.
If you love food and want to learn how to cook ethically, Great! You are more than halfway there towards becoming an awesome vegan chef.
If you are new to the kitchen, cooking vegan is a great way to kick-start your cooking journey as we don't have to worry about eating undercooked or overcooked meat. You can also try some unique homemade sauces that you can whip up to upgrade your everyday meals that is budget-freindly and plant-based.
Vegan recipes can be as easy as cooking stir fry or as complicated as a seitan roast from scratch. Like all cooking, there are various degrees.
So here are my Top10 Vegan Cooking tips for New Vegans…
Some of the foods you consume are already vegan like most dried pasta, baking mixes, chips, crackers, many sauces, and obviously, fruits and veggies! You can also substitute foods you already love with a vegan alternative products you can find at the "natural food" aisle at the grocery store. You can find foods like vegan cheeses, milk, butter and broth.
Recipes that are "accidentally vegan":
2. Start by cooking foods you love with plant-based alternatives.
For example, use non-dairy butter or margarine instead of butter, egg-free vegan mayo instead of regular Hellmans, or vegetable broth instead of chicken or beef broth.
Recipes with simple vegan swaps:
3. Replace veggies as your main dish.
Cast aside that notion that you have one hero item like a steak and the veggies are just the side items. Treat your veggies like the hero! A lot of vegan dishes are items like curries, pasta, veggies bowls, and you think of your plate like one whole unit instead of individual pieces.
Great examples of these:
4. Use cooking techniques you would use on meats
but on veggies, tofu, and other proteins! Marinade them, roast them, BBQ them! Stop steaming carrots and then saying you don't like them. No vegetable is good when it's unseasoned and steamed or boiled. Yuck.
Using veggies like meat:
5. SEASON YOUR FOOD.
In the same way you wouldn't eat unseasoned chicken, plant-based food should not be just steaming either. Try seasoning your veggies with diverse spices and herbs.
6. Plan & Prep!
I can't emphasize how much time this will save you in the kitchen. To commit to a plant-based diet, set aside 1-2 hours once a week to plan and grocery shop. Then prep all your vegetables, and mince or grate your garlic and/or ginger for the week, and store them in your fridge until you need them. This will help entice you to make that meal at home instead of ordering in on lazy days.
7. Keep it simple & efficient.
Start by reading the recipe from start to finish before you begin. This will help you cook more efficiently. You'll be able to see where you can multi-task, and add time to clean up as you go. Measure out all of your herbs, spices, liquids, and chop your veggies in advance. I like to then organize them in small bowls or areas on my cutting board in the order they will be used.
8. Stock your kitchen with these essential 3 tools:
A chef's knife, a high-speed blender, and a food processor. A nice sharp knife is going to be your bestie for quick and efficient chopping. My blender is my most used appliance. It's great for making smoothies, but you can also make all your sauces, cashew creams, soups, cheese, even homemade plant-based milk, and vegan desserts in it! A food processor isn't totally necessary but it's really nice to have for chopping, slicing and shredding veggies, nuts and seeds in under 15 seconds as well as making pestos and tapenades.
9. Don't be afraid to elevate convenient foods.
Just because you're vegan doesn't mean you should make everything from scratch all the time. I love to use instant ramen packets and elevate the broth and add tons of veggies and tofu for a hearty soup on a lazy night, or use a box of vegan mac & cheese, and add in some chopped spinach, veggie ground beef or sauce and some tomato paste for an elevated hamburger helper-style dinner. Try making an easy buffalo Ceasar salad with frozen veggie nuggets!
10. Have fun and stay inspired.
Apps like TikTok, Instagram and Pinterest are amazing resources for new recipe ideas and a great visual learning experience for all kinds of cooking techniques you may be unfamiliar with. Try recipes from different cultures and ingredients that are new to you. It's fun to try something new!
Vegan Cooking Tips for Beginners
Ingredients
Get to know what foods are already vegan, and get to know some great vegan products.
Make recipes you already know and love but with the easy-to-find plant-based ingredients.
Rethink how you look at your plate.
Use the same techniques you used on meats.
SEASON YOUR FOOD.
Plan & Prep!
Keep it simple & efficient.
Stock your kitchen with tools.
Don't be afraid to elevate convenience foods.
Have fun and stay inspired.
Instructions
Choose recipes you love and make a collection of delicous vegan recipes you can make all the time! Have fun learning new techniques and trying new foods/
Hey welcome to The Edgy Veg – we veganize popular food recipes for vegans, plant-based diets, eco-conscious eaters & people who are trying to eat more plants over… y'know animals or their by-products. We hope you enjoy this tasty vegan recipe!
---
Looking For More Vegan Topics?
Made this recipe? Let me know what you think by leaving a ★★★★★ star rating & comment below. It truly helps me & I really appreciate any support! Feel free to share your food photos on social and tag me @edgyveg so I don't miss it!