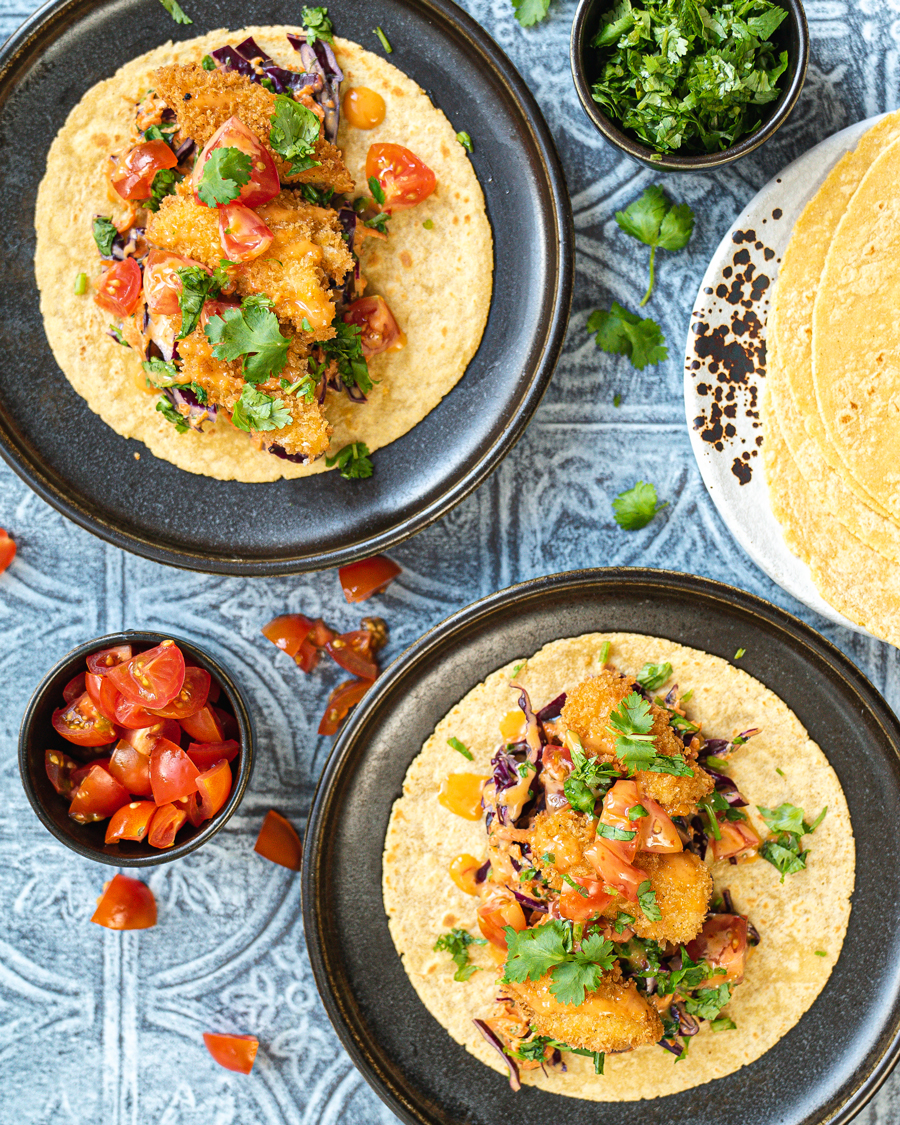 The Best Vegan "Shrimp" Tacos

Vegan Bang Bang Shrimp Tacos
What is a taco night without a vegan twist? That's right, today we are making Vegan Shrimp Tacos! Bang Bang style. If you've never tried bang bang sauce, it's usually made from mayonnaise, sweet chili sauce and sriracha. It pairs so well with the crispy, chewiness of the shrimp and spices up your favorite vegetables. In under 30mins, I will show you how you can make "shrimp" with canned hearts of palm and some flavourful batter to make a memorable meal for both your vegans and non-vegans friends.
Alternative ways to make this recipe:  
Instead of making tacos, you can use Vegan "Shrimps" in sandwiches, salads or enjoy it on its own with the sauce of your choice. As long as you have these fried Vegan Shrimps alternatives, you can use this recipe for any of your favorite cuisines.
Vegan Shrimp Tacos
There are not very many vegan shrimp recipes out there. And getting these at the grocery stores can cost a ton of money over time. That is why I really enjoy creating these meat alternatives to help non-vegans and vegans have more options at the dinner table without having to sacrifice too much money and time for their meals. Vegan cooking just requires a little bit of creativity and love for food with FLAVOR. Bang Bang shrimp tacos is a spin-off of Bang Bang chicken, which is a traditional street-styled dish well-known in the Szechuan region of China. Over time, globalization really mixed up all flavors of this "bang bang" sauce and integrated it into tacos and shrimps. Now we are able to veganize this long history and create this amazing dish that everyone can enjoy and appreciate around the world.
The perfect texture and flavours of the bang bang sauce with the fried heart of palms make it irresistible to not have it with a can of cold beer. This definitely will be your next party trick to your family gathering or a girl's night.
How many servings does this make?
2 cans of hearts of palm can make about 12 tacos. Leftover vegan shrimp can be reheated in the oven or the air fryer to achieve the ultimate crisp level.

INGREDIENTS FOR BANG BANG SHRIMP TACOS (VEGAN):
Vegan Slaw:
Bang Bang Sauce
Fried Hearts of Palm
KITCHEN EQUIPMENT:
FULL RECIPE DOWN BELOW
Never miss a video by clicking here to Subscribe to my Channel
Bang bang "Shrimp" Tacos
What says summer, freshness and fun more than tacos? Tacos are a super quick and easy meal that everyone loves. They are always a crowd-pleaser. And they're really, really good when they're vegan.
Ingredients
Vegan slaw
Bang Bang Sauce
Fried Hearts of Palm
Instructions
For the Vegan Taco Slaw:
In a small bowl, whisk together apple cider vinegar, maple syrup, celery salt, dried dill, and black pepper. Set aside.
In a medium mixing bowl, combine cabbage, grated carrots, and cilantro. Next, add the dressing. Add more vinegar necessary. Set slaw aside.
For the Bang Bang Sauce:
In a medium mixing bowl, combine vegan mayo, sweet chili sauce, and Sriracha sauce.
Taste, and add more Sriracha as needed. Set aside.
For the Fried Hearts of Palm:
On a plate, combine paprika, garlic powder, and flour.
In a small bowl, make egg replacer.
On another plate, spread out Panko breadcrumbs.
Place all 3 in order on the table in front of you.
One at a time, toss each piece of hearts of palm in the flour mixture, the egg replacer, then the panko.
Place each piece in the basket of an airfryer, into a pan with hot oil, or on a lined baking sheet.
Repeat with all pieces.
Spray with oil before cooking if not frying, to make a crispier texture.
Air fry at 400 degrees for 8 mins, flipping halfway.
Bake at 425 degrees for 10 mins, flipping halfway.
Or fry in a pan with 2-3 tbsp of oil until golden brown.
Assembling Tacos:
Once cooked, toss hearts of palm pieces in Bang Bang Sauce.
Add some of the Vegan Taco Slaw to a flour tortilla.
Place 2-3 hearts of palm pieces on top of the slaw.
Top with diced tomato and cilantro.
Hey welcome to The Edgy Veg
– we veganize popular food recipes for vegans, plant-based diets, eco-conscious eaters & people who are trying to eat more plants over… y'know animals or their by-products. We hope you enjoy this tasty vegan recipe!
---
Looking For More Vegan Recipes?
Made this recipe? Let me know what you think by leaving a ★★★★★ star rating & comment below. It truly helps me & I really appreciate any support! Feel free to share your food photos on social and tag me @edgyveg so I don't miss it!