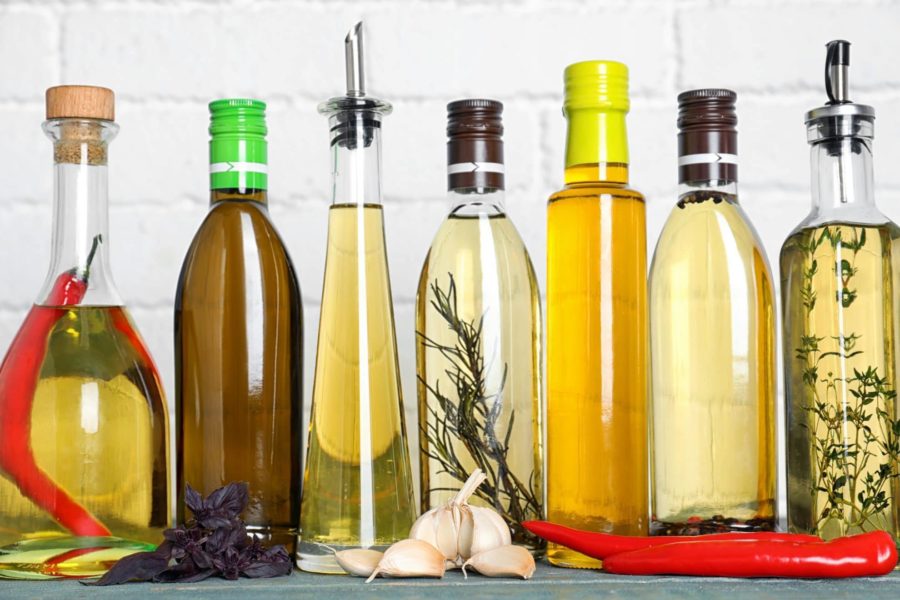 Types of Oils and How To Use Them
I often get asked about my cooking techniques and the ingredients I keep in my kitchen at all times. I want to share my personal opinions with you about all of the different types of oils I use and how I use them. If you're more interested in nutrition, there are reliable dieticians and other science-based resources online, but here I will show you why I use each one for its cooking purpose and best recipes. 
Oils are the liquid forms of fat coming from vegetables, nuts, seeds and grains. Oil adds flavour to cooking and finishing recipes.  
Types of Oils and How I Use Them
This guide to oils is for anyone looking to learn more about cooking or grow their pantry with new products to use for new recipes. I keep all of these types of oils on hand, but if you don't cook as often as I do, you should be fine with vegetable oil, avocado oil and fancy olive oil to get you started. 
I've listed a range of types of oils below as well as how I use them in my recipes. If you have any questions or comments, leave a comment under this post!
Olive Oil
Everyday cooking oil, one of the most common oils found in most American and European recipes. It has a smoke point of about 400 degrees F, which means it is safe to cook up to that temperature and will not burn. It's flavour is mild and the colour is golden.
Fancy Olive Oil
Extra virgin olive oils are not for cooking, they are used as finishing oil, used for salad dressings etc. They have a more robust flavour and scent and can be different, sometimes almost spiced and sometimes more on a lemony flavour. Do not cook with these as they have a low smoke point and will lose their flavour if cooked too high.
Vegetable or Canola Oil
This is typically used for deep frying. It has a high smoke point and ultra-neutral flavour. Often the most affordable oil and used in the highest quantity. 
Avocado Oil
Avocado oil is an everyday cooking oil. It has a neutral smell and flavour and slight green colour. It has one of the highest smoke points at 500 degrees F, meaning it is safe to eat after being exposed to high heat and will not burn. Typically one of the more expensive oils, but good quality. 
Coconut Oil
There are two different types of coconut oil: refined or unrefined/virgin. I use both regularly. Refined coconut oil has been processed to remove the coconut smell and flavour, I use this to make vegan cheese like my vegan feta recipe. There is also virgin or unrefined oil, this maintains the natural coconut scent and flavour and I use it to sautee vegetables when making a curry or any dish that I'd like a coconut flavour in. I also use butter-flavoured coconut oil to make my popcorn. Be careful when cooking with coconut oil as it has a low smoke point and burns easily. 
Sesame Oil
Sesame oil is used for finishing. I typically buy toasted sesame oil and use it in sauces or to finish fried rice or noodle dishes. Use sparingly as the scent and flavour can be strong. 
---
Hi! I'm Candice aka The Edgy Veg!  I veganize popular food recipes for vegans, plant-based diets, eco-conscious eaters & people who are trying to eat more plants over… y'know animals or by-products of animals. I hope you enjoy this tasty vegan recipe!
---
Looking For More Educational Vegan Content?
Liked this article? Let me know what you think by leaving a ★★★★★ star rating & comment below. It truly helps me & I really appreciate any support! Feel free to share your food photos on social and tag me @edgyveg so I don't miss it!
This post was inspired by Cooking with Shereen on Tiktok