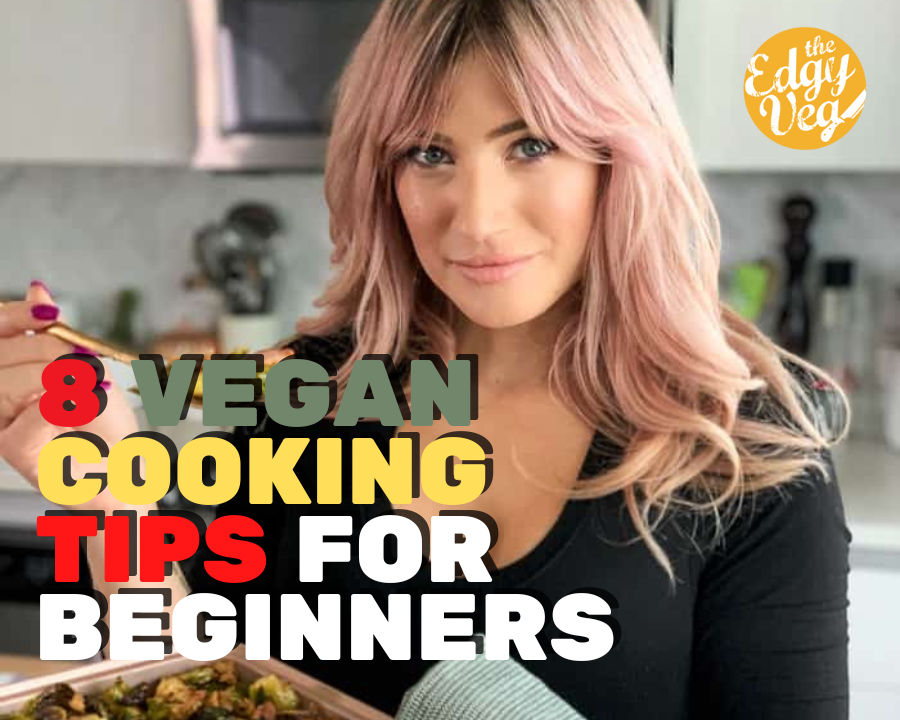 8 Vegan Cooking Tips for Beginners
Vegan cooking is fun and relatively easy to learn. It is fresher, healthier, and tastier when cooked with high-quality ingredients and the right guidance. 
More and more people are turning to vegan diets for several reasons. Some of the significant reasons are:
Cooking vegan meals may look difficult at first, but with practice and patience, you can master any skill. Following these guidelines is a great first step towards starting your vegan lifestyle journey. 
1. Stock Your Kitchen With Plant-Based Ingredients
A vegan meal begins with great ingredients. A good place to start is by going through the current selection of your favorite foods in your kitchen and seeing how you can replace them with plant-based ingredients. 
For example, there are many dairy-free products in stores you can purchase. Can you replace your meat ingredients with plant-based alternatives? If you love sweets, try vegan desserts. You can ensure that you are buying plant-based by double-checking the packaging banner designs.
Categories to consider when purchasing plant-based ingredients:
Veggies

Fruits

Grains

Nuts and seeds

Legumes

Condiments
Spices
Starch
Protein
2. Learn Basic Cooking Techniques 
Cooking is so much more fun when you master a variety of different cooking skills. Some of the essential cooking techniques are: 
Chopping

Steaming

Boiling

Marinating

Roasting
The more recipes you learn, the faster you will get to master some of these skills. My favorite one is learning to marinate because this can easily elevate your cooking experience and make any plain ingredients taste good. Like some of my favorite chicken recipes!
3. Prepare ingredients in Advance
This tip is one of the most efficient ways of not spending more than 30mins+ of your time in the kitchen for every meal. A great cooking experience starts with preparing all your ingredients in advance. Especially for the most common ingredients like garlic, onions, carrots, celery, cabbage, etc. Preparation is key to preventing injuries and overcooking food. 
4. Add Spices to Your Vegan Foods
Spices can make or break your vegan cooking experience. Who wants to just eat plain vegetables? Spices can range in so many unique flavors, from your Asian cuisine to South American spices, you can bring just about any global flavor to your kitchen. Some of the most common spices I use are: 
5. Add Herbs to Your Ingredients.
Herbs are another great way to elevate your cooking experience – not only do they add an Earthy fragrance to your dish, but have tremendous health benefits as well. Herbs can be used in fresh or dried form, depending on their availability – some of the best ways to grow home-grown herbs can be found in the link here. 
The most common herbs used in vegan foods are:

6. Try Varieties of Oils
A variety of oils are used for different cooking purposes. If you are using fresh ingredients with low cooking temperatures, I recommend using olive oil, whereas for high cooking temperatures, I would recommend coconut oil or canola oil. You can incorporate many different types of oils when cooking vegan recipes, like this homemade vegan feta recipe. 
Coconut oil is made by pressing dried coconut meat, called copra, or fresh coconut meat. To make it, you can use a "dry" or "wet" method.
The milk and oil from the coconut are pressed, and then the oil is removed. It has a firm texture at cool or room temperatures because the fats in the oil, which are mostly saturated fats, are made up of smaller molecules. It is a great option for sautéed dishes, sauces, and baked goods.
Avocado oil is extracted from the fruit pulp. It can be refined, unrefined, or cold-pressed oil. It is neutral in flavor and suitable for many kinds of cooking. Avocado oil has monounsaturated fatty acids that are healthy for the heart. 
Olive oil is cold-pressed and considered one of the healthiest oils. It is crushed by mechanical means and is rich in flavor. Olive oil is best for low-temperature cooking and an excellent ingredient for homemade salad dressing. 
Sesame oil
Sesame oil is available in two kinds, light and toasted sesame oil. Light sesame oil is neutral in flavor, while toasted sesame oil is nutty and has an aroma. Light sesame oil being neutral in taste, can be used in many kinds of cooking. Furthermore, it is healthy as it contains polyunsaturated omega-6 fatty acids and anti-inflammatory antioxidant properties. On the other hand, toasted sesame oil is best for seasonal foods and homemade dressing. 
Walnut Oil
Cold-pressed walnut oil is best for cooking as it has a nutty taste. It adds a new flavor to your vegan foods. It is rich in unsaturated fats, such as omega-3 and omega-6, that are anti-inflammatory and may promote healthy glowing skin. Walnut oil is also great for lowering blood pressure. 
Canola oil is oil made from crushed canola seeds. One of the best oils for heart health, canola oil has less saturated fat than any other oil commonly used in the North America. Cutting down on saturated fats helps cut your cholesterol levels.
7. Improvise and Get Creative in the Kitchen
New recipes are created by cooking with new ingredients or making beautiful mistakes in the kitchen. That's why I always recommend using your favorite ingredients and components to prepare unique dishes. 
Follow some of your favorite recipes and add your own creative twist to them. Once you have mastered basic vegan cooking foods, you might want to get more adventurous in the kitchen.
8. Motivate Yourself with New Recipes and Keep On Learning
Life is a continuous learning process. Remember that mastering a skill comes with practice and curiosity for learning. Try your best to keep yourself motivated by embracing failure as a stepping stone for the next successful dish.
Share your experiences with your friends and family and don't forget to have fun in the process. You can always cook with different ingredients and various techniques to create beautiful meals in the kitchen that you will be proud of. 
Conclusion
Homemade vegan foods are not only great for your health, but great for the environment. Cooking vegan foods does not have to be intimidating, rather it can be a start of a new lifelong journey that makes you want to keep learning and growing. 
Looking for more Easy Ways of Cooking Vegan Foods? You can PURCHASE your book now!