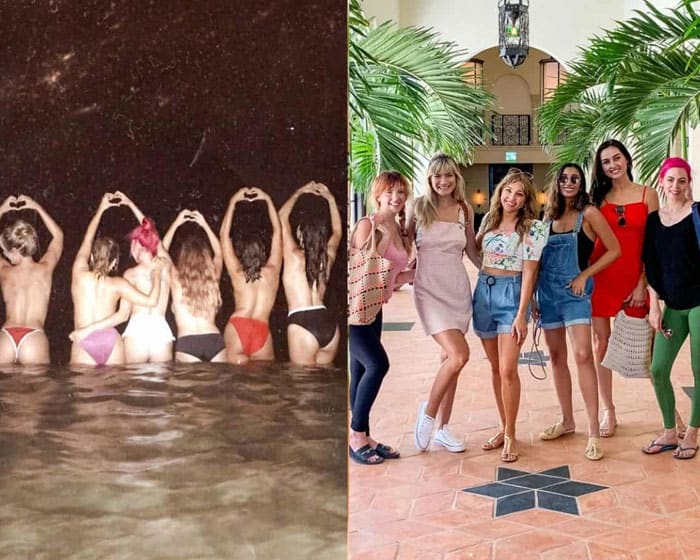 Vegan Women Bloggers & Influencers To Follow
Here is a roundup of vegan women bloggers & influencers to follow! I've been wanting to create a blog post highlighting all the kickass women who are vegan bloggers or creators and truly make a change or create an impact in our community.
International Women's Day is on March 8th and to celebrate, I wanted to highlight some women who work in my industry and add so much to the vegan community. I could probably make an endless list of amazing vegan women, so please be apart of the conversation by commenting other vegan women bloggers & influencers you think people should follow!
Vegan Women Bloggers & Influencers
The goals of International Women's Day are to:
celebrate women's achievements
raise awareness about women's equality
lobby for accelerated gender parity
fundraise for female-focused charities
You can learn more about International Women's Day here!
In no particular order, here is a list of some strong, intelligent, and beautiful people who identify as women in the vegan space! We all know how difficult it can be to be a woman sometimes, and I want to share this list to show how proud I am of these women and celebrate them.
Leave a comment letting me know some women you're proud of today!
---
Rose is one of my ultimate gal pals in the vegan space. She runs a successful website, YouTube channel, Instagram page, podcast and even a Vegan Cafe in Calgary, Canada with her mom.
Sadia is a certified vegan dietician. She shares her knowledge and recipes on her YouTube channel and website where she focuses on uncomplicated vegan recipes that are nutritious, delicious and visually appealing. 
Tabitha is a vegan mom who promotes a healthy lifestyle with her humour and gentle voice. She went viral for being one of the kindest people on the internet. 
Joanne is a story-teller with her recipes, she speaks to people using food and personal stories. She is currently writing her debut book, has over 1 million followers on TikTok and she also works as a lawyer in Chicago.
Olivia Biermann (@itslivb)
Liv is a baker, a video maker and a two-time cookbook author. You can find her amazing recipes and other content on her YouTube Channel and website. 
Jenné makes beautiful, soulful, healthy food and credits her first interest in cooking to her grandmother, another beautiful woman to celebrate on Women's Day! Check out her YouTube channel, website and book.
Molly is one of my best friends both on and offline. She creates content every day that supports body love and acceptance, humour and motherhood. 
Nicole makes delicious vegan food and cohosts The Vegan View where they speak about food, friends, and fashion in the plant-based community. 
On the topic of The Vegan View, Nisha is a food and fashion-focussed woman who is based in LA and is 1/3 of the Vegan View.
The other piece of The Vegan View is Hannah, who graces the world with vegan fashion and beauty and rescue dogs and the most well-maintained curtain bangs the world has seen.
Nisha makes some of the most vibrant, nutritious, plant-based meals I've ever seen (her Red Lentil Curry is to die for). She is a Harvard Law School grad turned chef and author. 
Afia makes amazing flavourful and sustainable Ghanaian and other African dishes. Her website is full of vegan recipes that I've not seen anywhere else. I consistently look to her when I want to try something new.
Kimberly is an activist for social causes including but not limited to Black Lives Matter, feminism and veganism. She uses her platform to educate her followers on important news and social justice. 
Rhian makes the most out of vegan beauty. She showcases makeup, hair, nails, and lifestyle products with vegan flare.
Dominique is an author and blogger who makes healthy vegan comfort food that you can almost smell through the screen. 
Alexa is a dog rescuer, mental health advocate, and vegan food blogger. Her beautiful feed adds positivity to the internet. 
Lucy is my travel buddy and she is a sweet and funny person who people are lucky to know. Her photography is some of the best I've ever seen, paired with flavourful and unique recipes.
Tedi runs a vegan food blog turned lifestyle hub that is full of some amazing inspiration. She rescues dogs and shows some glamorous aspects of life in NYC.
Sunny is one of my close friends who creates tons of vegan DIY beauty, reviews products and shares her life on her Instagram and blog.
Jasmine is a radiant recipe developer who has a huge YouTube following for good reason! She and her dogs are a great way to unwind from a long day.
Yasmeen is an amazing role model for women everywhere! She posts about motherhood, veganism, nutrition, and her expertise as a doula.
Roxy makes extremely simple recipes with very few ingredients but she makes simple taste delicious. Her recipes are amazing for new vegans or people wanting simple plant-based meals.
Jenny is a Swedish minimalist who is eco-friendly and promotes fashion based on what you already have and keeping a wardrobe of timeless pieces.
---
Hey I'm Candice aka The Edgy Veg – I veganize popular food recipes for vegans, plant-based diets, eco-conscious eaters & people who are trying to eat more plants over… y'know animals or their by-products. I hope you enjoy this tasty vegan recipe!
Share on Pinterest!