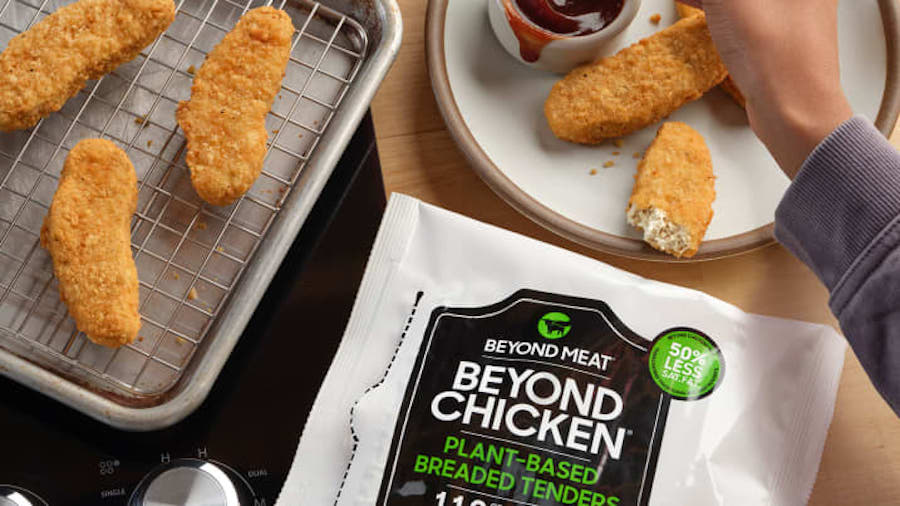 Beyond Meat Launches New Chicken Tenders
When I got the news of Beyond Meat Chicken, I fell over in my seat. Could it be? My favourite vegan burger company matching their accomplishments with vegan beef, now in the world of vegan chicken? I had to get my hands on them!
Beyond Meat Chicken
I was SO excited to try the Beyond Meat Chicken tenders that I hunted across Toronto's vegan grocers and health food stores for somewhere to find this rarity. Lucky for me, they reached Canada pretty early on, so I didn't need to wait for an opportunity to travel to be able to try some. While they are still a bit tricky to find, most large cities should have vegan specialty stores to carry them. 
Beyond meat has never disappointed me. I have been a superfan from the first burger I've tried, to the sausages and breakfast patties. I had high hopes for this product. 
Beyond Meat Chicken Ingredients and Cooking
The ingredients include fava bean protein, breading like a typical frozen chicken tender, yeast, garlic, vital wheat gluten, corn starch, methylcellulose (which is also found in the Beyond Burger). These ingredients are typical for vegan meat substitutes and contribute to the flavour and texture. In my opinion, frozen vegan chicken tenders are not considered a "health food"  but I will eat them for the flavour and texture and pleasure. 
For the tenders, the instructions indicate that you can deep fry or oven bake them. I personally prefer to oven-bake them because it is easier for me. 
Related Post: 15+ Vegan Chicken Recipes You Have To Try
Beyond Meat Chicken Tenders Vs Gardein & Yves
At this point in my vegan journey, I think I have tried most store-bought vegan chicken nuggets and tenders that are available in Toronto. Some of my favourite vegan chicken nuggets are the Gardein brand and Yves. I'm happy with the price point, flavour, texture and quantity in the package. I also really enjoyed the vegan chicken from KFC, which in Canada was Light Life brand. My experience with a lot of vegan nuggets has been that some are very dry inside, or complete mush inside of the breading I was excited to compare the Beyond Meat chicken to some of my favourite choices already. 
My Thoughts
After baking for about 12 minutes from frozen, the tenders get more golden brown and the smell is similar to chicken broth. They are about 3 inches long and 1 inch wide, for a typical serving, I'd probably have 4 and dip them in plum sauce (my favourite). The breading is very crispy, and the tenders are slightly oily, but not overly greasy. The inside of the chicken has a beautiful fibrous, pull-apart texture. To me, one of the best things about this product is how Beyond captured the distinct feeling of biting into chicken. It is very flavourful, both with the seasoned breading and on its own. It is juicy and smells a lot like chicken soup. 
I really like this product. I would love to see it sold as a chicken burger and as a non-breaded vegan chicken that can be used in other recipes. It is an amazing product that I am excited to see more of. Compared to other vegan chicken products, I like that the inside is just as flavourful as the breading, this is not as dry as other products and I love the mouth-feel of these tenders.
If you're interested in seeing more of my opinions and taste tests of new vegan products, comment down below! Also, let me know if you've tried Beyond Chicken and what you think!
---
Hey I'm Candice aka The Edgy Veg – I veganize popular food recipes for vegans, plant-based diets, eco-conscious eaters & people who are trying to eat more plants over… y'know animals or their by-products. I hope you enjoy this tasty vegan recipe!
---
Looking For Homemade Vegan Chicken Recipes?