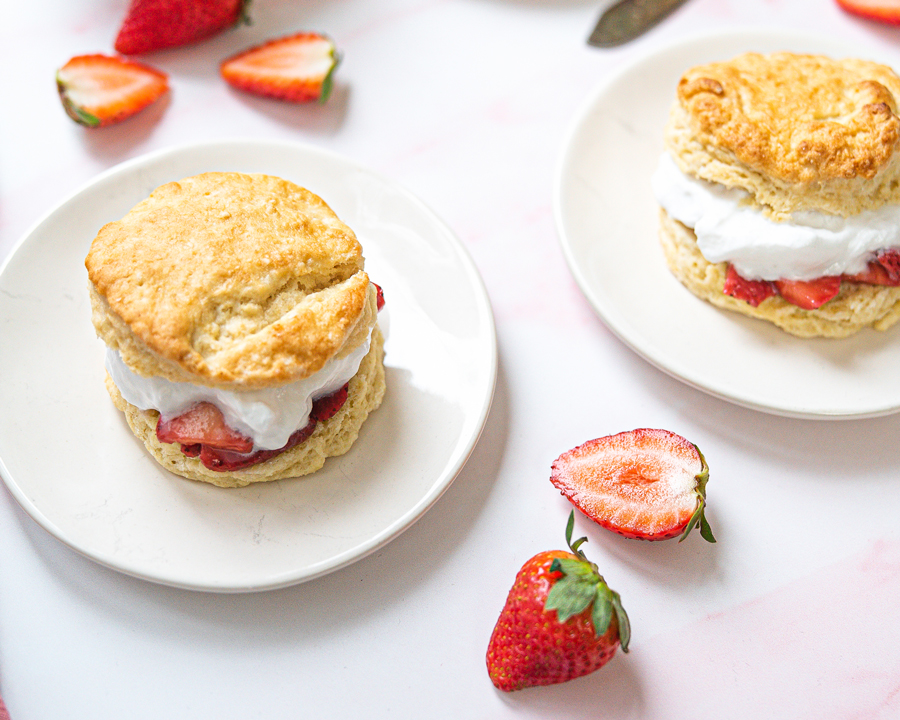 How to turn Strawberry Shortcake Biscuits Vegan!

Vegan Strawberry Shortcake Biscuits
Spring is just around the corner and what is a better way to celebrate the new season than with fresh fruits! Strawberries are one of my favorite fruits that I love to incorporate into new dessert recipes. And today, I will be showing you how to create vegan strawberry shortcake biscuits using vegan ingredients that you can easily find at your nearby grocery stores. If you are looking to bring something special for your next potluck or picnic party, this is the perfect sweet treat that will leave a lasting impression. These fluffy biscuits are served with strawberries and whipped cream, all dairy-free and not overly sweet. All you need for this recipe is a food processor, rolling pin, biscuit cutter or bowl, and an oven.
Alternative ways to make this recipe:
If you have strawberry allergies, you can always swap out the fruits with raspberries or blueberries. Other great alternatives are peaches, kiwis, pineapples, or any fruits that are juicy and well ripe. You can also use orange zest instead of lemon zest! Make the flavor combination that best matches your taste palettes.

Vegan Strawberries and Cream Biscuits
The strawberries and cream biscuits originated back in 1847 by a recipe found in Miss Leslie's Ladies Recipe Book. Although strawberries have been around for nearly two thousand years in Europe, many chefs started using these fruits in rich dessert recipes like biscuits. Now we have perfected this unforgettable and popular recipe with vegan alternatives and I hope you enjoy making this recipe as much as I do! They are just as tasty as they are beautiful and I hope we can turn more iconic recipes into vegan staples! Let me know in the comments below what you think about this recipe.
How many servings does this make?
This recipe makes about 12 biscuits. Add the cream and berries immediately before serving. Otherwise, keep all components separate to assemble before serving to prevent whip cream from melting.

INGREDIENTS FOR STRAWBERRY SHORTCAKE BISCUITS (VEGAN):
KITCHEN EQUIPMENT:
Strawberry Shortcake Biscuits
Swap out strawberries for raspberries or blueberries, and use orange zest instead of lemon zest! Make the flavour combination that best matches your spring picnic.
Instructions
Preheat your oven to 425F and line a baking sheet with a silicone baking mat or parchment paper.
Combine ¾ cups soy milk and vinegar together to create vegan buttermilk. I do this directly in my pyrex measuring cup. Let it sit.
In a medium-size mixing bowl, stir together strawberries and 2 tbsp sugar. Set aside.
In the bowl of a food processor, whisk together flour, 3 tbsp sugar, baking powder, salt, and baking soda.
Add butter and process for about 30 seconds until it resembles a coarse crumb. Transfer it to a large mixing bowl, and make a well in the center of the mixture.
Pour the lemon zest and buttermilk into the well and stir until just combined.
Transfer the dough onto a floured work surface and pat it into a rectangle.
Fold the rectangle in thirds. Turn the dough, and flatten it. Then fold into thirds, turn and flatten twice more.
Roll out the dough until it's about a ½ inch thick.
Using a 2½-inch biscuit cutter, or a glass push straight down (do not twist) to cut out 12 biscuits.
Transfer the biscuits to the prepared baking sheet, making sure they are barely touching each other.
Gently, press an indent into the top of each biscuit with your thumb, and brush with the maple-milk mixture.
Bake for 15 mins, or until browned.
Serve cut in half, and filled with strawberries and whipped cream.
Nutrition Information
Serving size:
1 serving
Calories:
92
Fat:
6.7g
Carbohydrates:
6.8g
Sugar:
6.5g
Fiber:
0.7g
Protein:
0.7g
Hey welcome to The Edgy Veg
– we veganize popular food recipes for vegans, plant-based diets, eco-conscious eaters & people who are trying to eat more plants over… y'know animals or their by-products. We hope you enjoy this tasty vegan recipe!
---
Looking For More Sweet Vegan Breakfast Recipes?
Made this recipe? Let me know what you think by leaving a ★★★★★ star rating & comment below. It truly helps me & I really appreciate any support! Feel free to share your food photos on social and tag me @edgyveg so I don't miss it!