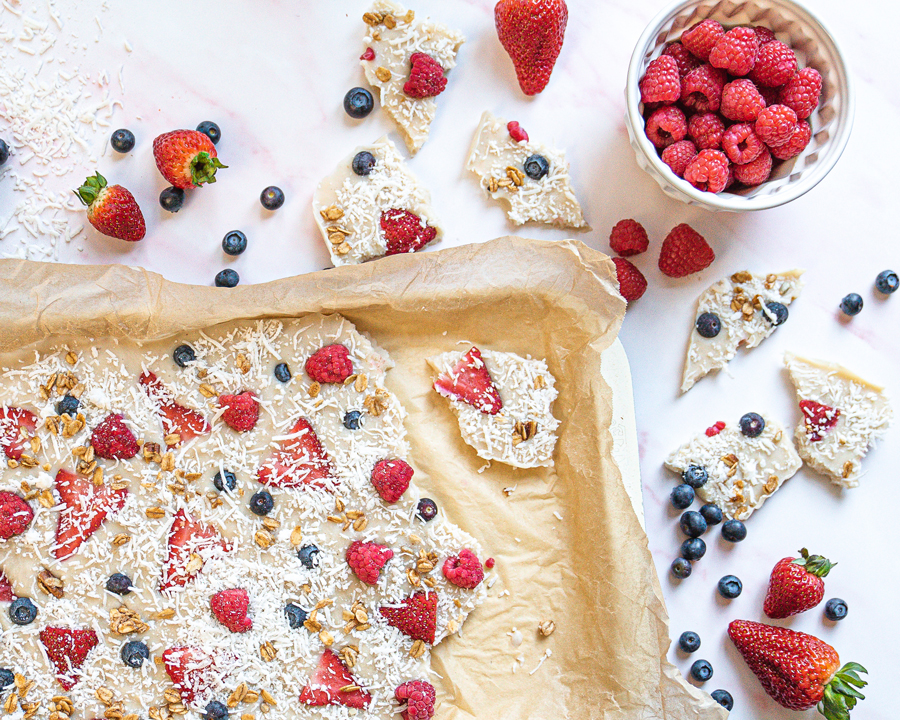 Healthy Frozen Yogurt Bark (Vegan)

Healthy Frozen Yogurt Bark Recipe
If you have a big sweet tooth but you are trying to stay "healthy", this frozen yogurt bark might just be the best solution yet. Tastes like gelato, but you can have it in the mornings in place of your typical smoothies and yogurt bowls. Mixing up ingredients you already enjoy is more fun and delicious. Most importantly, this is a simple and healthy way to satisfy those sweet cravings. You can add any toppings you have on hand; your favorite fruits and nuts with any vegan yogurt blend. 
Alternative ways to make this recipe:  
You can swap out the berries with any of your favorite fruits, nuts or granola mixes. Pineapples, pomegranate, kiwis are great options too. The juiciness of the fruits will compliment any of your favorite yogurt flavors you decide to choose for this recipe. You can find vegan yogurt made from almonds, coconuts, cashews, soy, and hemp. Your topping choices are endless!

Vegan Frozen Yogurt Bark
Going vegan is a lifestyle and the best way to enjoy this transition is by meal-prepping. Instead of paying a premium for those exclusive "vegan snacks", you can make these at home by substituting ingredients you already love and enjoy to vegan alternatives. You can also read more about my Top 10 Tips on how to go vegan here.
The great thing about vegan yogurt is that it contains a ton of essential nutrients like fiber, calcium, and protein to your diet and is a key source of probiotics. These days, as more consumers are becoming more health-conscious, more companies are adding vegan yogurts alternatives to their product lines, making it easier than ever to find great vegan options at your local grocery store. I guarantee you that this frozen yogurt bark is a fun way to please the picky eaters and made for the busy bees. Start your morning feeling refreshed and energized packed with nutrients.
How many servings does this make?
This recipe makes 12 pieces.

INGREDIENTS FOR YOGURT BARK (VEGAN):
KITCHEN EQUIPMENT:
Frozen Yogurt Bark
If you have a big sweet tooth but you are trying to stay "healthy", this frozen yogurt bark might just be the best solution yet.
Instructions
Line a 10 in x 15 in baking sheet with parchment paper, leaving some overhang.
In a medium-size bowl whisk together yogurt and agave or maple syrup.
In an even layer, spread the yogurt onto the baking sheet from edge to edge.
Evenly top the yogurt with strawberries, blueberries and raspberries, then granola, coconut or nuts.
Freeze for at least 4 hours, but overnight is best.
Break or slice the bark into 12 pieces and enjoy frozen.
Store in the freezer until ready to eat
Nutrition Information
Serving size:
2 pieces
Calories:
188
Fat:
13.6g
Carbohydrates:
14.8g
Sugar:
11.5g
Fiber:
0.9g
Protein:
1.8g
Hey welcome to The Edgy Veg – we veganize popular food recipes for vegans, plant-based diets, eco-conscious eaters & people who are trying to eat more plants over… y'know animals or their by-products. We hope you enjoy this tasty vegan recipe!
---
Looking For More Vegan Recipes Using Yogurt?
Made this recipe? Let me know what you think by leaving a ★★★★★ star rating & comment below. It truly helps me & I really appreciate any support! Feel free to share your food photos on social and tag me @edgyveg so I don't miss it!