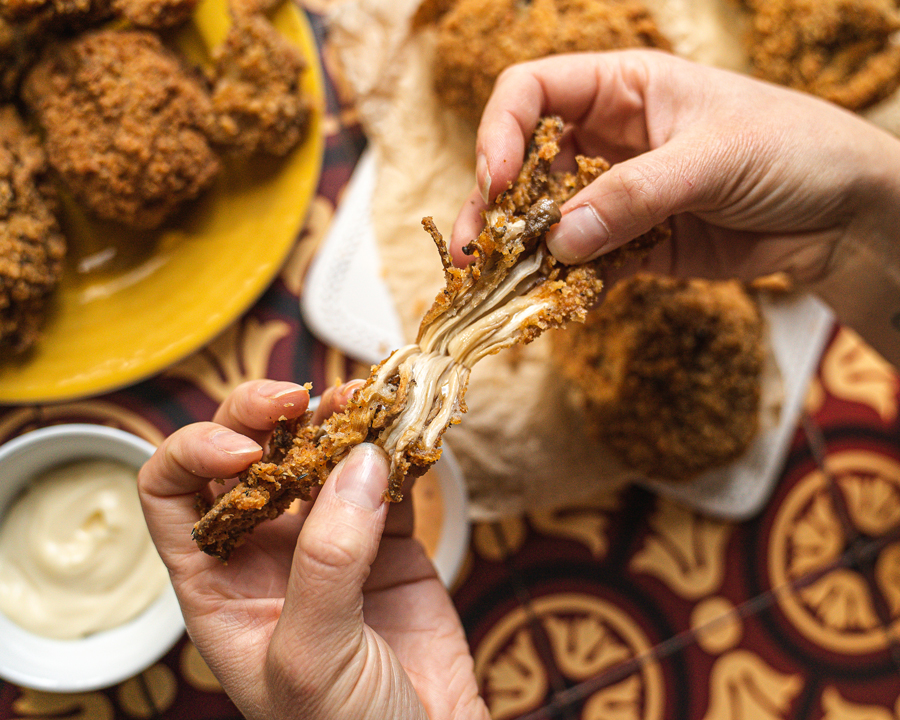 How to Turn Oyster Mushrooms into Fried Chicken

Oyster Mushroom Fried Chicken Recipe
Did you know that Oyster Mushrooms can be found all year round? During peak season, you can have the most flavourful and highly nutritious mushrooms that you can add to soup stocks and any of your go-to vegan recipes. Not only does it bring tasteful joys to your plates, but oyster mushrooms play a huge role in the ecosystem known as mycorestoration – this is the process of decreasing pollution by decomposing organic material into soil. The more demand there is for these super veggies, the greater environmental impact we can create in the world.
A healthy planet creates healthy foods. If you are craving a plant-based fried chicken, but you don't want to pay a premium for premade "fake meats" at the grocery store, you need to try this Fried Chicken Oyster Mushroom Recipe. You can create the perfect batter using my KFC-inspired seasoning mix and cluster the oyster mushrooms into this amazing, flavourful vegan chicken alternative. You can enjoy this "fried chicken" on its own, make it into bite-sized nuggets, or enjoy it as a vegan fried chicken & waffles combo.  
Alternative ways to make this recipe:  
You can swap out the KFC seasoning with any of your favourite vegan seasoning mixes. Other spices to consider are cajun, or jerk!

Oyster Mushroom Fried Chicken (Vegan)
There are endless ways to turn any recipe vegan. You don't have to give up the pleasures of enjoying fried chicken when you can mimic the texture and taste using vegan-friendly ingredients.
Fried chicken might just be the next favourite food you won't have to give up to go vegan. Although there are many ways to make vegan "fried chicken", using mushrooms adds just more flavour and natural textures to your modified "meat". You can also check out my other fried chicken recipes where I use cauliflower, mushrooms, tofu, seitan and more! Why I love cooking vegan food is that the creativity and combinations of flavours are endless.
How many servings does this make?
This recipe makes 8-10 fried chicken pieces, feeding 4-5 people. You can double the ingredients to feed more people.

INGREDIENTS FOR OYSTER MUSHROOM CHICKEN (VEGAN):
Dry Mix
Wet Batter
Optional Dips
KITCHEN EQUIPMENT:
Oyster Mushroom Fried Chicken
This vegan fried chicken recipe might just be one of your next favourite recipes you won't have to give up. Although there are many ways to make vegan "fried chicken", using mushrooms adds just more flavour and natural textures to your modified "meat".
Ingredients
Dry Mix
Wet Batter
Optional dips
Instructions
Heat oil over medium-high heat in a cast-iron or deep pan until it reaches 375F, or use a deep fryer. Place a write rack into a lipped baking sheet, repeat with a second wire rack.
In a medium-size bowl whisk together; ½ cup unbleached all-purpose flour, panko bread crumbs, ½ cup corn starch, 1 tsp dried thyme, 1 tsp dried basil, ½ tsp dried oregano, ½ tsp black pepper, ½ tbsp dry mustard powder, 2 tbsp paprika, 1 tbsp garlic powder, ½ tbsp ground ginger, 1 tbsp white pepper, 1 tsp MSG or 1 tsp sea salt.
In a second medium-size bowl, whisk together; 1 cup unbleached all-purpose flour, ¼ cup corn starch, 1 tsp celery salt & 1½ cup water.
When the oil is ready to go, dip the oyster mushroom clusters first into the wet batter, then into the dry, making sure it's thoroughly coated, pressing with your hands to get the flour to adhere in a thick layer. Lay them onto the wire cooling rack to rest.
Working in batches, place the mushrooms clusters into the hot oil using tongs, and fry 2-3 mins per side until they're golden brown and crispy. Then, place them onto the clean wire cooling rack allowing the excess oil to drip off. Repeat with remaining mushrooms.
Serve on their own or with dipping sauces of your choice.
Hey welcome to The Edgy Veg – we veganize popular food recipes for vegans, plant-based diets, eco-conscious eaters & people who are trying to eat more plants over… y'know animals or their by-products. We hope you enjoy this tasty vegan recipe!
---
Looking For More Vegan Chicken Recipes?
Made this recipe? Let me know what you think by leaving a ★★★★★ star rating & comment below. It truly helps me & I really appreciate any support! Feel free to share your food photos on social and tag me @edgyveg so I don't miss it!