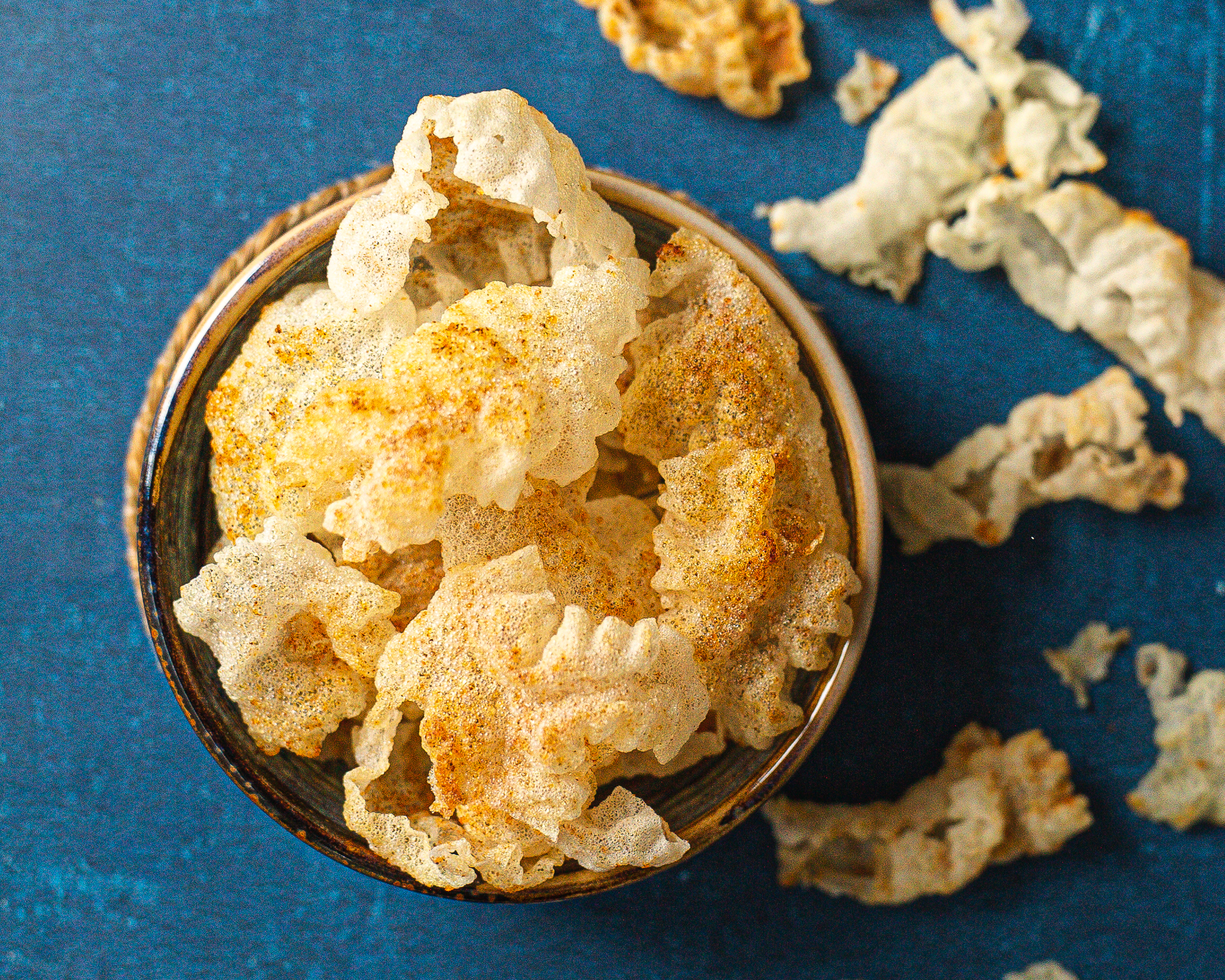 Easy Vegan Pork Rinds Recipe (under 5-mins!!)

Vegan Pork Rinds Recipe
Did the word munchies derive from the word crunchy and mood? I am not sure! But if that was the case, I have the perfect snack recipe that will put you in the greatest mood! I present to you, Vegan Pork Rinds. This recipe is inspired by the infamous Pork Grinds which are chips made from deep-fried pork skin. Although I do not support eating pigs, I am a fan of crispy snacks. So I veganized this recipe by using rice paper sheets and creating a smokey and delicious taste using different spices.
This simple recipe is a bowl full of delicious, crispy, and cruelty-free snacks. All you need for this recipe are pieces of rice paper, hot oil, and your favorite seasonings.
Alternative ways to make this recipe:  
This recipe is amazing with any seasoning of your choice! My recommendations are cayenne, chili, light sugar, salt and pepper. You can even add a splash of lime to give it a nice zesty touch. How much spices you would like to put is up to you!

Fried Rice Paper Pork Rinds
Pork Rinds were set to be found back in the 1700's in Mexico.  After the introduction of pork by the Spaniards, the Mexican recreated their own version, the chicharron, it is still widely enjoyed as a cultural snack in Mexico today. This recipe is typically flavored with lime and chili powder or added to scrambled eggs to add extra crunch for breakfast.
However, being the Vegan chef inventor that I am, I had to recreate this puffy crunchy texture for all of us to enjoy! The best part is that the Vegan Pork Rind recipe caters to most dietary restrictions including kosher, halal, vegetarian or vegan. Now all of us can enjoy these snacks!
Using creativity and plant-based ingredients, We can make anything vegan.
How many servings does this make?
This recipe makes approximately 4 servings, but you can use as many rice paper sheets as you'd like! These pieces start small but expands in size once it touches hot oil.

INGREDIENTS FOR PORK RINDS (VEGAN):
KITCHEN EQUIPMENT:
Vegan Pork Rinds
I veganized pork rinds by using rice paper sheets and creating a smokey and delicious taste using different spices.
Instructions
In a saucepan or deep fryer, heat oil 350F.
In batches, place 2-3 pieces of rice paper into the hot oil. They will puff up in a matter of seconds.
Using tongs remove them from the oil immediately and toss them into a large mixing bowl and sprinkle with seasoning.
Then place them on a plate lined with a paper towel to remove excess oil and repeat.
Hey welcome to The Edgy Veg
– we veganize popular food recipes for vegans, plant-based diets, eco-conscious eaters & people who are trying to eat more plants over… y'know animals or their by-products. We hope you enjoy this tasty vegan recipe!
---
Looking For More Vegan Snack Recipes?
Made this recipe? Let me know what you think by leaving a ★★★★★ star rating & comment below. It truly helps me & I really appreciate any support! Feel free to share your food photos on social and tag me @edgyveg so I don't miss it!