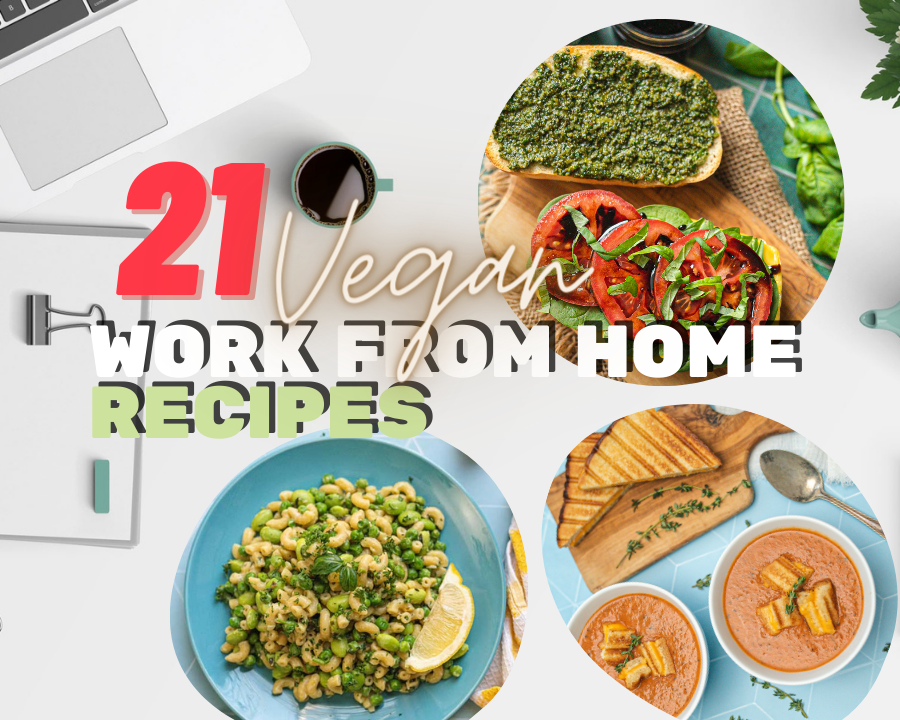 21 Vegan Work From Home Recipe Ideas
Working from home can be tough, especially when you are trying to find the right balance between your personal and professional life, your body might not be able to turn off "work mode" or "home mode" depending on the day. I know it was definitely a work in progress for me when I first started working from home, the only times that I would take a break and turn off my work mode were during my lunch break. Cooking has always been a form of escape for me, this is the time when I can be as creative as I want and taste the final product to share and make an impact. If you get bored of eating the same meals as I do and might need a little inspiration for some healthy work-from-home meal ideas to get off the computer, you are at the right place.
I am sharing with you my 21 Vegan Recipes made for a quick bite during your work from home lunch breaks. These are some of my best recipes because they are super quick to make and taste absolutely delicious. Whether you need to quickly reheat your meals before a Zoom meeting or want a steamy, fresh vegan lunch. I challenge you to delete your food delivery apps and start planning ahead for your lunch breaks this workweek. This list of work-from-home recipes is the perfect way to refuel your energy during a busy day at work.
21 Vegan Recipes for Work From Home Lunch
This list of easy vegan recipe ideas is made for anyone looking for simple plant-based alternative recipes. Whether you are a vegan or not-so-vegan, anyone can enjoy these quick and easy meals when working from home. Save money on your Uber apps and start enjoying hearty homecooked meals to treat yourself, instead of reaching for that junk food in your pantries or that 3rd cup of coffee instead of a full meal. If you are working full time, a student or a parent raising children, these simple lunches are guaranteed to bring a little joy throughout your busy day.
If you're looking for Cooking Tips for New Vegans, get them here!

This is the perfect, delightful meal that you didn't know you needed. You can throw it together in just a few minutes by preparing the filling prior to putting it together. All you need to do is fold the dumplings with the fillings as you go throughout the week. Please don't forget the second rice paper sheet when making these or they will explode while frying! Get the recipe here!

Make the day easier on yourself by packing a box of fruits, vegan cheese and crackers with healthy munchies that you enjoy the most. If you are looking for a light snack in between your short breaks, this Vegan lunchbox charcuterie idea will have you reaching out for more. Especially if you enjoy sipping on tea throughout the day, this is a great complimentary piece that you can keep in the fridge for a quick grab-and-go snack. Make sure to include a treat for yourself to keep things fun! Get the recipe here!

Soups are the most efficient and tasty meals to prepare during the workweek. All you need to do is prepare a batch you can eat throughout the week and during lunch breaks, you just need to reheat it and enjoy it. Whether it's a cold or rainy day, all you need is a warm bowl of soup and some crackers to get cosy and warm you up. This soup is packed with broccoli, which is a great source of antioxidants to improve your immunity and heart health. You can never go wrong with adding more greens throughout the day. Get the recipe here!

If you love pizza, but want to save money on ordering it every week for lunch, this personal vegan naan pizza uses easy and affordable store-bought ingredients like naan, vegan cheese, and vegan sausage. Trust me, this will be your go-to recipe when you're too busy to cook but want a quick gourmet meal. This recipe is super customizable by adding some of your favourite toppings Get the recipe here!

This was one of my favourite meals to buy for lunch during my time working in a corporate office years ago. A cobb salad is a workday classic, but now you can enjoy it at home, turn it vegan and you will be proud of yourself for skipping that $18 food court salad. Get the recipe here!

Using vegan boxed mac and cheese as a base for your ingredient and adding a few simple ingredients, can evolve into a hearty vegan pasta similar to a classic Hamburger Helper! The best part is that you can boil all the ingredients with a boxed mac & cheese so you can save even more time and energy on making this work from home mea. Get the recipe here!

Who said using instant vegan food wasn't delicious? You can turn any instant recipes, gourmet, by adding a few other ingredients. Level up your ramen by following this quick and easy TikTok ramen hack recipe in just a few minutes. With all the fibre from the vegetables, you will fill full for much longer and never have to settle for a boring ramen lunch ever again. Get the recipe here!

If you are more of a snacker but want a full meal, I've got the perfect recipe for the best of both worlds. This tastes like a snack but fills you up like a meal. This Mediterranean mezze bowl is a not-so-guilty pleasure for those who enjoy a nice dip with their favourite chips. You can easily assemble this bowl ahead of time and keep it in the fridge to enjoy when you're ready. This is a great combination of light lunch for those who hate salad but want all the great benefits of veggies. Get the recipe here!

The Japanese are notorious for their bento box lunch ideas. They always have the best compartmentalization for foods, including snacks and desserts too! Who says you can't pack a full meal in a lunch box while working from home? If you know that your workdays are packed with meetings and to-do lists, you definitely need to try out this recipe. Meal prepping is the way to go, and packing your food in the morning or night before work hours will save you so much time and provide a balanced meal throughout the day. You can thank me for this lunch idea on the comments below. Get the recipe here!

Are you tempted to order takeout food? Drop your phone! I promise you that you can make this lunch faster than the time it will take for your lunch to get delivered. I guarantee you that the protein in this meal will keep you strong enough to pull away from the takeout menu. Get the recipe here!

Anytime I have some bread and cheese at home, it's time to make some Grilled cheese sandwiches! These are classic, quick and easy lunch recipes that are truly irreplaceable no matter how many times you've had them. If you have any leftover roasted vegetables in your fridge, add these ingredients to your grilled cheese for those extra greens in your meals! Get the recipe here!

Instant noodles are my go-to fast foods to make at home. I always get those big Costco ramen packs to ensure I never run out of my favourite 2-minute staple. By combining the noodle packs with some chopped salad, you can save so much money and time! Who doesn't love the crunchy fresh textures of salad with a savoury taste of your ramen. What a great way to enjoy your greens while saving time. Get the recipe here!

Nothing is more satisfying than a cheesy, warm bagel stuffed with vegan tuna and a side of chips! You can make this even faster if you make the jackfruit tuna ahead of time, you can store it in the fridge for up to 1 week while marinading the flavours to make it taste even better! Once you have these vegan tuna melt, you might never have grilled cheese the same way again. Get the recipe here!

It's always a great idea to host a little "work from home party" with some friends and roomates when you are feeling too isolated. I know that work from home culture can be deprived of social interactions, so why not have a little fun by inviting other friends who are also working from home with some fresh & shareable greek salad dips? You can start a fun Friday surprise to keep the days interesting. Make this simple dip with pita, crackers or veggies to get your daily dose of vegetables with tons of flavour! Get the recipe here!

Sandwiches are the Oscar winners for lunch menus. It is easy to make, filling and who doesn't love bread? There is no better go-to lunch than a sweet and nutritious sandwich. This classic combo is one of my favourite recipes and I can eat it all day long while working extra on those days I cannot get off my computer due to prior procrastination. Yes, I am only human. Get the recipe here!

I know I've shared a lot of sandwich recipes so far, but what is a great sandwich without a bowl of soup to pair with it? If you are extra hungry after an intense work morning, check out this Vegan Hungarian Mushroom soup that will hit the spot for a well-deserved break. This creamy mushroom soup pairs so well with grilled cheese and any other sandwiches that are listed on this post. Turn your fridge into your favourite restaurant! Get the recipe here

This recipe is a banger! I have gotten so much positive feedback from this quick pasta that is packed with nutrients from fresh spring and summer ingredients. You can serve this instant meal either warm or cold pasta salad. You can enjoy this lunch out in your backyard or on your balcony during those nice summer days. Get the recipe here!

If you are having a brunch kind of day, vegan eggs are the way to go. Sometimes you might wake up a little later on a Monday morning and hardly roll yourself up for your first work meeting. Then time flies and you end up having your first meal past noon! Well if this sounds like you, this vegan egg salad was all worth it. You can add this to your sandwich or wrap it up on a bed of lettuce for that extra crunch. This recipe is guaranteed to fill you up and fuel you to tackle the rest of your day. Get the recipe here!

If you have ever been to Moxie's and ordered a lettuce wrap, you might have ordered extra to take home. Alternatively, these vegan bulgogi lettuce wraps can be made at home so you never have to go out again. These Bulgogi Mushroom lettuce is so good that you might want to make extra for dinner on the weekends to have some leftovers for lunch! This recipe is made from mushrooms, marinated and cooked in a homemade tangy Korean BBQ sauce. It is also gluten-free made from kitchen staples and is can be cooked in an Instant Pot to reduce cooking time! Get the recipe here!

If you always enjoyed a Cubano sandwich before you became vegan, now is the chance to not give up your favourite sandwich! Made from 100% vegan ingredients, you can pack your vegan Cubano sandwich with just under 7 ingredients. Pack this for lunch and surprise your roommates or coworkers by making extra to enjoy together. Get the recipe here!

Vegan Work From Home Meals
I love meals that are made ahead and can be easily reheated or something quick to put together between zoom meetings. I challenge you to stop the food delivery habit and plan ahead for some of these lunch options this workweek.
Instructions
Plan which easy vegan recipes you want to make.
Gather all your ingredients.
Enjoy your delicious vegan meals!
Looking For More Vegan Recipes?
Made this recipe? Let me know what you think by leaving a ★★★★★ star rating & comment below. It truly helps me & I really appreciate any support! Feel free to share your food photos on social and tag me @edgyveg so I don't miss it!