Looking for a vegan, meat-free, and dairy-free recipe for Buffalo Chicken Dip? Well, you've come to the right place! Feel free to view & print my recipe below to make your own Buffalo "Chicken" Dip! Or watch me on YouTube show you how to make it!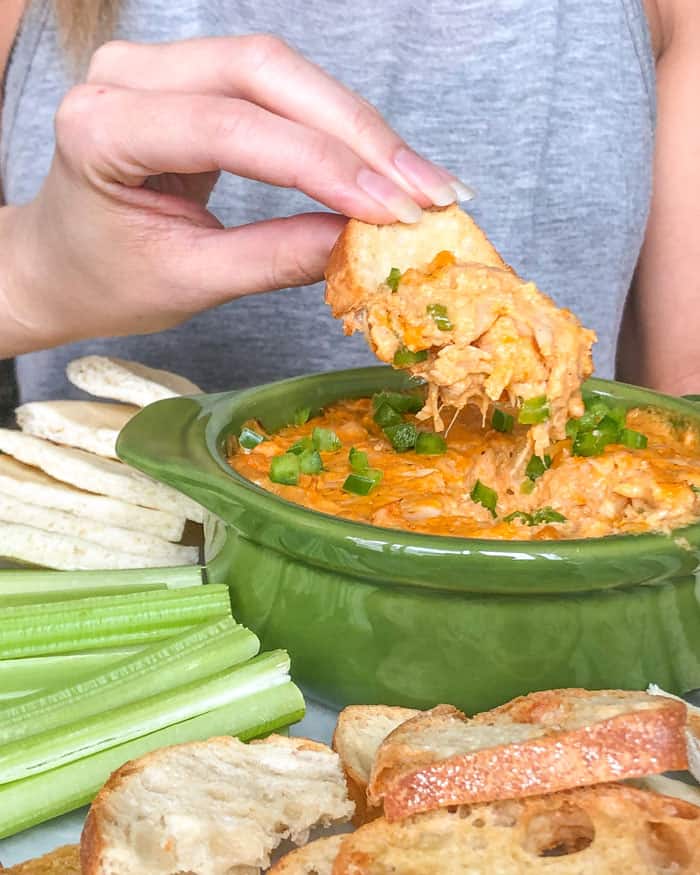 This recipe is part of my monthly series to veganize recipes voted by you, my readers! Many of you asked me if I can make a Vegan Buffalo Chicken dip recipe, so here it is!
Today on The Edgy Veg, I'm going to show you how to make a healthy Buffalo "chicken" dip without chicken that's also dairy-free!
Related Recipe: Buffalo Cauliflower Wings 
Whenever I need a dish for a vegan party, vegan tailgate, vegan potluck or movie night, everyone asks for this recipe. So highly recommend this recipe for any of the events I mentioned…or you know… if you're craving buffalo chicken or have the munchies!
This buffalo chicken dip is packed with bold fiery flavors and is super easy to make. For your next party, look no further than this spicy but creamy dip. It's not a competition, but it's definitely one of the best vegan appetizers out there.
How To Make Buffalo Chicken Dip Vegan
Never miss a video by clicking here to Subscribe to my Channel
If you want to view or print the recipe card, just scroll down for the full list of ingredients and simple instructions on how to make this delicious Vegan Buffalo Chicken dip recipe.
To get the chicken texture, all you need is young jackfruit in brine or water! Avoid jackfruit in syrup or ripe jackfruit.
I love jackfruit recipes and even though vegan pulled pork is the most popular recipes to make with jackfruit, it also makes SUCH a compelling pulled chicken substitute! Especially to those carnivores you're trying to impress with a vegan / plant-based diet!
Along with pulled jackfruit, this recipe uses vegan ranch dressing, vegan cream cheese, and vegan buffalo sauce. Try this Vegan Buffalo Chicken Dip with a side of warmed bread, pita, celery or carrot sticks!

Recipe for Vegan Buffalo Chicken Dip Recipe
The first thing that you want to do for this buffalo chicken dip recipe is get 2 cups of young jackfruit! You basically want to shred it as people do with shredded chicken or pulled pork.
Next, you want to combine the following ingredients to the pulled jackfruit before we put it in the oven to bake: stir in 1/2 cup vegan buffalo wing sauce (click for my recipe), add 1 cup of vegan cream cheese, mix in 1/2 cup of vegan ranch sauce (click for my recipe), add some chopped green onions and 1 cup of vegan shredded cheese! Mix well!
Once you're done mixing well, get a bake-friendly dish to hold your dip! Scoop your mix into the dish, put your dish on a baking pan and put it in the oven for 20 mins. Once it's out fo the oven, add some more green onion and serve your Vegan Buffalo Chicken Dip with a side of warmed bread, pita, celery or carrot sticks!
And voila!
If you want more vegan recipes, click here for my newest recipes.

Save/Print This Buffalo Chicken Dip Recipe
BUFFALO "CHICKEN" DIP | VEGAN & DAIRY FREE RECIPE
This creamy dip tastes just like Buffalo chicken wings! This easy dip with a hint of spice is perfect for any dinner appetizer, Super Bowl snack or movie night!
Instructions
Preheat oven to 350°F.
Mix all ingredients in a large bowl.
Spoon into shallow 1-quart baking dish.
Bake 20 minutes or until mixture is heated through; stir.
Sprinkle with green onions, if desired, and serve with chips, crackers and/or veggies.
___________
You guys must try this buffalo chicken dip recipe & let me know what you think! Once you try it, come back and leave me a comment below with your feedback and star rating! If you make this, let me see on social! Tag @edgyveg on your photo & add the hashtag #theedgyveg in your caption so I don't miss it!
Pin this Vegan Buffalo Chicken Dip Recipe to Pinterest