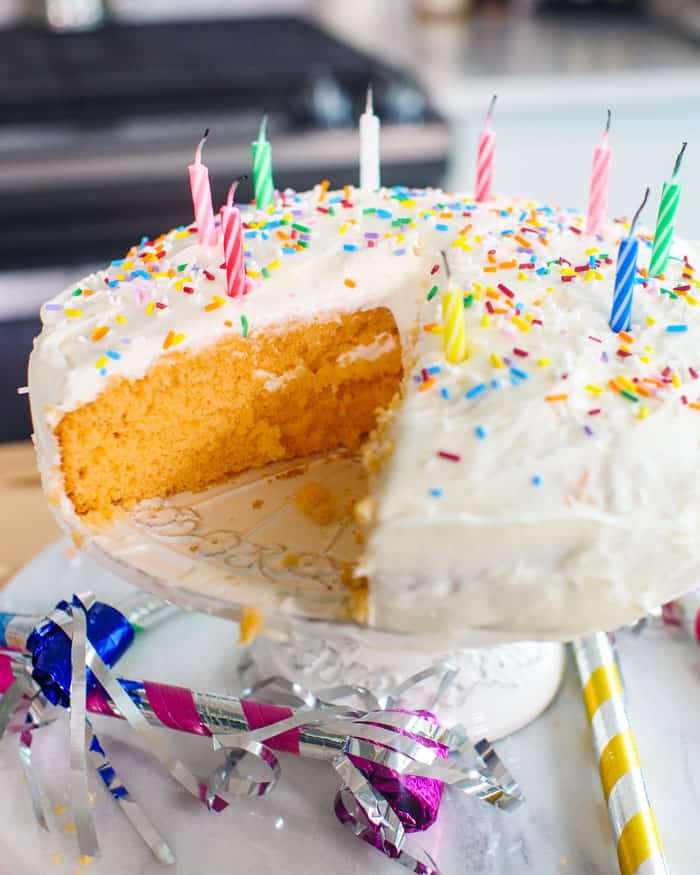 Easy Creamsicle Cake With Orange Soda | Vegan Creamsicle Cake Recipe
Looking for a super easy vegan creamsicle cake recipe? Well, you've come to the right place! This moist and fruity vegan cake, topped with a rich vegan butter cream is the easiest vegan birthday cake you will ever make. Feel free to view & print my recipe below to make your own 2-ingredient creamsicle cake! Or watch me on YouTube show you how to make it!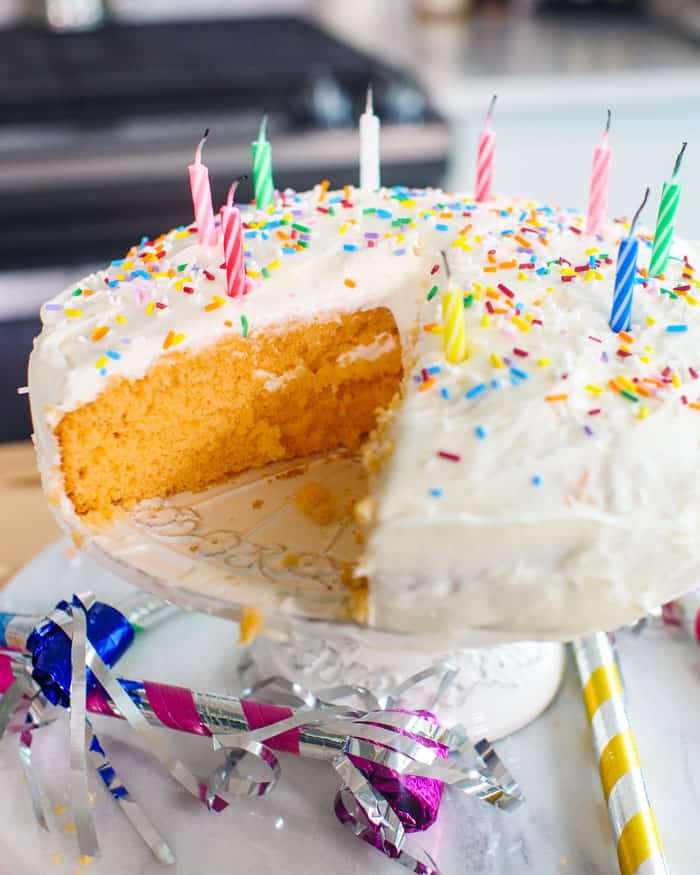 This recipe is part of my monthly #HACKED series that shows you vegan food hacks & cooking hacks to make life easier for you! It's my birthday today, so I thought I would show you how to make a Vegan Orange Creamsicle Cake recipe using 2 ingredients!
Did you know that you can use a boxed cake mix to make a 2-ingredient vegan cake?! Can you guess what the other ingredient is besides boxed cake mix to make a vegan cake?
Related Recipe: Dog-Friendly Birthday Cake
In my newest video, I discuss 3 easy vegan cake mix hacks and how to make this easy creamsicle cake recipe, as well as pumpkin spice muffins and chocolate peanut butter cookies using cake mix!
How To Make Easy Creamsicle Cake | VEGAN RECIPE
Never miss a video by clicking here to Subscribe to my Channel
If you want to view or print the recipe card, just scroll down for the full list of ingredients and simple instructions on how to make this delicious orange creamsicle cake recipe.
All you need for this recipe is boxed Yellow Cake Mix, as shown in my youtube video, and Orange Soda! SO EASY! And obviously, if you want, you can add frosting and sprinkles as I did… cause y'know, a birthday needs frosting, sprinkles, and candles!
Recipe for Vegan Orange Creamsicle Cake
The first thing that you want to do is add your cake mix into a bowl and add the orange soda. Whisk it all together!
Next, you want to grease a cake tin and line it. Spread the batter into the cake tin and put it in the oven for 20-25 mins at 350 F.
Afterward, let the cake cool completely, especially if you plan to add frosting to your cake next. A warm frosted cake will only end up in a thick goopy mess, so WAIT until your cake is cooled before frosting! I mean it!
Did you know that most premade, store-bought "whipped" frostings are accidentally vegan? Because I feel like being a lazy vegan on my birthday, I bought pre-made vanilla icing that I'll be putting on my orange creamsicle cake!
And voila!
If you want more vegan recipes, click here for my newest recipes.
Save/Print This Orange Creamsicle Cake Recipe
3-Ingredient Creamsicle Cake | Easy Vegan Creamsicle Cake Recipe
This moist and fruity cake is the easiest cake you will ever bake! All you need is a box of cake mix and a can of orange soda!
Instructions
Position the rack in the center of the oven and preheat your oven to 350F.
Grease and line your cake tin. Set aside.
Using a bowl with a whisk; or a stand mixer, mix together the boxed cake mix and the orange soda.
Place in the oven and bake for about 20-25 minutes, or until a tooth pick comes out clean.
Remove the cake from the oven and allow to cool completely.
Remove from the cake pan and enjoy as is, or frost with your favorite icing & sprinkles!
___________
You guys must try this orange creamsicle cake recipe & let me know what you think! Once you try it, come back and leave me a comment below with your feedback and star rating! If you make this, let me see on social! Tag @edgyveg on your photo & add the hashtag #theedgyveg in your caption so I don't miss it!
Pin this Creamsicle Cake Recipe to Pinterest