PINK SMOOTHIE & SMOOTHIE BOWL | VEGAN OMEGA-3 RECIPE
If you're vegan or vegetarian, you might understand the struggle with getting our recommended Omega 3's. But if you're not vegan but looking for a healthier option or "fish-free" way of getting your Omega 3's, then you'll want to keep reading!
My best friend Ryan who's not vegan (yet!), but eats mostly plant-based diet, has been praising and telling me all about the NutraVege Omega-3 products that come in a liquid and softgel form (he loves for traveling). He's been taking it since the beginning of the year and told me it's an amazing plant-based omega-3 high in EPA+DHA, and great replacement if you're looking to get your omega 3's from sustainably sourced algae.
After my bestie gave it such high reviews, I obviously needed to try it out for myself (shout out to you Ryan!). So I did some research and found out you can get their products at most health foods store and even a big-chain grocery store nearby. What's interesting is that you can get 500mg to 1000mg per teaspoon of EPA and DHA! I didn't realize they come flavoured until I saw them in-person.
I found out Nature Way was a Canadian brand and thought I would connect with them to test out vegan supplement. They sent me 3 bottles in 3 different flavours as well as the softgels to try out! With choices like Cranberry orange or grapefruit tangerine, it made me happy to explore the flavoured ones since they are perfect to add to smoothies!
So for the past week, I was experimenting with smoothie recipes and wanted to share my favourite Vegan Omega-3 Smoothie recipe thanks to NutraVege! Test it out and start your morning with a delicious smoothie full of nutrients and Omega-3's! You can thank me once you try it 😉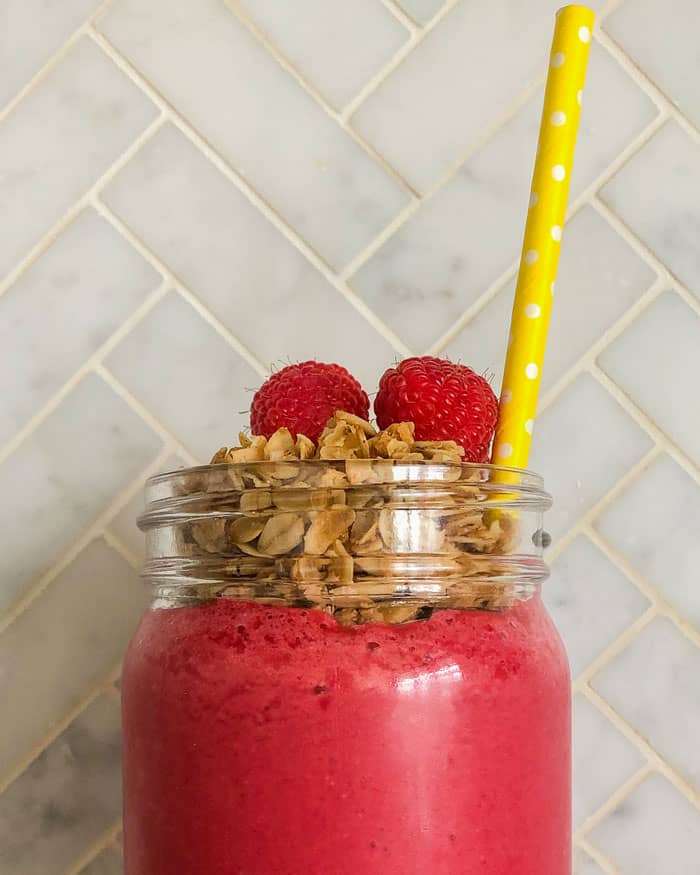 How To Make My OMEGA-3 Pink Smoothie & Smoothie Bowl
PINK SMOOTHIE & SMOOTHIE BOWL | VEGAN OMEGA-3 RECIPE
This fresh and fruity pink smoothie is a super easy and tasty breakfast that can be consumed as a smoothie or topped with your favourite fruit and granola as a pretty pink smoothie bowl. This smoothie gets its colour and tang from the bright combination of raspberries and lemon.
Ingredients
1 cup plant-based milk of choice
1 cup frozen raspberries
1-2 tbsp freshly squeezed lemon juice
1 tbsp maple syrup, optional
Instructions
Place all ingredients into a blender and blend until smooth.
Serve as a smoothie garnished with your favourite granola and fresh raspberries.
Serve as a smoothie bowl garnished with your favourite granola, fresh raspberries, flaked coconut and any other fruit your heart desires
For most vegans, we all know some of the best ways to get your omega 3's are from algae, flax and hemp seed! But I've realized many people new to veganism or plant-based diets don't realize the difference between ALA, EPA, and DHA.
So I wanted to break it down for those who want to learn more <3
DIFFERENCE BETWEEN ALA, DHA, and EPA IN OMEGA 3'S
While flax and hemp seed oils are also sources of omega-3, they're a source of ALA rather than EPA and DHA. Our bodies can convert a certain amount of ALA to DHA and EPA, but the process is really low, like less than a 5% conversion rate.
Did you know this? EPA/DHA is so important, so if you currently take omega-3 supplements, just double check if the supplement facts panel mentions sources of EPA/DHA and not just ALA.
What's honestly great about NutraVege is that their Omega 3's come from algal oil, which is a direct source of EPA and DHA. No conversion required, so you literally get proper DHA and EPA. Many vegan YouTubers are quitting veganism due to health issues and based on what I see, they're not getting their recommended DHA and EPA! They think flaxseed and hemp hearts are enough to get the Omega-3's but when you break it down, they're getting ALA but very low DHA and EPA.
MORE INFO ON NUTRAVEGE PRODUCTS
I personally feel the effects of taking plant-based Omega 3's and would love to know if you do too! What's really great is that the Nutravege's algae come in many forms to consume; liquid and liquid-gels!
In case you're curious: Every lot of NutraVege is analyzed for purity and potency. A third-party testing program analyses every NutraVege product for purity and potency, so you know you're getting the highest quality omega- 3 every time.
It definitely gets The Edgy Veg approval and so happy the accepted to sponsor my post! They really do offer an amazing vegan-source for getting your daily Omega 3's; especially EPA & DHA! Feel free to do your own research and let me know how you plan to incorporate more Omega 3's in your diet 🙂
Have you tried the NutraVege products yet? If so let me know on social or leave a comment down below!