This vegan "fried chicken" using grapefruit peels hack is definitely going to shock you and whoever you serve it too! The texture and look are so close to fried chicken, that I was even shocked when making this recipe.
Feel free to share & print my recipe below to make your own Vegan Fried Chicken using grapefruit peels! Or you can watch me on YouTube show you how to make it!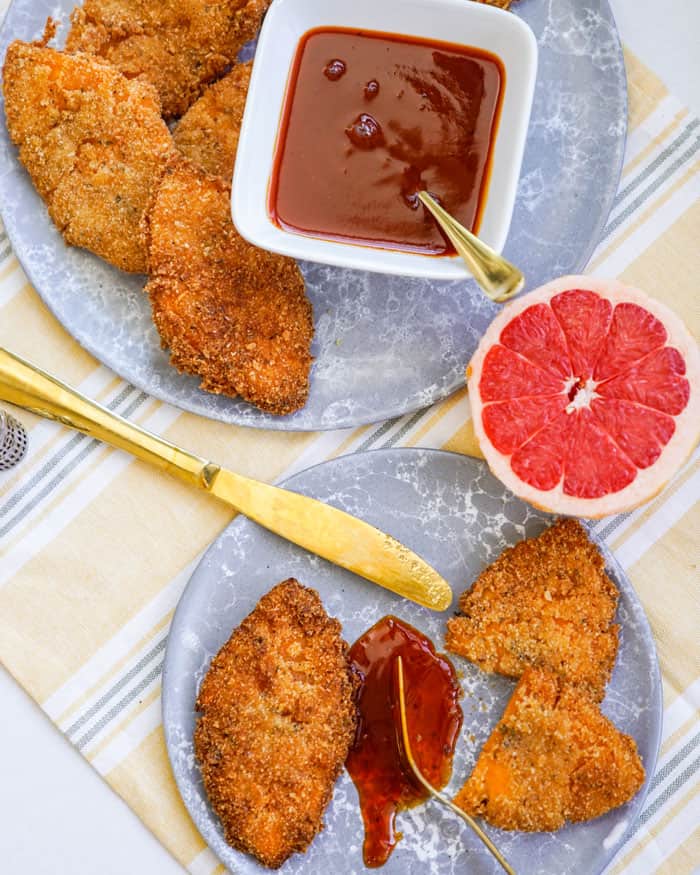 Related Recipe: Vegan Chick-fil-A Chicken Sandwich
Hi, I'm Candice & welcome to The Edgy Veg! Where I try to veganize popular food for vegans, plant-based diets, eco-conscious eaters & people who are trying to eat more plants over… y'know animals or by-products of animals.
In the past, I have made TONS of chicken replacements. and was messaged by a follower to try the Grapefruit peel hack to make vegan "fried chicken" since most of the recipes online contain eggs or dairy.
Fun fact: The origin of this dish is Cuban. Due to Cuban food shortages in 1990, local poor people back-then used to replace beef meat with red grapefruits, in order to obtain a dish that was similar in aspect and taste. The white, spongy parts of the fruit, between the pulp and the peel are the main meat-less steak ingredient. Properly cooked and seasoned, this grapefruit steak can surprise even the most experienced of meat eaters.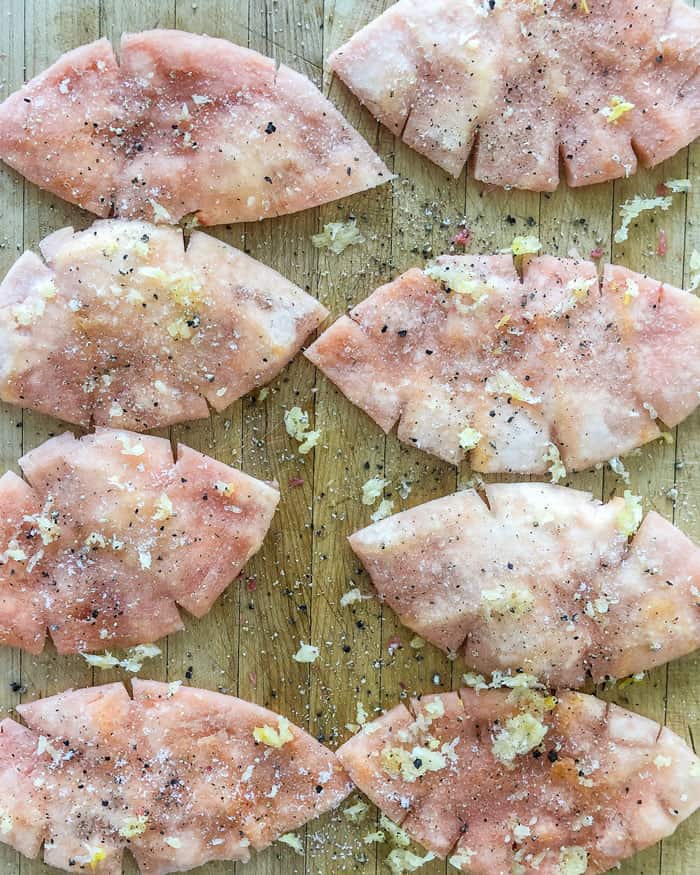 How To Make: "Fried Chicken" Using Grapefruit Peel
Never miss a video by clicking here to Subscribe to my Channel
If you want to view or print the recipe card, just scroll down for the full list of ingredients & simple instructions on how to make this Vegan Fried Chicken using Grapefruit Peels recipe.
The main ingredient for this vegan recipe is the white peel of grapefruits to create a chicken replacement. The red/orange outer layer of the grapefruit is called the zest, and after taking a vegetable peeler to it, and pulling out the fruit, you are left with the "pith" which is the white, spongey layer of the peel. This is what I used today to create my fried chicken replacement.
Recipe for Vegan Chicken Made From Grapefruit Peels
The first thing that you want to do is peel the red/orange zest layer of the grapefruits with a vegetable peeler. Next, you want to cut the grapefruits in half horizontally, so the fruit inside appears like a flower. Cutting it this way makes it easier to remove the fruit. Then, push your fingers, or a spoon between the peel and the fruit of the grapefruit to separate them. This is tricky at first but gets easier by the second or third piece. Once all of the pulp is removed, cut each piece of the pith in half, so they resemble chicken cutlet or schnitzel-like pieces.
To remove some of the bitter, grapefruit flavour, dip the piths in apple cider vinegar and let sit for 1 minute. Next, place in a bowl and cover with vegan "chicken-style" broth and marinate for 1 hour or overnight for best results. This really adds that "chicken" flavour into the piths.
Related Recipes: Top Vegan Chicken Recipes
After marinated, remove piths and rub with minced garlic, season with salt and pepper. In a separate bowl, combine vegan egg replacer, salt, pepper, and fried parsley together. Dip the filets in the mixture, then cover both sides with breadcrumbs and rest on a cooling rack until all pieces are prepared.
Heat oil in a pan to 365F, making sure to only fill up the pan less than halfway with oil, for safety. Line a baking sheet and keep nearby to place cooked piths on after frying. When the oil is hot, carefully lower the peels into the pan, frying 1-2 minutes on each side, until golden brown and heated through.
Serve immediately with your favourite dipping sauce.
Voila!
If you want more vegan recipes, click here for my newest recipes.
Save/Print/Share This Vegan Chicken (Bistec de Toronja) Recipe
Grapefruit Peels as fried chicken (Bistec de Toronja)
This fried chicken hack is definitely going to test your skills in the kitchen and help you learn something new. And it's impossible to go wrong with breaded and fried food! Note: Save the pulp for fruit juice or fruit salad
Instructions
Peel the grapefruit and cut it in half. Separate the pulp from the piths (the piths will be used to cook the "chicken") with a spoon and your fingers. Try to keep the piths in one piece when cutting them off the fruit. Also, try the best you can not to get juice onto the grapefruit.
Cut the piths in half, they will be roughly the size of a normal schnitzel.
Dip the grapefruit piths into the vinegar and let sit for 1 minute.
Transfer the piths to a bowl, and cover with the double strength broth. Try to allow the piths to marinate for 1-hour or overnight for best results.
Remove the piths from the broth and allow to drain.
Rub both sides of the piths with minced garlic and season with salt and pepper.
Mix the egg replacer, ½ tsp salt, ½ tsp black pepper and dried parsley together.
Dip the piths in the mixture, and then cover both sides in bread crumbs and place on a cooling rack to rest.
Heat up your oil to 365F, and line a baking sheet, as the peels rest.
Carefully lower the peels into the hot oil, cooking in batches.
Fry until golden brown, and heated through, about 1-2 minutes on each side.
Serve immediately with a dipping sauce of your choice.
___________
___________
You guys must try this Grapefruit Peel Fried Chicken recipe & let me know what you think! Once you try it, come back and leave me a comment below with your feedback and star rating! If you make this, let me see on social! Tag @edgyveg on your photo & add the hashtag #theedgyveg in your caption so I don't miss it!
Pin this Grapefruit Peel Fried Chicken Recipe to Pinterest
For more easy, delicious vegan recipes, check out the links below!