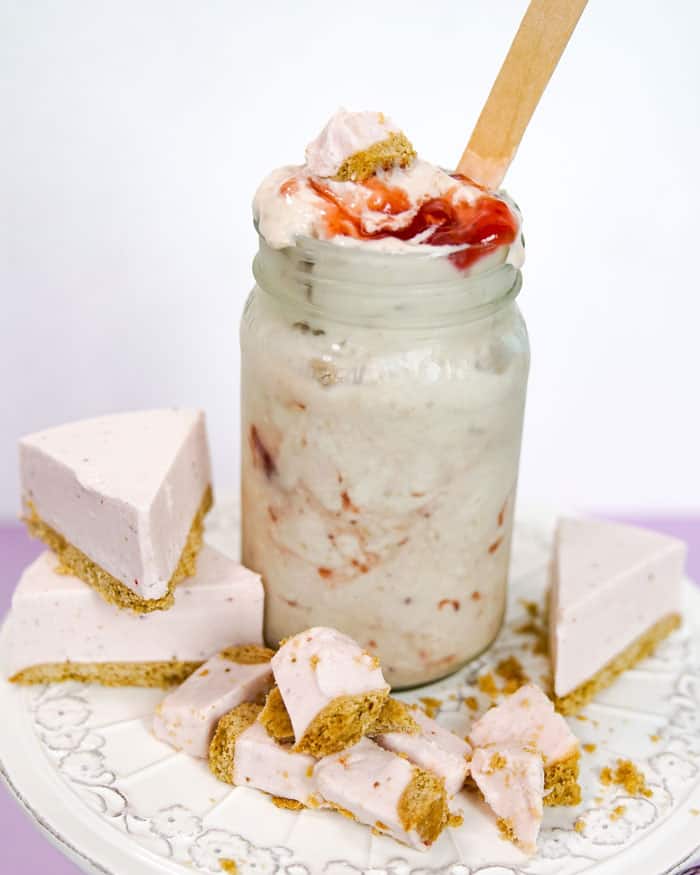 Vegan Dairy Queen Blizzard Treat: Strawberry Cheesecake
Today I made easy vegan dairy queen blizzards perfect for a hot beach day or your summer gatherings! This Strawberry Cheesecake blizzard treat is a vegan Dairy Queen copycat recipe that's easy to make, and best of all, seriously delicious.
Feel free to share & print my recipe below to make your own Vegan Strawberry Cheesecake Blizzard! Or you can watch me on YouTube show you how to make it!
Related Recipe: Vegan Dairy Queen Reese's Peanut Butter Cups Blizzard
Hi, I'm Candice & welcome to The Edgy Veg! Where I try to veganize popular food for vegans, plant-based diets & people who are trying to eat more plants over… y'know the use of animals.
Do you remember being a kid and after soccer practice or just on a super hot day, going to Dairy Queen and getting your favourite flavoured blizzard? Mine was ALWAYS the Reece's Peanut Butter Cup (with extra peanut butter cups). However, I also loved the Strawberry Shortcake blizzard!
So now that we're an adult (and a vegan or aiming for a plant-based diet), who says we can't still enjoy our favourite childhood treat?! 2 ingredients and 5 minute prep time to veganize a piece of your childhood, what more could you ask for?
How To Make: Vegan DQ Strawberry Shortcake Blizzard
Never miss a video by clicking here to Subscribe to my Channel
If you want to view or print the recipe card, just scroll down for the full list of ingredients & simple instructions on how to make this Vegan Strawberry Shortcake DQ Blizzard recipe.
All you need for this recipe is 1 pint of dairy-free ice cream (I used So Delicious Very Vanilla Cashew milk, you could also make your own), 1 slice of vegan strawberry cheesecake (I used Daiya brand vegan cheesecake), and strawberry jam or strawberry sauce. I like cashew-based vegan ice creams rather than coconut based, but you can use whatever dairy-free ice cream you like best. You can also switch out the toppings and mix-ins to create your favourite flavour of vegan blizzard.
Recipe for Vegan Strawberry Shortcake Blizzard
The first thing that you want to do is roughly chop up your slice of cheesecake. Next, you want to soften the ice cream, you can add it to a food processor or blender, but I like the results best out of my stand mixer. Add the ice cream to the bowl and mix with the paddle attachment to soften it before adding toppings.
Once soft, you can add in the chunks of strawberry cheesecake and jam. Be careful not to over-mix, because you want a strawberry swirl, not melted strawberry ice cream. If you need to you can scrape down the sides of the mixer. Scoop into your cup/bowl of choice, flip upside down for DQ authenticity, and enjoy your thick, chunky, ice cream treat.
Voila!
If you want more vegan recipes, click here for my newest recipes.
Save/Print/Share This Dairy Queen Blizzard Recipe
Vegan Dairy Queen Blizzard Treat: Strawberry Cheesecake
This vegan Dairy Queen Strawberry Cheesecake Blizzard copycat recipe is easy to make, and best of all, seriously delicious. Making it perfect for your vegan summer party or potluck. 3 ingredients and 5 minute prep time to veganize a piece of your childhood, what more could you need in the summertime?
Instructions
Roughly chop a slice of dairy-free strawberry cheesecake into small pieces
Add ice cream to the bowl of a stand mixer
Mix ice cream with paddle attachment until softened
Add cheesecake pieces
Mix to incorporate toppings into ice cream
Add strawberry jam or strawberry sauce
Mix just to create a swirl, but not fully incorporate
Scoop into cup or bowl
___________
___________
You guys must try this Dairy Queen Blizzard recipe & let me know what you think! Once you try it, come back and leave me a comment below with your feedback and star rating! If you make this, let me see on social! Tag @edgyveg on your photo & add the hashtag #theedgyveg in your caption so I don't miss it!
Pin this Dairy Queen Blizzard Recipe to Pinterest
For more easy, delicious vegan recipes, check out the links below!