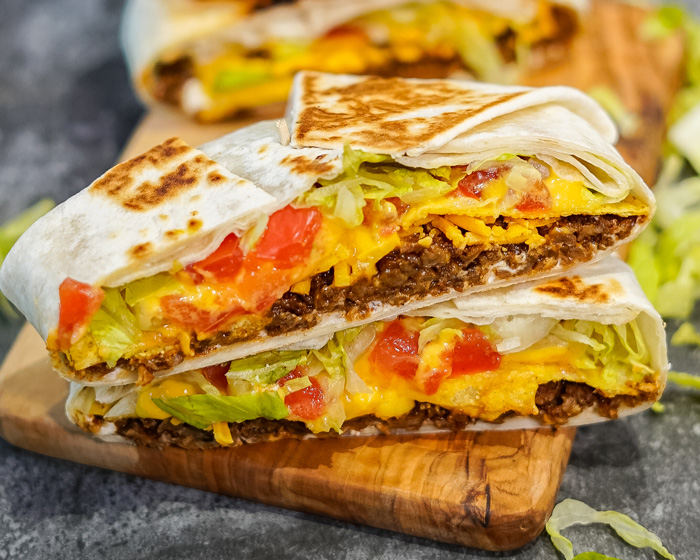 Vegan Crunchwrap Supreme | Vegan Taco Bell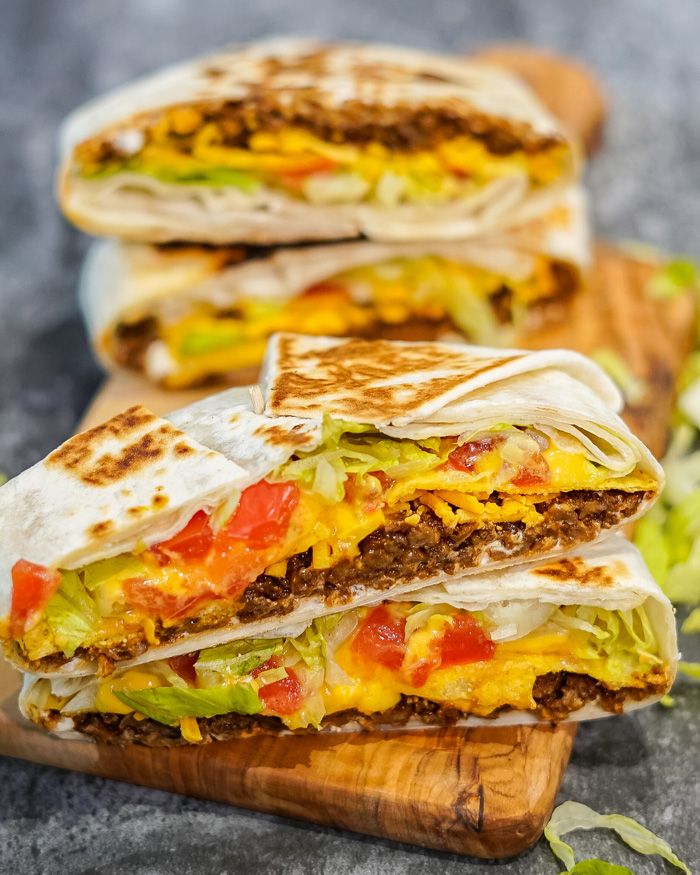 This easy vegan crunchwrap supreme is a vegan Taco Bell copycat recipe that uses 9 simlpe ingredients and can be made in 25 mins. Perfect for vegan taco night or for a nostalgic dinner!
This vegan crunch wrap supreme recipe is an updated version of my original 2015 recipe and uses accessible vegan alternatives to replace meat and dairy products that Taco Bell uses. This recipe tastes just like the original but dairy-free & meat-free!
Related Recipe: 5+ Vegan Taco Bell Recipes To Make At Home
Vegan Crunchwrap Supreme
DAIRY-FREE & MEAT-FREE
The crunchwrap supreme is a classic Taco Bell menu item that deserves to have a vegan Crunch Wrap Supreme version. In this 25-minute recipe, I'll show you how to turn 9 simple ingredients into a flavourful, crunchy taco stuffed inside a soft flour tortilla. 
INGREDIENTS FOR VEGAN CRUNCHWRAP SUPREME:
KITCHEN EQUIPMENT I USED:
SCROLL BELOW FOR FULL INSTRUCTIONS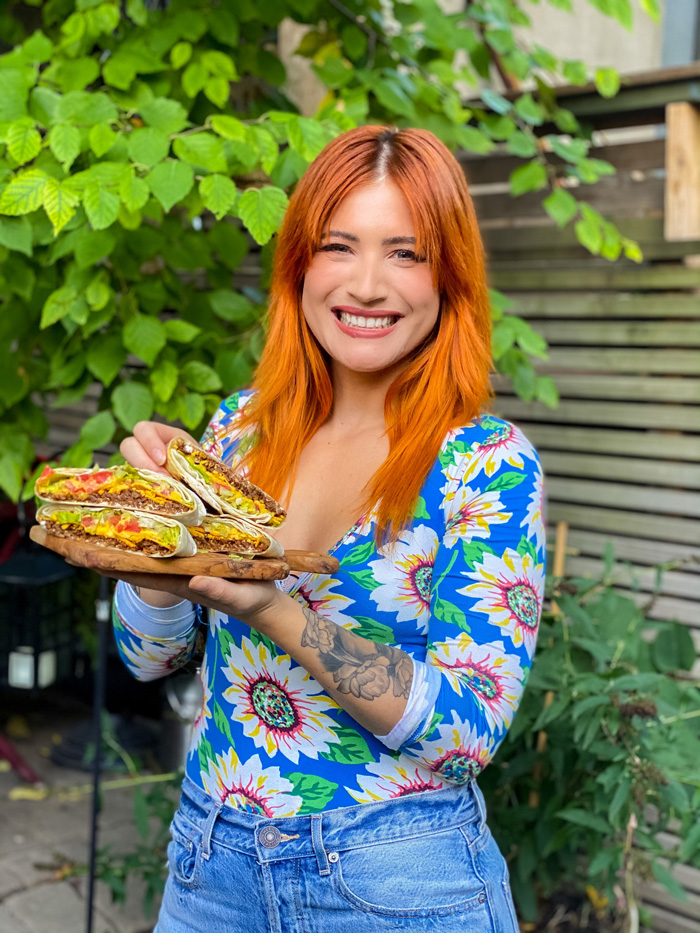 Vegan Crunchwrap Supreme (Vegan Taco Bell)
This easy vegan crunchwrap supreme is a vegan Taco Bell copycat recipe that uses 9-ingredients and can be made in 25 mins.
Instructions
In a large pan over medium heat, heat your veggie ground beef with a bit of water, and taco seasoning until heated through.
Meanwhile, ensure all your veggies are chopped, and you have your queso dip and sour cream ready.
To heat your flour tortillas, you can either microwave them for 10 seconds or warm them in the oven. To warm them in the oven; heat your oven to 350, and wrap your stack of tortillas in foil. Heat the wrapped stack in the oven for 15 mins.
To build your Crunch Wrap:
Heat a large pan over medium heat.
Lay your wrap out and spread a dollop of sour cream in the center.
Top with some of the cooked veggie ground beef.
Add a thin layer of shredded vegan cheese, then top with a hardened tostada shell.
On top of the tostada shell, spread some warm queso-dip, and top with diced tomatoes & shredded lettuce.
Starting with the bottom of the tortilla, fold up the edge over the center, working your way around the entire tortilla.
If you have a spot left open in the center, just fill it in, by tucking in a cut piece of another flour tortilla under the folds.
Gently place your crunch wrap folded side down onto the heated pan, and allow it to toast for a few minutes until it's gently browned, this should take roughly 3 mins, or so.
With a spatula, carefully flip your wrap and toast for another 2-3 mins.
Serve with some hot sauce, guacamole and/or extra queso dip on the side for dipping.
Nutrition Information
Serving size:
1 wrap
Calories:
549
Fat:
23.5g
Carbohydrates:
54.5g
Protein:
23g
Hey I'm Candice aka The Edgy Veg – I veganize popular food recipes for vegans, plant-based diets, eco-conscious eaters & people who are trying to eat more plants over… y'know animals or their by-products. I hope you enjoy this tasty vegan recipe!
---
Looking For More Vegan Fast-Food Recipes?
Made this recipe? Let me know what you think by leaving a 
 star rating & comment below. It truly helps me & I really appreciate any support! Feel free to share your food photos on social and tag me @edgyveg so I don't miss it!
Share My Recipe on Pinterest!