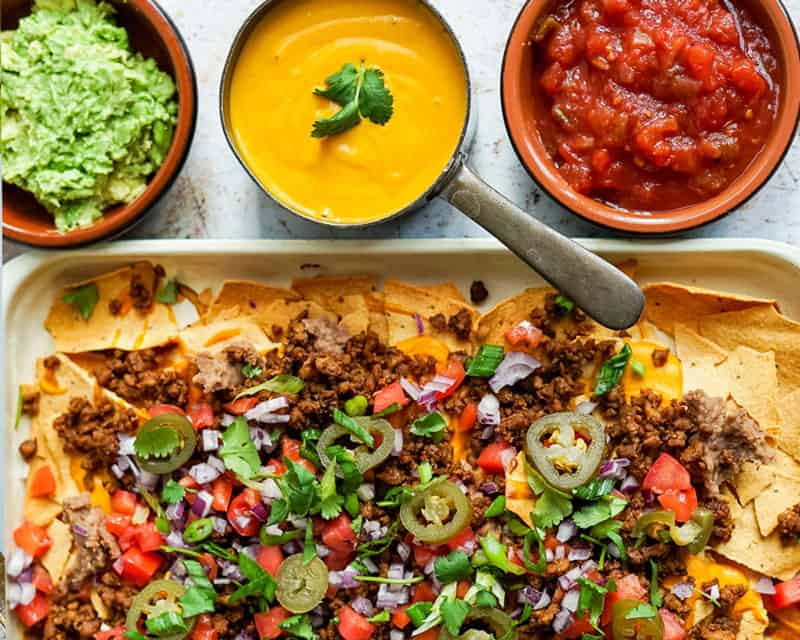 A few years ago I went to a football game in Pittsburgh. Knowing nothing at all about football, I more or less drank my way through what seemed like a 4 hour ordeal, where 2 groups of men just ran around aggressively trying to hug one another. Let's just say, I am not one for sport. I was never very athletic growing up, and I don't understand anything football-related at all — unless of course it's European football or Soccer as we north americans call it. I may not be into sport, but I sure am into the foods that surround these noisy, testosterone-fueled events.
Like Nachos. Nachos are the best. No seriously, they are actually like the best food.  Everyone like nachos; which is great for vegan nachos, because this cheese sauce isn't trying to be cheese, it's trying to be that fun gooey cheese sauce from a packed football stadium; which, let's face it, isn't, actually, really, cheese at all.
Nachos are such a simple and crowd-pleasing snack, that is totally customizable for any flavour palette. I prefer the traditional Tex Mex style nachos, mainly because I love Mexican-inspired dishes.  This dish is the easiest thing to make for a party ever, and no one cares if it only took you 12 minutes to prepare.
Related Recipe: Vegan Nacho Cheese Sauce
Vegan Nachos Recipe
Easy vegan nachos recipe for Monday night football or your Super Bowl party! Easy, cheesy and yummy!
Ingredients
Lots of Tortilla Chips
2 Tomatoes, diced
2 Green Onions, chopped
Handful Cilantro, finely chopped
1 Jalapeño, chopped (optional)
Guacamole (optional)
Instructions
If you bought vegan cheese sauce, skip to next instruction. But if you want to make a super easy vegan Nacho Cheese sauce at home, you can make it first.
Take your vegan nacho cheese sauce and heat it up in a pot over medium heat stirring frequently.
Cook your vegan meat of choice for your nachos.
Spread out half of the tortilla chips onto a dish or serving tray.
Add spoonfuls of refried beans to create dollops.
Sprinkle minced vegan meat on top, and drizzle vegan nacho cheese.
Add a second layer of nachos, add spoonfuls of refried beans and sprinkle on meat like you did on the first layer, along with a generous amount of cheese.
Add jalapeños, green onions, and sprinkle of tomatoes.
Top with cilantro for garnish and a dollop of vegan sour cream, and any remaining ingredients.