Easy Super Bowl Recipes VEGAN
In America, the Super Bowl is one of the biggest food holidays of the year. Traditionally these foods are meatier, cheesier and more gluttonous than usual–most of them fried, smothered spiced and piled. .Just because you're vegan, doesn't mean that there aren't any satisfying options for you. Personally, I am not into sports, and see sports as just another reason to eat (like I needed more of those), but boys along the way have turned me into the one woman Super Bowl party food queen.
As a vegan there are plenty of veg-friendly dishes that are just as gluttonous and satisfying as their traditional counterpart. From cheesy dips to messy nachos and ooey-gooey wings, here are my favourite vegan tailgate and super bowl party foods.
The NFL play-off season is upon us, the women are cringing and the men are taking over our meticulously decorated living rooms. The easiest, and most iconic tailgate food (in my opinion) is a mean veggie chili as hearty as the men you watch run across that field. This one is filled to the max with protein, I love mine spicy-as-hell!
The pumpkin in this veggie chili is light and nicely balanced. It gives this traditional recipe a nice and earthy element perfect for your Super Bowl Party, or when you're just looking for a quick and easy dinner that you can make plenty of, and savour the leftovers for lunch tomorrow. Plus when you're having a lazy night- it can be whipped up in just 30 mins or less! Bonus.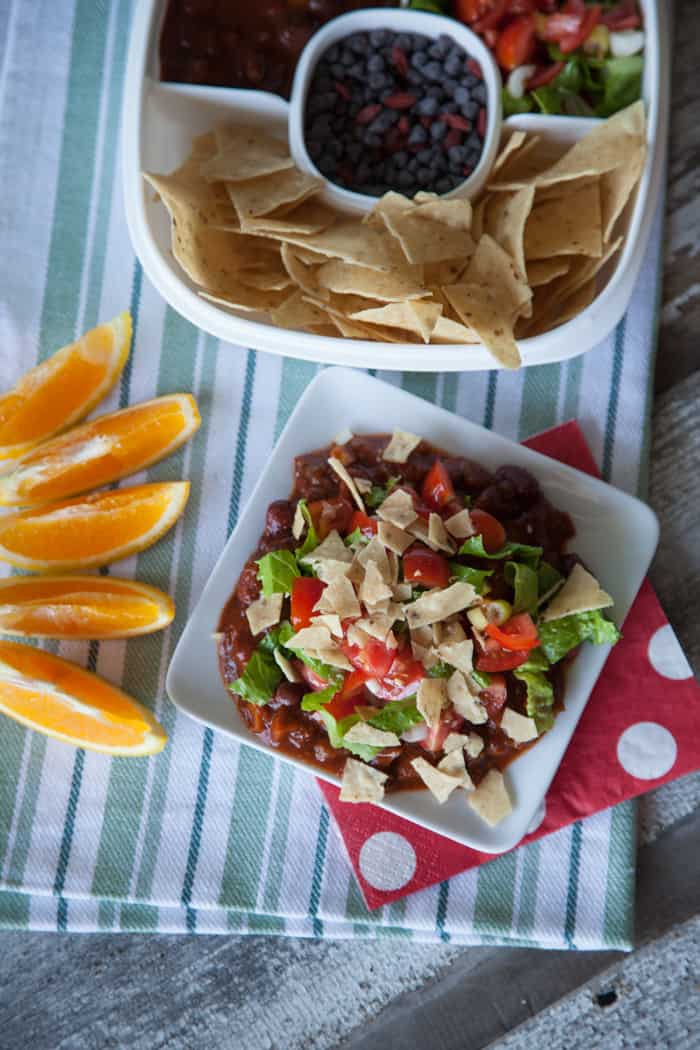 This is a simple one dish meal that can be made for an easy but delicious snack. These haystacks are made with corn chips, vegetables, and beans all piled up to make a delicious haystack! Great for those kids you may have running around while you're trying to watch the game.
Nachos are the best. No seriously, they are actually like the best food ever.  They are quick and easy to prepare, you can totally customize them to suit your guests needs, and with my creamy nacho-cheese sauce, they are every bit as ooey and gooey as the cheese-laden version.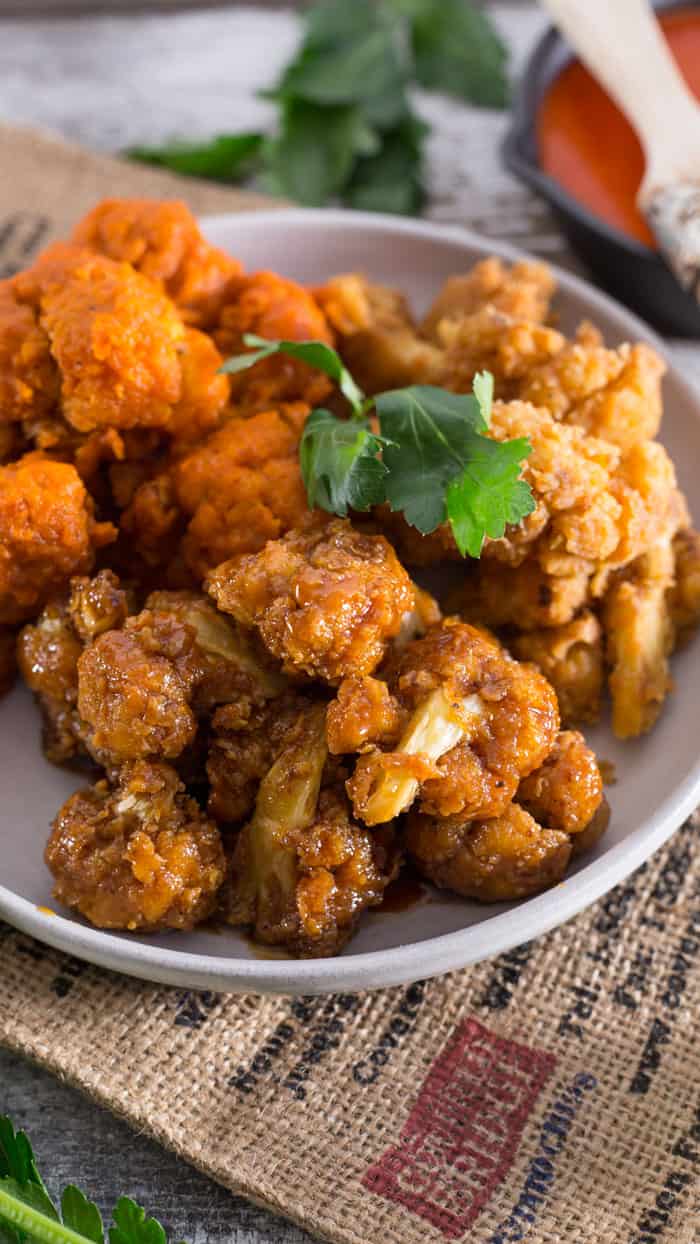 These are the most delicious buffalo cauliflower wings you will ever have! These vegan cauliflower wings are a crowd pleaser that you can feel good about. A perfect appetizer for game night, or a simple and yummy meal for date night in with your sweetheart. They are fried not baked, for ultimate authenticity, so you get a good crunch when you bite into them! Get dippin'!
Give these delicious vegan wings a try– I promise they will taste JUST like the meat version. The seitan chicken has taken me roughly 2 years to perfect. They are now a staple food at all of our parties. They are moist, and perfectly spiced. For the "bones" you can use either sugar cane popsicle sticks, or you can simply have "boneless" wings. Yum!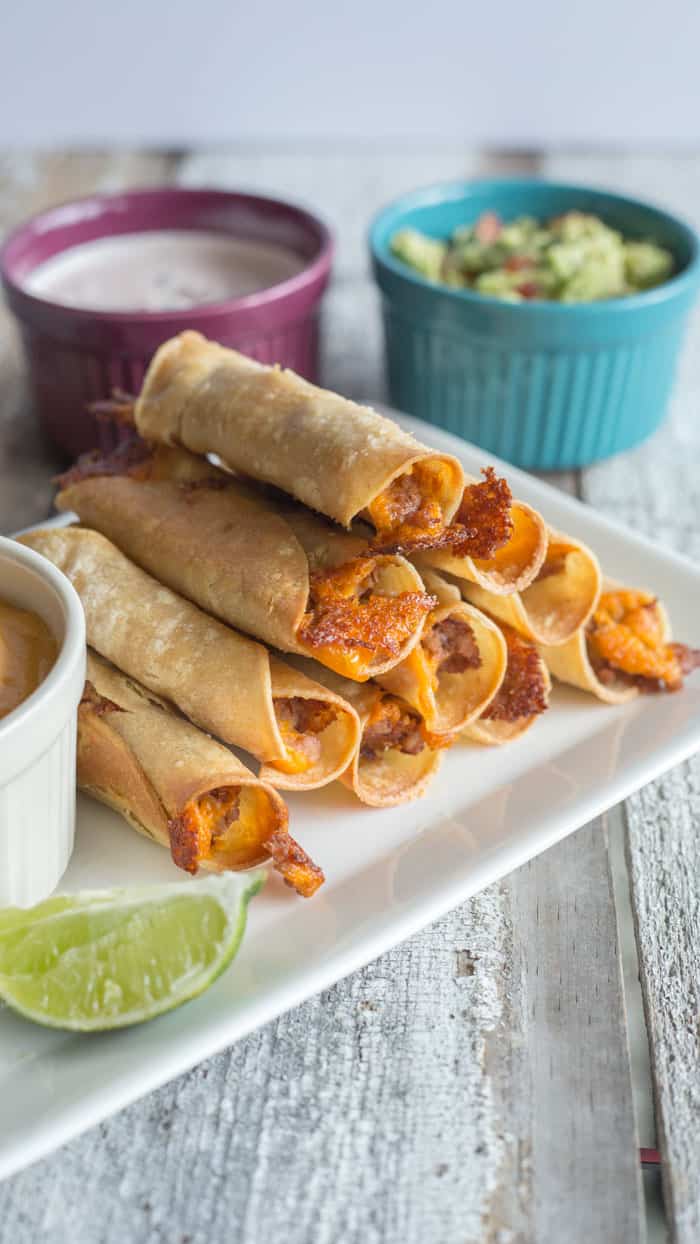 Baked Taquitos with Creamy Salsa and Guacamole
I would like to introduce to you, the bean and cheese taquito! Taquito's are one of my favorite party foods of all time for a wide variety of reasons. One of the biggest ones being that they are a snap to make, require minimal ingredients, minimal cooking time, and taste amazing. This recipe is not not only good for super bowl game time appetizers, but also a really quick recipe anytime you need kick-ass party food.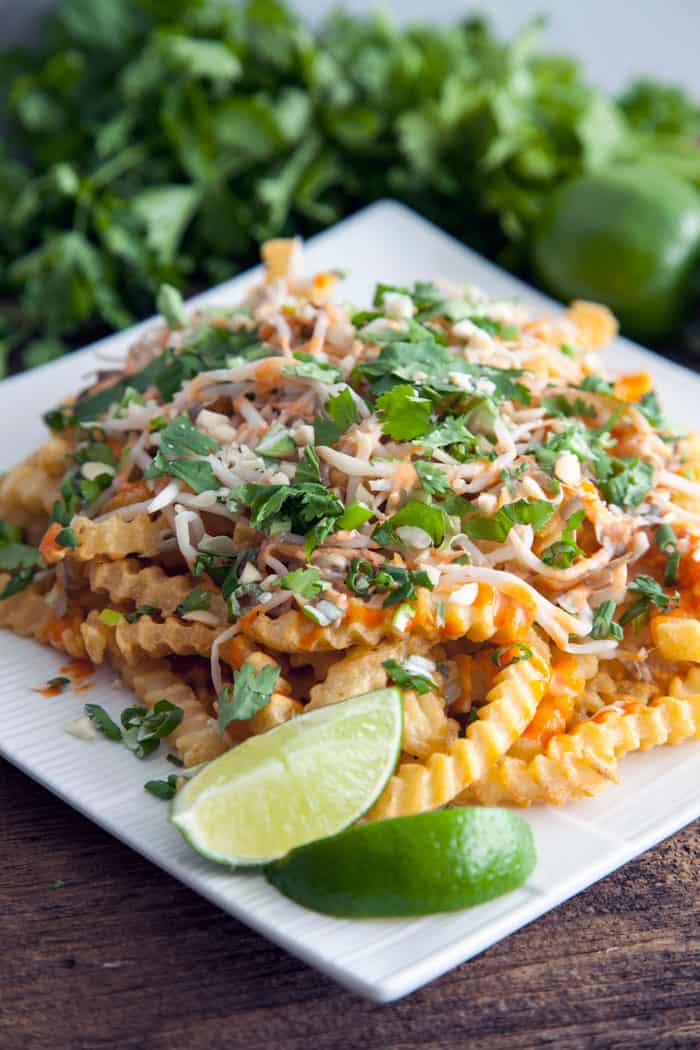 Pad Thai Fries
This is one of those 'no-rules', do what you want- street food type recipes. The type of recipe where you don't really need to measure anything out, and prep is super minimal—making it the perfect recipe for a get together to watch the big game or date night at home with your significant other. This light vegan appetizer is salty, fresh, tangy and makes a great dish for any party.
"Queso" literally means cheese, so to many, the idea of a vegan version of this dip is preposterous. However, you can't throw a Super Bowl party without cheese dip, vegan if it is hosted by a vegan. This recipe
Sweet Potato Burger
Simple, Vegan sweet potato tofu burgers that are tender, hearty, flavorful, and delicious. This vegan burger recipes is perfect for your vegan bbq or a Game Day Party.These sweet potato burgers are insanely easy to make and are incredibly meaty, moist and tender. They are so delicious and sweet, and hearty– I know that you will feel the same way.
As a kid I loved to watch the guy at the corn dog stand dip the wieners in the thick creamy batter and fry the daylights out of them. I was always a fan of food on a stick. Mini corn dogs are a great little app for a Superbowl party, or any party for that matter! Enjoy with ketchup and mustard of course!
Portobello Mushroom Sliders
Game day is all about hand held meals and snacks and so I suggest making these 2 bite portobello mushroom sliders. You no longer have to suffer through the laborious task of mixing, grinding or molding veggies into tiny burgers, or trimming your veggie burgers into tiny circles to get that slider experience. Just marinate some mushrooms, grill 'em and bam! perfect sliders every time.
Imagine a taco, a bowl of chili and a bag of chips all had a super-tasty orgy and then got pregnant. THAT my friends, is how you get a Frito Pie. To me, this is just a Tex Mex version of our beloved Canadian poutine. Both dishes sound ridiculous when described, but the experience is totally worth it.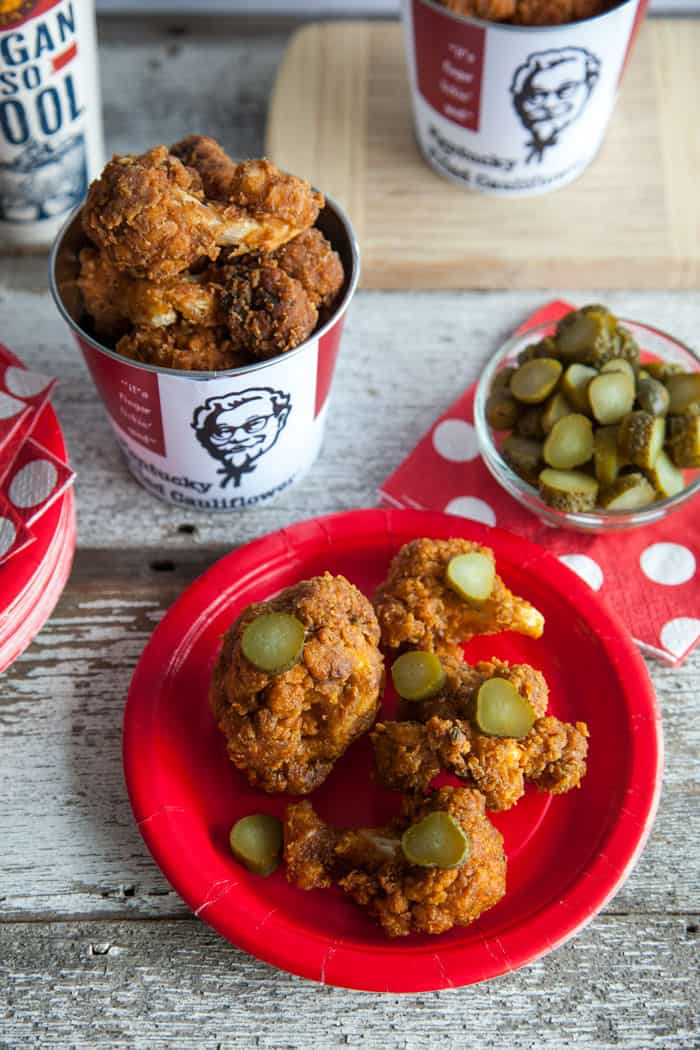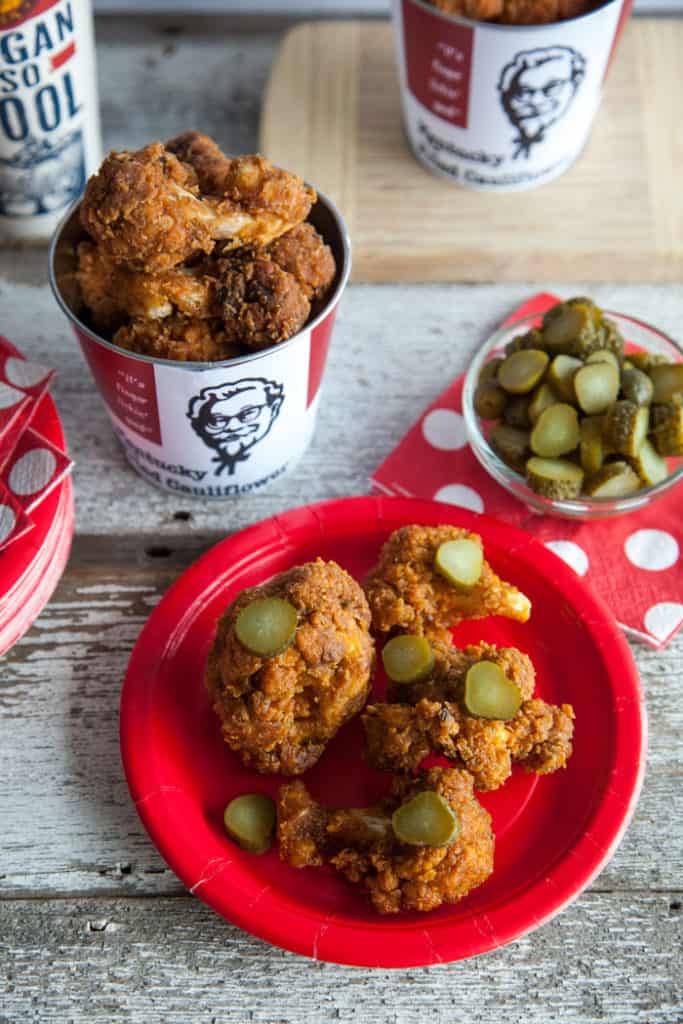 KFC Nashville Hot Fried Chicken Recipe using Cauliflower
This vegan take on the famous KFC Nashville Hot Chicken uses cauliflower to give you that juicy, crispy, fried chicken taste you're used to. This fried cauliflower recipe is the best cauliflower you'll ever have and the perfect way to trick your non-vegan guests at your Super Bowl Party !!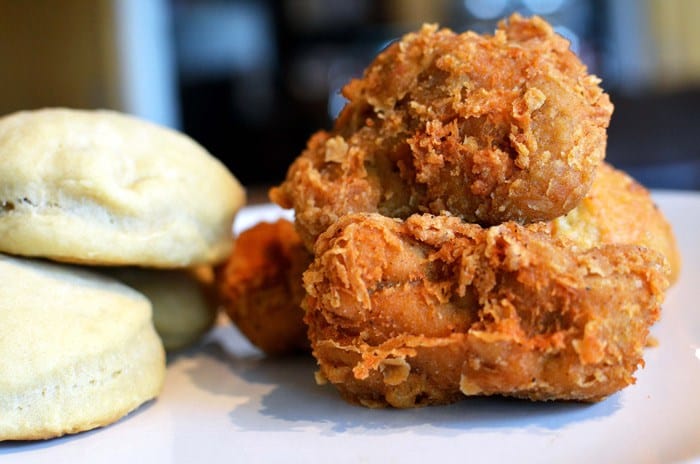 There is no reason to order in fried chicken, when you can make this amazing vegan spicy chicken recipe at home! Get a stack of napkins, and some wet wipes!! You can't have too many finger foods at a party right?
Vegan Lentil Sloppy Joes
In this recipe I used a mix of lentils and veggie ground round- two things I always have in my pantry or fridge. The lentils and ground round ground are cooked with onion, red pepper, garlic cumin, chili powder, BBQ sauce and tomato. And is then scooped high onto a toasted and buttered bun. Try garnishing it with fun toppings like pickles, pickled jalapenos or coleslaw.
Taco Bell Chili Cheese Burrito
Chili and football go together like mac and cheese, Thanksgiving and brussel sprouts, Vegas and gambling and white on rice. I'm all about re-inventing food, so naturally a cheesy, chili exploding burrito had to be on the menu! Happy Super bowl kids!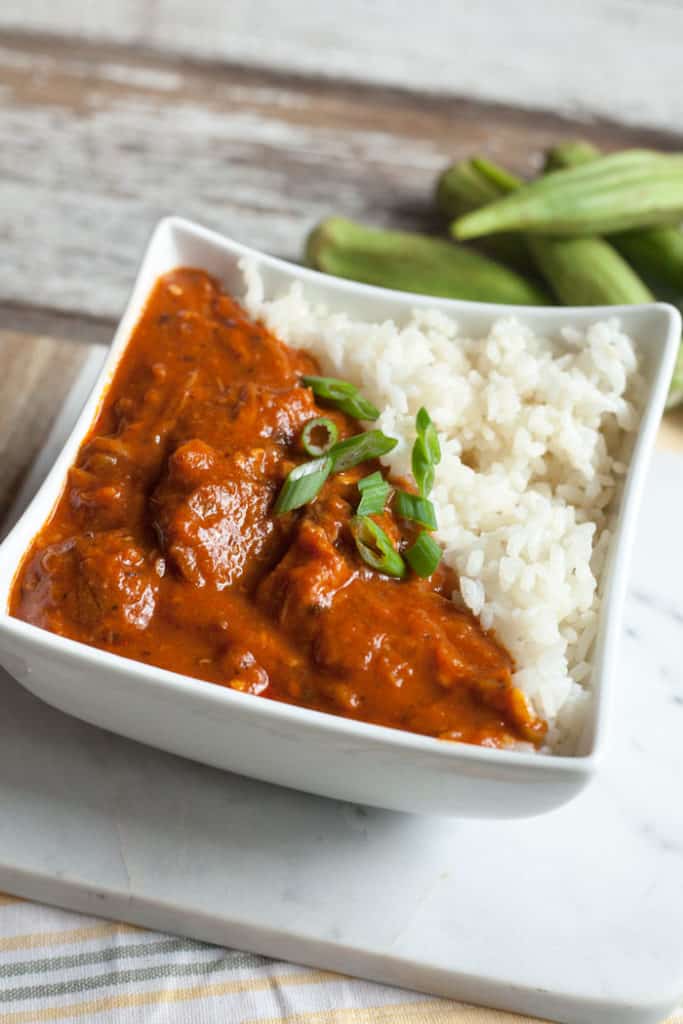 Vegan Cajun Gumbo
This vegan gumbo is packed with okra, vegetables, jackfruit and sausage. It is cooked the traditional way with a plant based twist. This hearty, and rich Cajun stew is made with marinated jackfruit "chicken", spicy veggie sausage and seasoned with black pepper, cayenne, and paprika. It is the best vegan gumbo you'll ever have!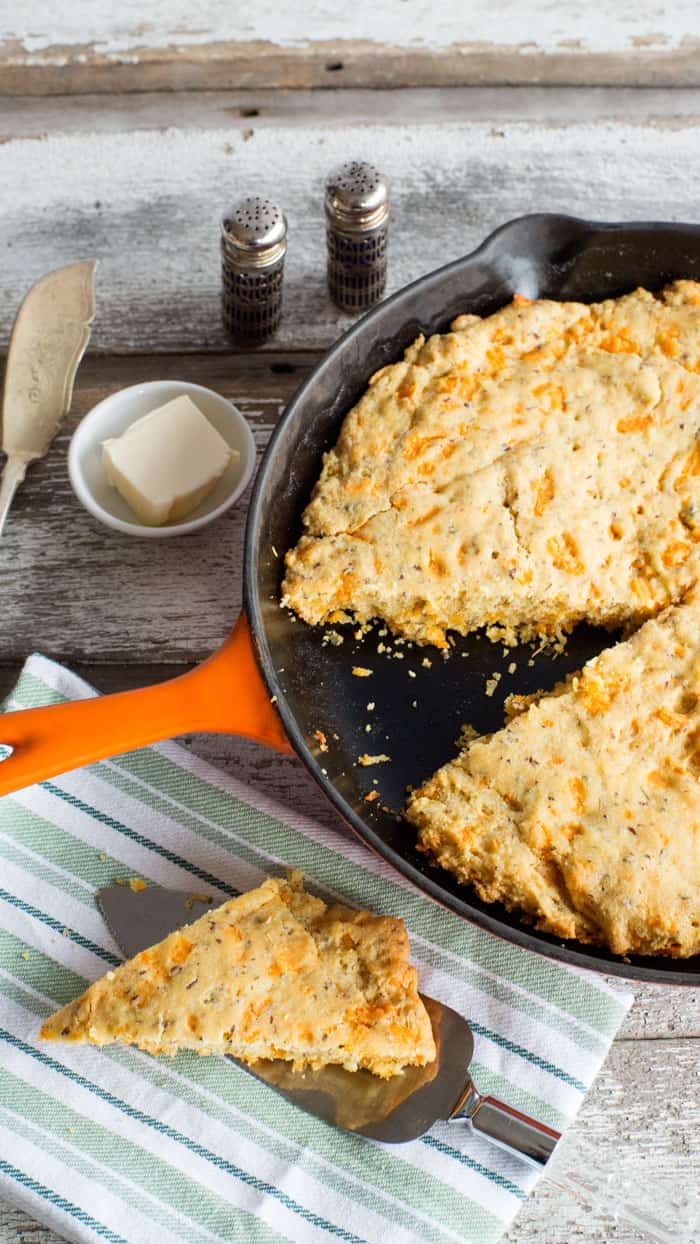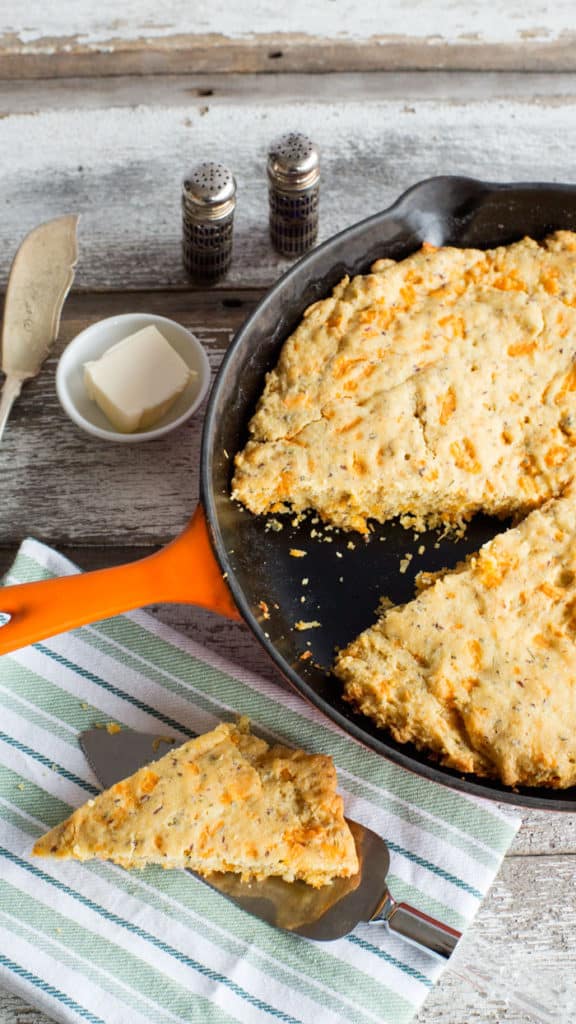 Cheesy Cornbread Recipe
Vegan cheesy cornbread is not just a fantasy, it is a totally achievable thing. But brace yourself, because once this cheesy goodness comes out of the oven, it is hard not to devour it all. The slightly spicy kick will leave a taste in everyone's mouth that will leave them wanting more. It's literally the best thing for chili ever!
A few years ago I drove to Pittsburgh to feed football-crazed omnivores yummy vegan tailgating delights. After first waving meat in my face, making fun of me and pretending to pee in my pot of vegan chili; they eventually were willing to try some vegan chili with cornbread and chili dogs– with beer of course! Check out the video we did while we were down there!