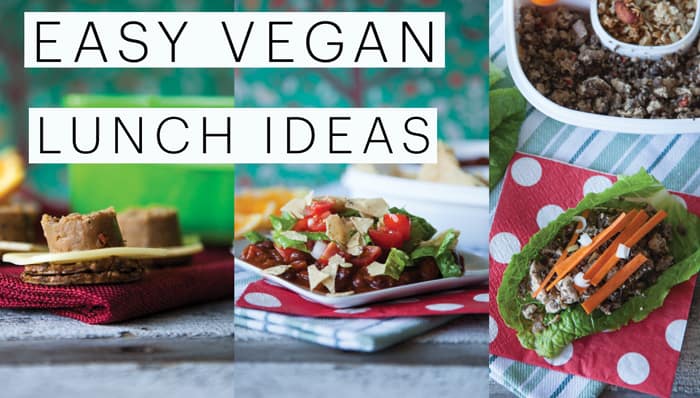 Easy Vegan Back to School Lunch Ideas | DIY Lunchables | Mushroom Tofu Lettuce Wraps | Mexican Haystacks
In my last post I covered some Easy Vegan Breakfast Ideas to get your day off to a good start, and make that make to school transition as easy as possible! It seems only natural that I would follow it up with a video full of Easy Vegan Lunch Ideas to fuel you and keep you going during your studies. These lunches are based off of what I would have loved to eat as a kid, and I think you'll agree they aren't your typical boring white Wonder Bread sandwich.
My first Easy Vegan Back to School Lunch Idea is a take on the ever popular kid favorite, the Lunchable. The beauty of the Lunchable is that is easy to pack, easy to eat, and about as well rounded as any store bought lunch for kids could get. But these my friends, step it up a notch— they're a healthy vegan alternative you can feel good about sending your kids to school with. No weirdo ingredients, just good, wholesome food that also happens to be a delight to eat! I use a lot of vegan pre-made products, because they are quick and delicious, and make prepping these bad boys easy as pie. Add celery sticks, hummus, orange slices,  and a sweet dessert to make sure your kid (or you) are getting a well rounded meal. Plus dessert is a super important part of any meal. This DIY Lunchable packs conveniently in a bento-style container.
The second Back to School Easy Vegan Lunch Idea is a super simple Mexican inspired combination that anyone, adult or child, would be more than satisfied to find packed in their lunchbox. The prep work for this is a snap. Just take a few cans of your favourite beans, heat them up in small sauce pot and spice them with taco seasoning. This high protein bean medley, together with a quick and easy pico de gallo inspired salad using kale or romaine, is a hearty but fresh, delicious meal. For an additional snack add some carrot sticks and of course fruit ir a sweet treat for dessert. The last part of this lunch, and without question a crucial one for convenience, is to top it all off with some tortilla chips. You can use these to scoop up the lovely bean mixture, or crumble them on top and eat with a fork.
My last lunch idea is a low cost high end approach. It's a bit more on the fancy side of things. To create this lunch simply crumble up some tofu and chopped mushrooms into a frying pan, add you favorite spices and cook them down. Next, just put those into a lettuce wrap and top them with some carrots and green onions. What you will end up with is a PF Chang's style tofu lettuce wrap, that was super easy to put together but gives your packed lunch a high end feel.
There you have it, 3 easy back to school lunch ideas that will keep you or your student satisfied and healthy. All of these ideas are easily customized to fit your flavour profile, so experiment and see what combos you can come up with!
If you have any easy lunch ideas for back to school you want to share please feel free to leave them in the comment section below.
Check out How I build each one by watching the quick instructional video below! If you liked the video don't forget to subscribe to my YouTube channel for more easy and delicious vegan tips!