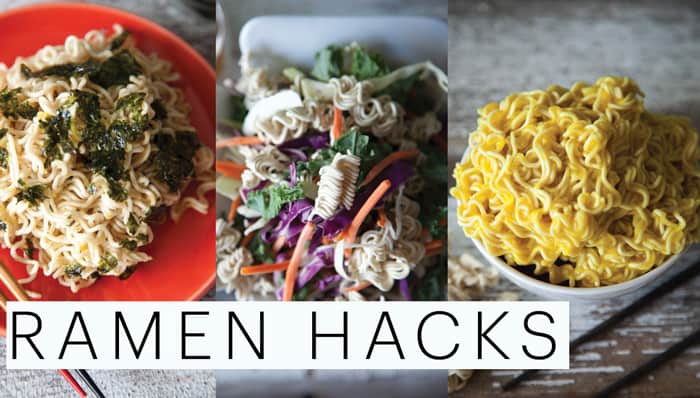 Dorm Room Vegan Ramen Hacks | Kylie Jenner Style | Asian Ramen Salad | Mac n Cheese
We have all had our fair share of Ramen. Over the years it has become a staple in dorm rooms and households all over the world. But today, I am going to share with you you 3 recipes that will turn your Ramen into a vegan masterpiece in so little time you'll actually be early for class. This is the third instalment to our #Back2SchoolVegan series happening on my YouTube channel, so if you haven't subscribed you totally should! We've already tackled easy vegan breakfast ideas, as well as awesome vegan lunches, so it was only natural to tackle the infamous dorm room meal that every student will be consuming this semester.
The first Ramen hack is a recipe for Vegan Ramen Mac n Cheese. We've all had reman done the regular way, so why not change up the flavour profile a bit by turning it into another dorm room favourite- mac & cheese, or I guess I should say Ramen' cheese. Like any good student, chances are you have some awesome vegan cheese in your dorm for the very necessary late night grilled cheese sandwich; making this option a no-brainer. It whips up in just a few minutes and is almost as good as yo momma used to make it.
The second Ramen hack recipe is an Asian Ramen Salad. Now I know it sounds weird, but it's freaking delicious and stupid easy to make. All you need is a pre-made salad pack ( I like to use an asian mix with lots of cabbage), a packet of instant ramen noodles and some basic salad dressing ingredients. Make a bunch of this dressing and keep it in the fridge for easy go-to salads all week long.  Just dump your salad mix into a bowl, pour your dressing right over your salad and crush up your Ramen sprinkling it right on top and toss. Trust me, you'll love the crunchy texture the Ramen adds to the salad. It's like adding chow mien noodles but cheaper!
Ramen hack number 3 was recently snap-chatted by American Reality Television Personality Kylie Jenner. Now, my Asian friends have been doing this for years but apparently it's still a bit new to the mainstream (read white) ramen community. Kylie Jenner likes to add butter, garlic powder, and an egg. Since this is a vegan page, eggs are out of the question so I decided to add some nutritional yeast to get that eggy-buttery, vegan -awesome flavour. If you want it to be saltier, you can sprinkle in some of the Ramen packet flavoring and mix it all together.
You can eat it exactly like it is at this point but I'm a fancy-pants ramen eater, and like to add some sliced up green onions and a bit of cut up seaweed as extra garnish flair. Cuz, you know, class and all that jazz (which is a very classy genre of music often enjoyed with a nice glass of scotch). And that is literally it! A super simple Ramen hack, made famous by Kylie Jenner but apparently common in the Asian culture, and it took practically no time at all to prepare. Ta da!
Now you have 3 easy to prepare back to school dorm room Ramen hacks that will leave your friends wondering why your Ramen tastes so much better than theirs.