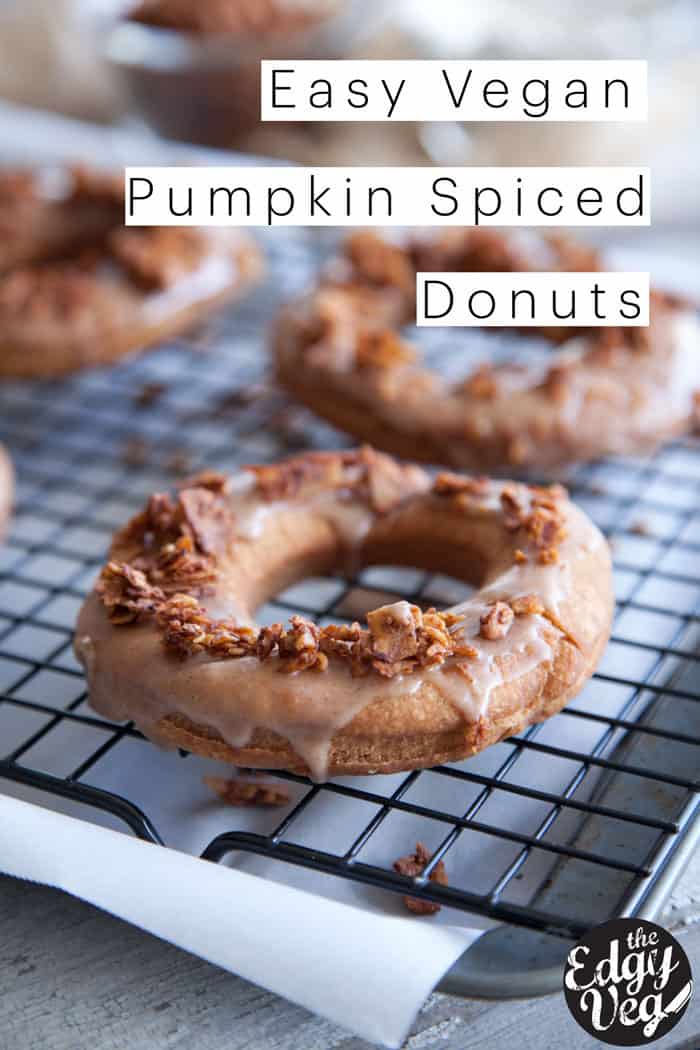 Vegan Pumpkin Spice Donuts Recipe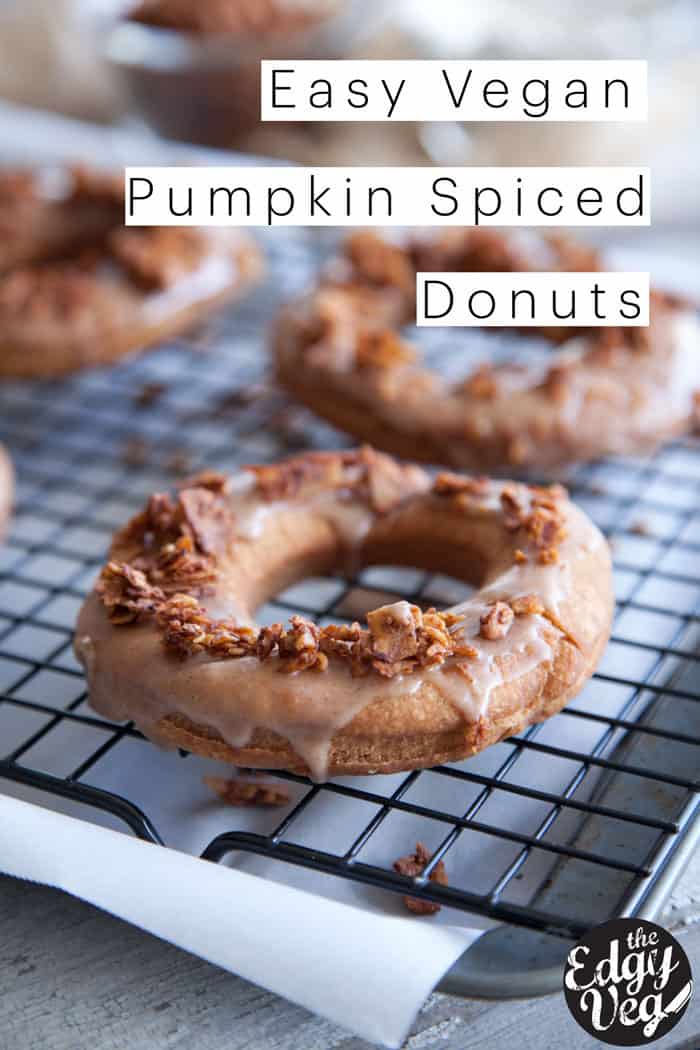 In celebration of Fall, one of most beautiful seasons on the planet, followed by one of the worst and most hated season buy us Canadians especially; today I bring you a perfectly timed recipe for Vegan Pumpkin Spiced Donuts. What better way to usher in the falling leaves, layers and boots than with a PSL donut?
As many of you are no doubt aware Fall has officially "fallen". September 22nd was the Fall Equinox and that means not only will the leaves be changing but so will the food we are all eating on a regular basis. Pumpkin Spice Lattes are officially on sale at coffee shops around the globe and the production of pumpkin pies is about to reach it's yearly high in preparation of the biggest holiday in Fall, Thanksgiving.
Thanksgiving is primarily known as the one day of the year you can eat as much Pumpkin Pie as you want without feeling the least bit guilty about it. Here's the good news you don't have to wait until Thanksgiving to get your hands on some pumpkin flavored goodness. If that weren't enough to inspire truly unadulterated fall happiness it's also Vegan!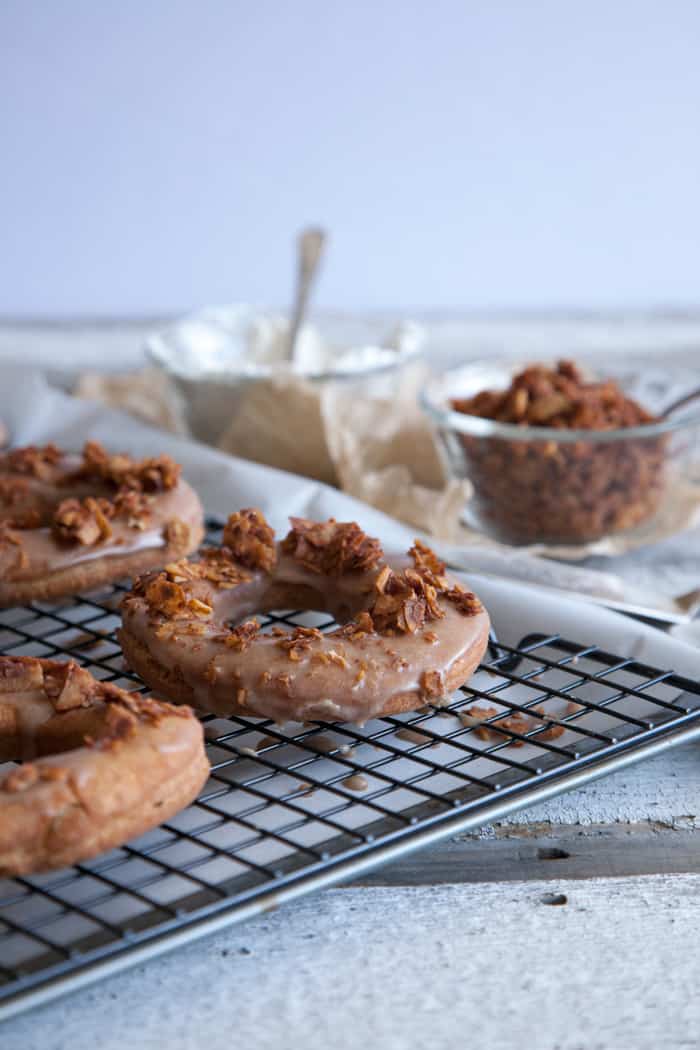 This recipe is a re-purposed version of a Krispy Kreme-style Old Fashioned donut I have been trying to re-create for years! I think it's super duper, but I will let you be the judge. I decided to top these guys with freshly cooked vegan coconut bacon, because I LOVE the sweet and savoury flavour combination. The maple syrup in the coconut bacon really compliments the maple syrup and earth spices in the donuts and glaze themselves.
If you don't have a fancy donut cutter, you can do what I do; find some dish ware with top circumferences that would make good donut sizes. I used a martini glass and a collins glass. You could also use the lid of a large size mason jar and a shot glass for this. Use those to cut your donuts, as well as your donut holes, out of the rolled out dough. If you don''t have a deep fryer, like I do, don't fret! Simply heat up 3-4 inches of oil in a medium sized pan, and be very careful while cooking.
When it comes time to cook your donuts, be careful not to overcrowd them. Overcrowding them will cause the oil to cool and they will take longer to cook and in turn, become way too oily. Nobody likes extra oily donuts, period. Once cooked toss them onto a paper towel lined baking sheet to soak up the excess oil and while still hot, dip one side of the donut right into the glaze.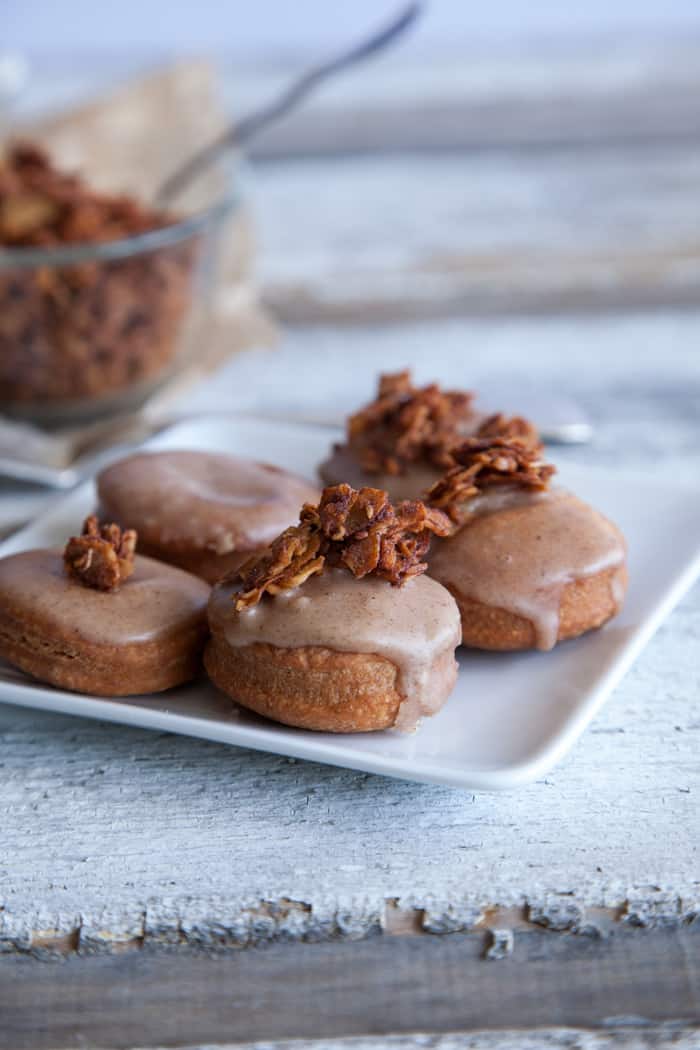 At this point, you can enjoy them as-is if you feel compelled. You did after all just create a delicious, pumpkin flavored, glazed donut. No one would fault you for eating it immediately. However, I recommend adding some toppings to double the fun. I topped mine with coconut bacon, a sure-fire way to lure the carnivores in your life into eating these Vegan Pumpkin Spice Doughnuts, but you can top them with spiced sugar, regular coconut, nuts, and even chocolate syrup. You can find my recipe for crispy vegan bacon right here.
What other fall recipes are you interested in seeing? Leave a comment below with your requests! HAPPY #PSL SEASON!
Vegan Pumpkin Spice Donuts Recipe
This recipe for Vegan Pumpkin Spiced Donuts is a delicious way to usher in the falling leaves, and welcome the holidays ahead. Pumpkin Spice Lattes are officially on sale at coffee shops around the globe and people are going crazy for pumpkin spiced everything. Make this vegan version at home with better ingredients! If that weren't enough to inspire truly unadulterated fall happiness it's also Vegan, meaning it's dairy and egg free!
Instructions
To Make The Donut Batter
Mix all dry ingredients in a bowl, and wet ingredients in a separate bowl. DO NOT ADD SOUR CREAM & PUMPKIN PUREE.
Add ⅓ of the wet mixture to the dry and mix until you get crumbles.
Add ½ cup sour cream and ¼ cup pumpkin puree and mix until combined.
Add in the rest of the flour mixture and mix well.
Cover the donut cake batter with plastic wrap or a sauce pan lid and chill in the fridge for a minimum of 1 hour.
While you are waiting for the dough to chill, make your glaze.
To Make The Glaze
Sift the powdered sugar into a small bowl and stir in the maple syrup and the vanilla extract.
Whisk very well until well combined.You may want to add a teaspoon or so of soy milk or almond milk to thin it out if it's too thick.
To Make The Donuts
Roll out the chilled dough on a generously floured counter. You want your dough to be about ½ in thick. Add flour to the rolling pin or top of the dough as necessary to prevent sticking.
Cut as many donuts and holes as possible, with a donut cutter or a large glass, dipping the cutter into flour before each cut.
Re-roll the excess dough to make extra donut and holes until you run out of dough.
Heat at least 2 inches of oil in a deep fryer, large pot, or deep frying pan to 325°F.
Shake excess flour off the donuts before carefully adding them to the hot oil in batches. You do not want to crowd the donuts because they will lower the temperature of the oil, and you will end up with oily cakes.
Once the doughnuts float, fry for about 20 seconds, then flip.
Fry for another minute and a half, or until golden brown and cracked, then flip and fry the first side again for another minute, until golden.
Transfer to a paper towel lined plate for a minute and then transfer to a cooling rack.
Once the donuts have cooled only slightly, but are still warm enough to handle you can dip them into the glaze. Make sure to shake the excess glaze off. You can always dip them a second time if you're a sugar fanatic! Let dry on cooling racks, glazed side up, for about 15 minutes.