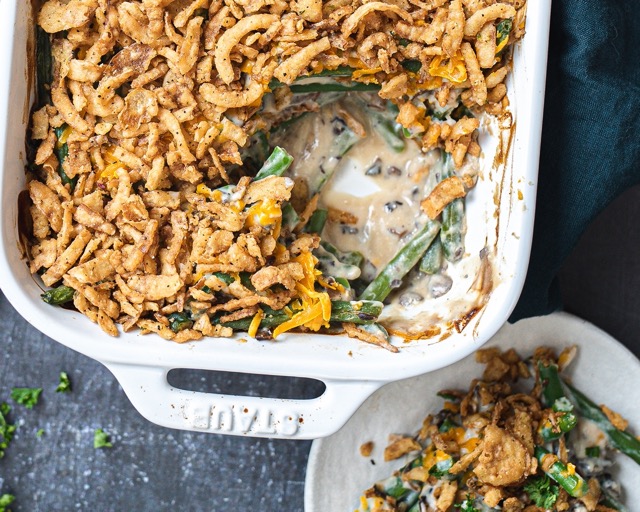 The Best Green Bean Casserole Recipe | Vegan & Gluten Free Christmas

Green Bean Casserole
I am here to save the day with this easy Green Bean Casserole recipe that is not only Vegan but gluten and dairy-free, perfect for the holidays.
This Holiday season, you don't have to worry about what you're making your sides and cater to those picky eaters. Using almond milk and cauliflower as substitutions to heavy creams, you can have this balance of crispy, creamy delicious goodness.
Traditionally Green Bean Casserole is made with canned mushroom soup, green beans and fried onions. But in this recipe, I am going to show you how you can veganize this dish using 100% vegan ingredients.
Related Post: Best Vegan Lasagna Recipe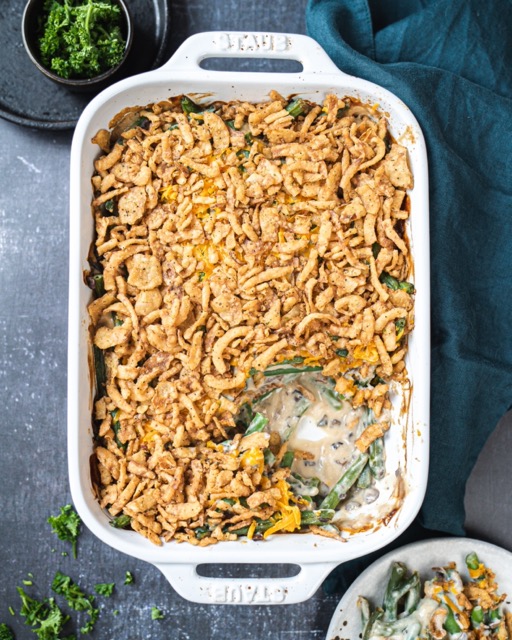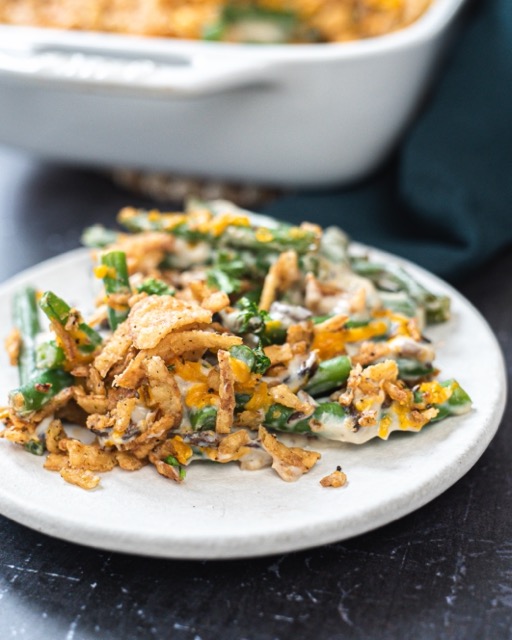 Pro Tips:
Other Recipes to pair with this recipe:
INGREDIENTS:
KITCHEN EQUIPMENT:
Gluten Free Green Bean Casserole Recipe | Dairy Free
This Holiday, you don't have to worry about what you're making as a vegan side dish because this is the best green bean recipe out there! Using almond milk and cauliflower as substitutions to heavy creams also makes this casserole a healthy option. Fortunately, with this recipe you don't have to choose between healthy or delicious because it's both a great vegan and delicious for potlocks and reunion parties.
Instructions
Preheat oven to 350 degrees F.
Heat 1 tbsp olive oil in a large pan or pot. Add cauliflower, onion, garlic, and a pinch of salt. Cook until onions are translucent, about 3 mins, adding water as needed to deglaze the pan. Add ½ cup water, cover and cook until cauliflower is tender, about 15 mins.
Meanwhile, bring a large pan of salted water to a boil. Add green beans and blanch for 1 min. Drain well in a colander, and place in an ice bath to stop cooking.
Transfer everything to a blender along with 1 cup plant milk of choice, and blend until smooth.
In the same large pan or pot, heat 2 tbsp olive oil and 2 tbsp butter over medium-high heat.
Add mushrooms, and a generous pinch of salt cook until they begin to release some of their liquid, and brown slightly, about 10 mins.
Transfer the cauliflower to the pot with the mushrooms, add 1 cup of plant milk and bring to a simmer. Simmer on low partially covered.
Transfer green beans to the pot with the mushroom cauliflower puree and mix to combine.
Transfer everything to a casserole dish, top with cheese, cover with foil, and bake for 25 minutes or until bubbling.
Top the casserole with the crispy onions and serve.
Notes
This recipe is a great make ahead recipe to get ahead start on your christmas or thanksgiving dinner! just prepare the mushroom soup portion a day before, and combine it all before baking!
Hey welcome to The Edgy Veg – we veganize popular food recipes for vegans, plant-based diets, eco-conscious eaters & people who are trying to eat more plants over… y'know animals or their by-products. We hope you enjoy this tasty vegan recipe!
---
Looking For More Festive Vegan Recipes?