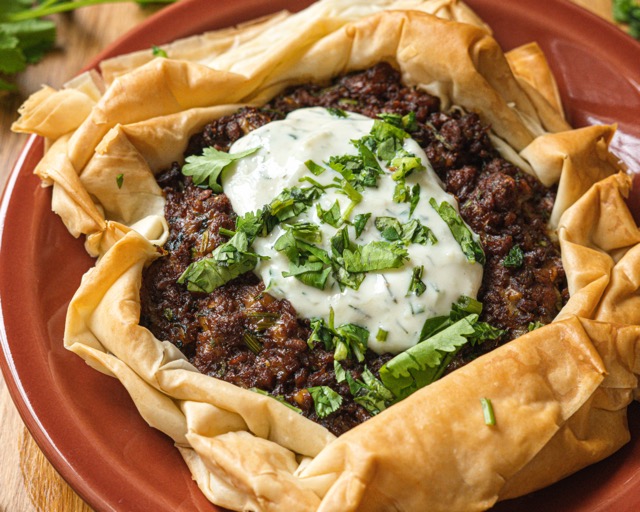 Vegan Meat Pie – Moroccan Inspired

Vegan Meat Pie
Do you have any leftover vegan meat in your fridge that you don't really know what to do with cause you got tired of making vegan chillis all the time? Instead of freezing it for another few weeks, why not try this Moroccan-inspired Vegan Meat Pie that is super easy and quick to make? Now, if you haven't had the chance to travel this year, this perfect 30-mins recipe will give you a time-traveling experience. Then, while you wait, maybe you want to work on making appetizers or desserts to complete that 3-course meal for your fancy date tonight. Finally, grab a glass of wine and enjoy!
Alternative ways to make this recipe:
You can always use any types of leftover vegan meat – add some vegan chicken meat or crumbles of vegan bacon to make it as meaty as you'd like. This simple recipe leaves so much room for creativity that you don't have to play by the rules. Consder placing vegan meat with this homemade beef recipe or add a touch of sweet potato cubes or butternut squash for that extra sweetness.

Moroccan Meat Pie
The Moroccan Meat Pie is typically served by Moroccans for Shabbat dinner. It started as a Jewish tradition to get families and friends to meet once a week to pause our busy lives to focus on celebrating life. Food has always been a symbol to get together to cherish people's companies and connect over something everyone can enjoy, regardless of one's religious background. By tweaking some of the traditional recipes, we can now create a vegan meat pie that everyone can enjoy. This simple recipe is guaranteed to induce cravings.
How many servings does this make?
This recipe is made for 2 -4 servings but you can always increase the serving size.

INGREDIENTS FOR GRILLED CHEESE MAC AND CHEESE (VEGAN):
8 filo pastry sheets (or any vegan pastry sheets)
KITCHEN EQUIPMENT:
Vegan Meat Pie - Moroccan Fusion
This modified vegan meat pie is the perfect treat to make when you are feeling a gourmet meal but want to put as little effort as possible. This easy to make meat pie is cooked to perfection and will save you time from going to store and actually buying a vegan meat pie. This just might become your next staple dish.
Ingredients
8 filo pastry sheets (or any vegan pastry sheets)
1 tbsp olive oil
Instructions
Preheat your oven to 350F.
Heat 1 tbsp olive oil in a large pan over high medium-high heat (if you are using something like Beyond Meat or Impossible Foods skip the oil), and line a baking sheet with parchment or a silicone baking mat. Set aside.
Add veggie ground beef and Moroccan seasoning and cook until heated through, about 5 minutes. Season with salt and pepper to taste
Remove from heat and stir in vegan cheese and a third of the cilantro.
Place 1 sheet of filo pastry on a flat surface with the short sides to the left and right, and the long sides of pastry at the top and bottom.
Brush the sheet with olive oil and top with a second sheet. Brush the second sheet with olive oil as well, and then fold the sheet in half, using the left and right sides. Repeat with remaining filo, and place each square onto the prepared baking sheet. You should have squares total.
Divide the cooked veggie ground between all 4 squares and gently scrunch the edges of the pastry, and bump each up against one another.
Brush the edges with more olive oil, and bake for 20-25 mins or until golden & crispy.
Serve with plant-based tzatziki and cilantro to garnish.
Hey welcome to The Edgy Veg – we veganize popular food recipes for vegans, plant-based diets, eco-conscious eaters & people who are trying to eat more plants over… y'know animals or their by-products. We hope you enjoy this tasty vegan recipe!
---
LOOKING FOR MORE MEAT PIE RECIPES?
Made this recipe? Let me know what you think by leaving a ★★★★★ star rating & comment below. It truly helps me & I really appreciate any support! Feel free to share your food photos on social and tag me @edgyveg so I don't miss it!