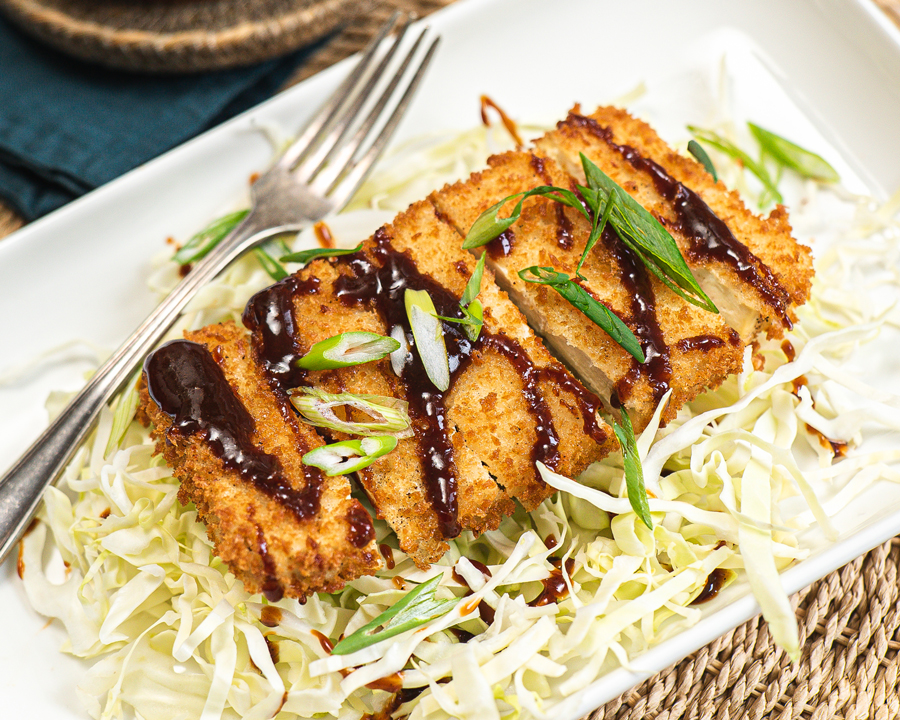 Simple Vegan Tofu Katsu Recipe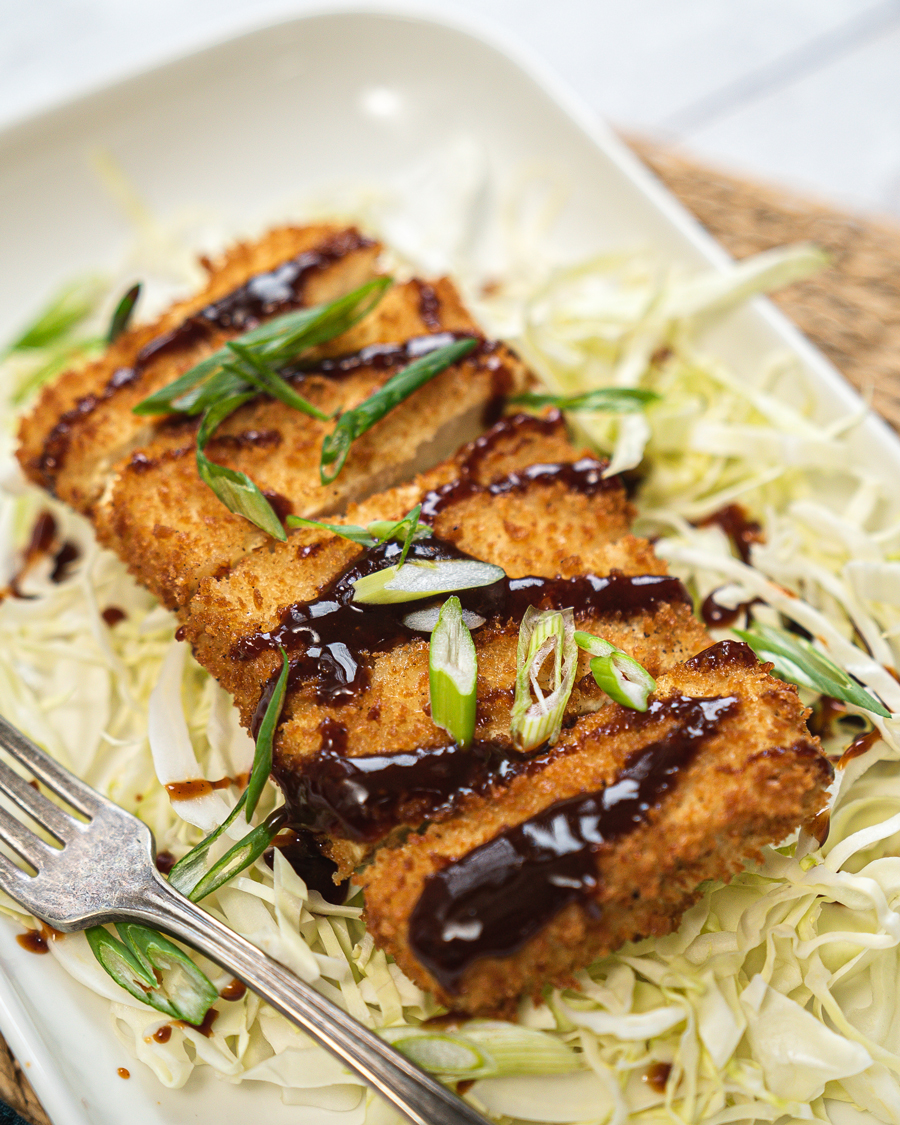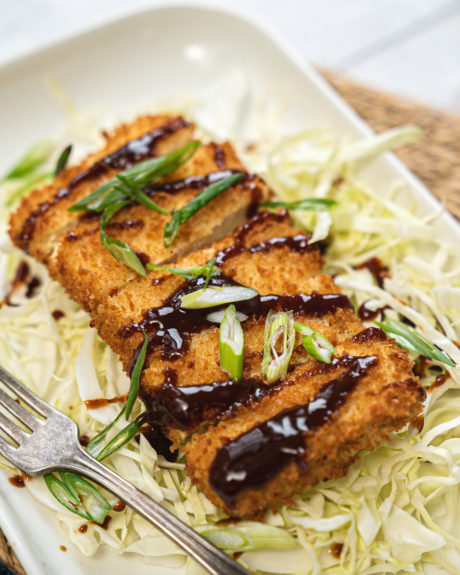 Tofu Katsu
Have you ever been to a Tonkatsu place and never found any vegan options? I can totally relate! Tonkatsu is a very popular Japanese dish that was influenced by European cuisine. People love this dish so much because of its chewy, crispy, and balanced taste of greasy and refreshing. Finally, I have recreated a vegan alternative using tofu, adding ingredients that mimic the taste of Katsu so that you don't have to miss out! Next time you have some leftover cabbage and tofu in your fridge, you can try this Tofu Katsu by using a little bit of creativity and a hungry appetite.
Alternative ways to make this recipe:
If you don't have Panko powder at home, you can always use any breaded crumbs of your choice. White bread crumbs are recommended as they are faster to cook and create a beautiful golden crispy layer to your Tofu Katsu. You can also add a little more color to your veggies with purple cabbage, Brussel sprouts, and carrots. In addition, you can also pair the dish with miso soup to cleanse the greasy flavors.
Related Recipe: Oyster Fried Chicken

Tonkatsu
So, what is Tonkatsu? It is a pork cutlets dish founded in Japan and gained popularity in the late 1800's influenced by European cuisine and often eaten with rice and cabbage to help with digestion and promote healthy gut bacteria. Tonkatsu can also be enjoyed with curry, salt, or Tonkatsu sauce to enhance the flavors. This everchanging evolution of Tonkatsu has taken the world by storm – where you can find unique flavors all over Asia and Western countries. Some places even serve cheese Tonkatsu! If you would like a vegan version of this recipe, please request it in the comment section below!
How many servings does this make?
This recipe is made for 1-3 servings but you can always increase the serving size.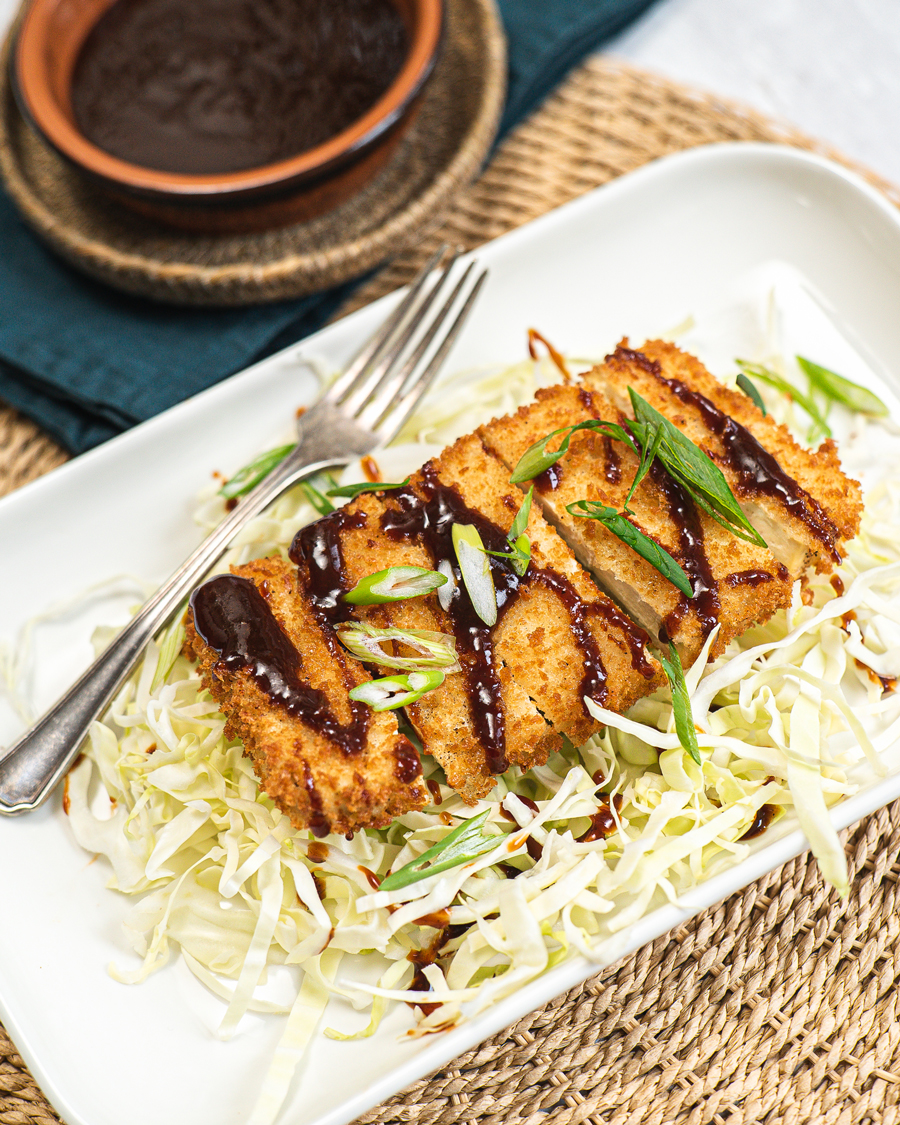 Ingredients:
Tofu Katsu
Tonkatsu Sauce
Kitchen Equipment:
Simple Vegan Tofukatsu Recipe
A great place to start when travelling the world is in your kitchen. You can make almost anything from anywhere with a willingness try something new. With the power of the internet enabling access to so many ingredients around the world, we are travelling to Japan today and recreating a vegan version of the infamous Tonkatsu. Grab your whisks, I will meet you in the kitchen.
Recipe type:
Lunch/Dinner
Ingredients
Tofu Katsu
Tonkatsu Sauce
Instructions
Place tofu into a bowlor container and add chicken-style broth. Turn to coat each piece of tofu completely and let stand at least 15 minutes or cover and refrigerate up to 2 days.
Set up a breading station with 2 bowls:
First bowl: whisk together ⅔ cups water, ¼ cup + 3 tbsp unbleached flour, 3 tbsp corn starch & ¼ tsp salt
Second bowl: Panko breadcrumbs
Heat frying oil of choice over medium-high heat in a cast-ironor deep pan until it reaches 375F, or use a deep fryer.
Place a wire cooling rackinto a lipped baking sheet. Repeat with a second wire rack.
When the oil is hot, one at a time, dip the tofu slices first into the wet batter, then into the dry, making sure it's thoroughly coated, and pressing with your hands to get the breadcrumbs to adhere. Lay them onto the wire cooling rack to rest.
Again, working in batches, place the coated tofu into the hot oil using tongs, and fry 2-3 mins per side until they're golden brown and crispy. Remove and place onto the clean wire cooling rack allowing the excess oil to drip off.
Cut the tofu katsu into thin strips, and serve over a bed of cabbage, and drizzled with Tonkatsu sauce and/or vegan kewpie mayo.Garnish with green onion & serve.
In a small bowl whisk together ketchup, soy sauce, brown sugar, Worcestershire sauce, and garlic powder.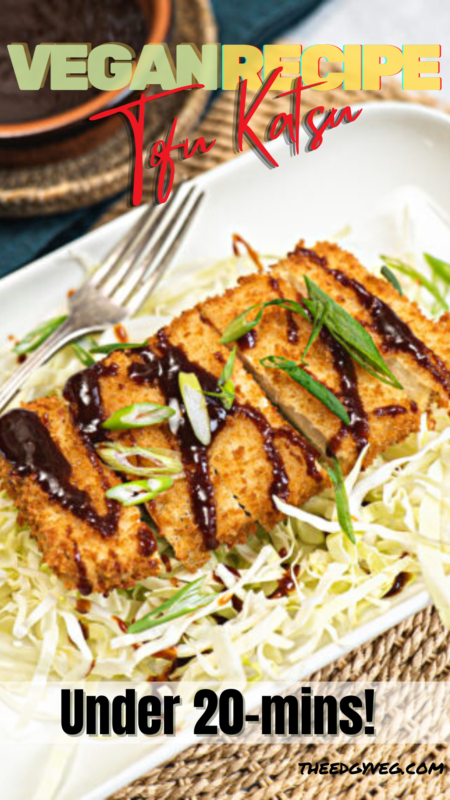 Hey I'm Candice aka The Edgy Veg – I veganize popular food recipes for vegans, plant-based diets, eco-conscious eaters & people who are trying to eat more plants over… y'know animals or their by-products. I hope you enjoy this tasty vegan recipe!
---
Looking For More Vegan Sauce Recipes?
Made this recipe? Let me know what you think by leaving a ★★★★★ star rating & comment below. It truly helps me & I really appreciate any support! Feel free to share your food photos on social and tag me @edgyveg so I don't miss it!