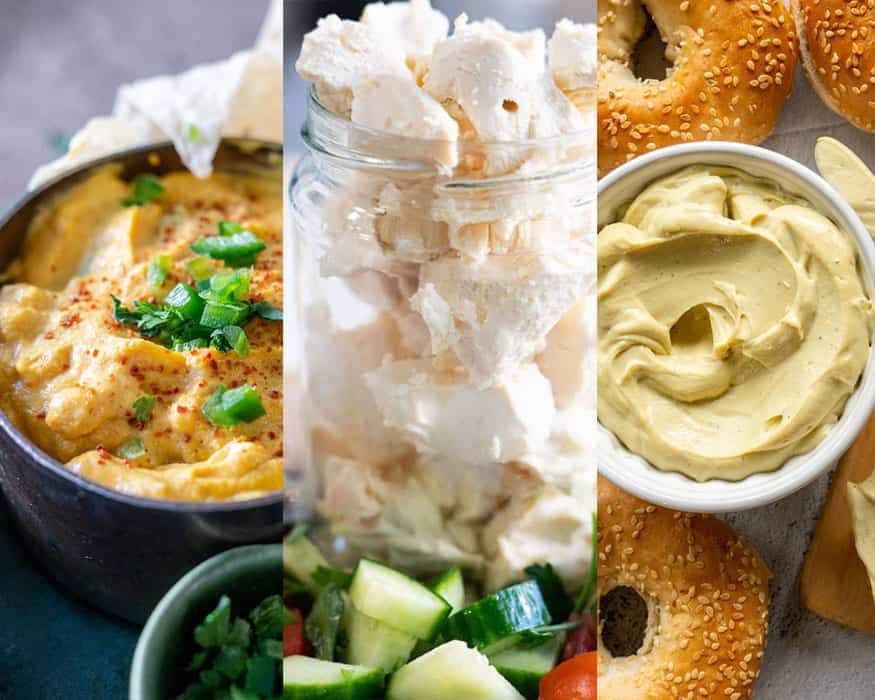 5 Easy Vegan Tofu Cheese Recipes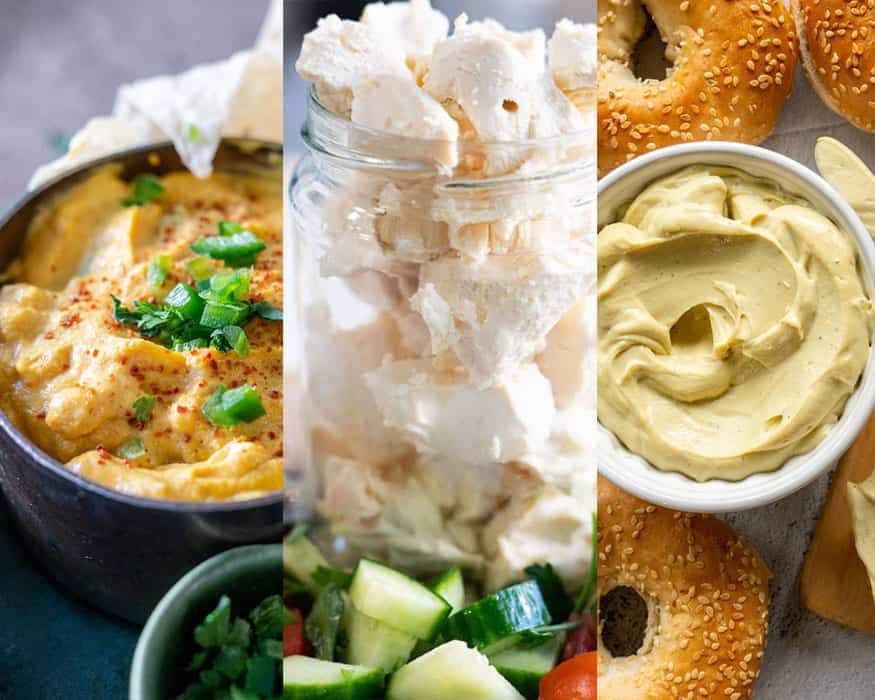 Looking to make your own vegan cheese? You may think vegan cheese might be hard to make, but I've made super easy vegan tofu cheese recipes for you! From Vegan Mozzarella Cheese (7 ingredients) to Vegan Feta Cheese (8 ingredients) and Vegan Nacho Cheese (14 ingredients), I've got you covered for delicious, creamy vegan tofu cheese.
Whether you're looking for melty cheese to pour on your nachos or crumbly cheese to put on Mexican Street Corn and Pizza, Vegan Cheese can be used in SO(y) many ways!
Click on the images to get the recipes, or follow the links below!
All of the vegan cheese recipes use tofu as the base and have additional simple ingredients to make them taste like plant-based versions of their traditional cheese taste.
So let's get cheesy… I mean cooking!
Easy Vegan Tofu Cheese Recipes
So feta cheese is one of the hardest cheeses to find a good vegan replacement. When I'm looking for vegan feta cheese, I want it to be a salty, crumbly, creamy, feta cheese. And after 9 years of looking for one, I finally went ahead and created my own! And my goodness, it's the best vegan feta cheese! This feta cheese goes extremely well on my Watermelon Feta Salad or on top of my Mexican Street corn recipe.
Mozzarella cheese isn't the prettiest to make but this vegan mozzarella recipe is melty, gooey, and SO good on pizza, pasta, sandwiches, and much more! You can never run out of things to make cheesy. From my vegan lasagna recipe to my dill pickle pizza, you can use this mozzarella on any of your favourite dishes.
If you're looking for melty, gooey and delicious vegan cheese for nachos, tacos or frankly anything… you've found the perfect cheese sauce recipe! Whether you're having friends over or making nachos for the family, get ready to dip, scoop or dunk your tortilla chips into this delicious vegan nacho cheese! Or feel free to try this recipe on my Vegan Nachos or Tater Totchos Recipe!
Looking for a dairy-free substitute for ricotta cheese in 7 minutes? This 5-ingredient vegan ricotta recipe is nut-free and perfect substitute for dairy-free lasagna or ricotta stuffed shells!
A simple tofu cream cheese using tofu! This vegan tofu cream cheese can be whipped up within 7 minutes using simple ingredients.
___________
Click here for New Vegan Recipes from The Edgy Veg
Share these Vegan Tofu Cheese Recipes on Pinterest