Simple Vegan Tofukatsu Recipe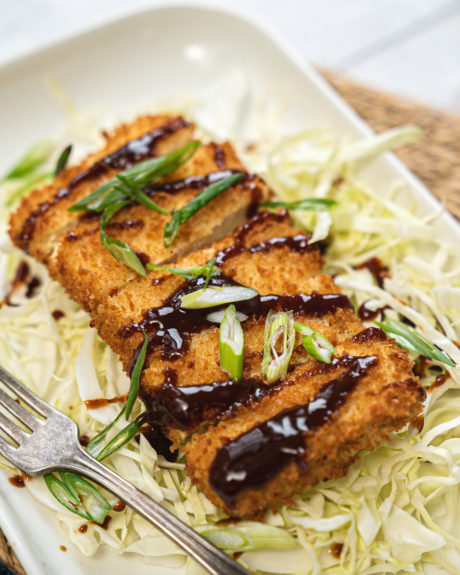 Recipe type:
Lunch/Dinner
Place tofu into a bowlor container and add chicken-style broth. Turn to coat each piece of tofu completely and let stand at least 15 minutes or cover and refrigerate up to 2 days.
Set up a breading station with 2 bowls:
First bowl: whisk together ⅔ cups water, ¼ cup + 3 tbsp unbleached flour, 3 tbsp corn starch & ¼ tsp salt
Second bowl: Panko breadcrumbs
Heat frying oil of choice over medium-high heat in a cast-ironor deep pan until it reaches 375F, or use a deep fryer.
Place a wire cooling rackinto a lipped baking sheet. Repeat with a second wire rack.
When the oil is hot, one at a time, dip the tofu slices first into the wet batter, then into the dry, making sure it's thoroughly coated, and pressing with your hands to get the breadcrumbs to adhere. Lay them onto the wire cooling rack to rest.
Again, working in batches, place the coated tofu into the hot oil using tongs, and fry 2-3 mins per side until they're golden brown and crispy. Remove and place onto the clean wire cooling rack allowing the excess oil to drip off.
Cut the tofu katsu into thin strips, and serve over a bed of cabbage, and drizzled with Tonkatsu sauce and/or vegan kewpie mayo.Garnish with green onion & serve.
In a small bowl whisk together ketchup, soy sauce, brown sugar, Worcestershire sauce, and garlic powder.
Recipe by
The Edgy Veg
at https://www.theedgyveg.com/2022/07/12/simple-vegan-tofukatsu-recipe/