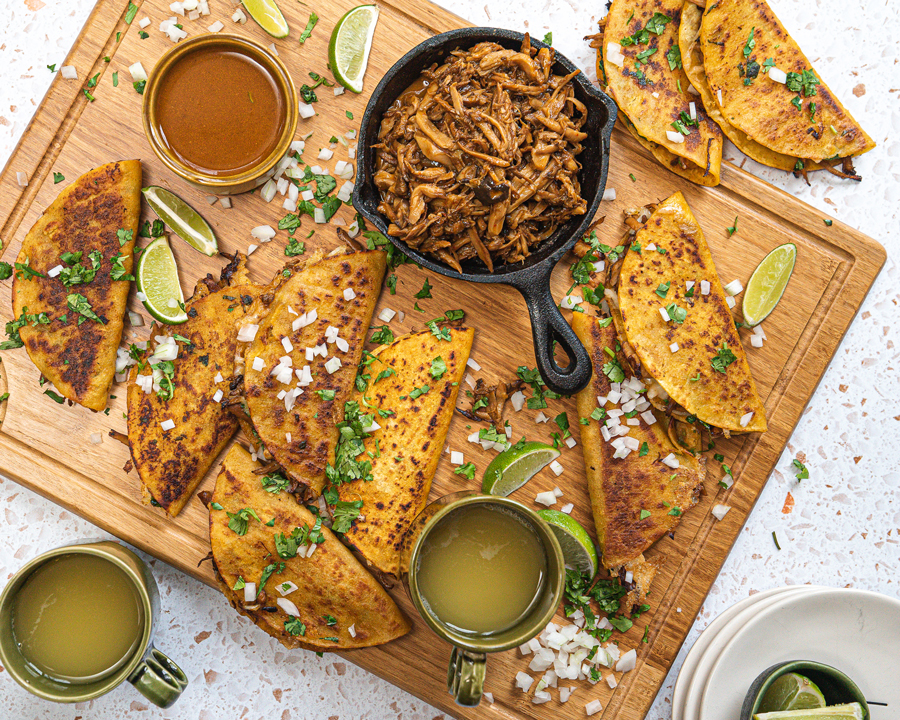 How to Make Vegan Birria Tacos

Vegan Birria Tacos
Birria
is a Mexican dish from the state of
Jalisco
. It is one of the most traditional dishes that has been passed down from generations. The meat is marinated and boiled in soup broth filled with spices, to tenderize its texture. Some of these spices include chili pepper-based, garlic, cumin, bay leaves, and thyme. Then, slow-cooked in a pot which gives it that red hue. Finally, add a sprinkle of cheese, and you have a crispy, sweet, savory and spicy flavour explosion.
After looking up a recipe from
MyLatina Table
, I was inspired to recreate this authentic Birria Taco experience with a vegan alternative! Although it is not going to taste exactly the same, I am excited to share with you the possibilities of creating limitless vegan options to various cuisines worldwide.
I hope you enjoy this exquisite flavor as much as I do.
Alternative ways to make this recipe:
You can serve this dish with rice, freshly made corn tortillas, and add your favorite salsa. You can also replace the oyster mushrooms with firm tofu, or your favorite veggie meat.

Birria Tacos with Consommé
Quesabirria is an authentic Mexican dish cooked with Birria-style (beef folded into a tortilla with melted cheese and served with a side of consommé for dipping). This dish is typically served during holidays and on special occasions. Depending on the region you are living in, every Birria Tacos has its own taste inspired by every family's secret sauce.
How many servings does this make?
This recipe is made for 1-3 tacos but you can always increase the serving size.

Ingredients:
For the Meat
For the Consumé
For the Tacos
Kitchen Equipment:
Vegan Birria Tacos
Birria is a popular Mexican dish that originated in the Jalisco state. Traditionally made with lamb meat, we are recreating this recipe with a vegan alternative.
Recipe type:
Lunch/Dinner
Ingredients
Meat
2 lbs king oyster mushrooms, shredded (you can also use young jackfruit in water or brine), shredded
2 tbsp vegan butter
2 tbspolive oil
Consumé
Tacos
corn or flour tortillas
1½ cups vegan white-style cheese (if making quesabirria)
¼ cup cilantro, chopped
lime wedges
¼ white onion, finely diced
Instructions
Meat
Heat a large pan over high heat. Add butter and oil and heat until it ripples. Working a couple handfuls at a time, cook the mushrooms until they have browned and there's no liquid left in the bottom of the pan. Push them to the side and repeat with remaining mushrooms. Remove from the pan and set aside.
Sauce
Heat 1 tbsp oil in a small pan over medium-high, add chilies and fry, moving constantly for 1-2 mins.
Add 1 cup water and 1 bay leaf , and bring everything to a boil. Boil for about 10 mins, or until the chilies are softened. Remove the bay leaf and add everything else to a blender.
In the same pot, heat another 1 tbsp olive oil over medium-high heat. Add onion and tomatoes, and cook until they are slightly browned, about 5 minutes.
Add garlic, peppercorns, dried thyme, marjoram, dried oregano, ground cinnamon, and allspice, and cook for another 5 minutes, or so, stirring frequently. Add small amounts of water to the pot if necessary.
Add the onion/tomato mixture to the blender, along with ginger, cumin, apple cider vinegar, 3 cups water, and bouillon cubes.
Blend until very smooth.
OPTION 1: Transfer the consumé to a medium saucepan and bring to a boil.
Reduce heat to to medium-low, add mushrooms, cover, and simmer for at least 1 hour. Taste and add salt and pepper to taste.
OPTION 2: Transfer the consumé, and shredded mushrooms to an electric pressure cooker (like an instapot). Pressure cook the mixture on high for 25 mins, then allow the pressure to release naturally for 5 mins, before using the quick pressure release to release the rest of the pressure.
Separate the mushrooms from the broth.
Warm-up tortillas on the stove, oven, or microwave, and heat a non-stick pan over medium-high heat.
One at time dip the tortillas into the consume, add some mushrooms to one side of the tortillas, followed by some diced onion, chopped cilantro, and cheese if using. Fold the tortilla in half, grease the pan, and cook for 1 minute or so (covered, if using cheese to help it melt). Repeat with remaining tacos and mushrooms.
Serves with a side of consume for dipping, a wedge of lime, and a cold beer.
Hey I'm Candice aka The Edgy Veg – I veganize popular food recipes for vegans, plant-based diets, eco-conscious eaters & people who are trying to eat more plants over… y'know animals or their by-products. I hope you enjoy this tasty vegan recipe!
---
Looking For More Vegan Recipes?
Made this recipe? Let me know what you think by leaving a ★★★★★ star rating & comment below. It truly helps me & I really appreciate any support! Feel free to share your food photos on social and tag me @edgyveg so I don't miss it!