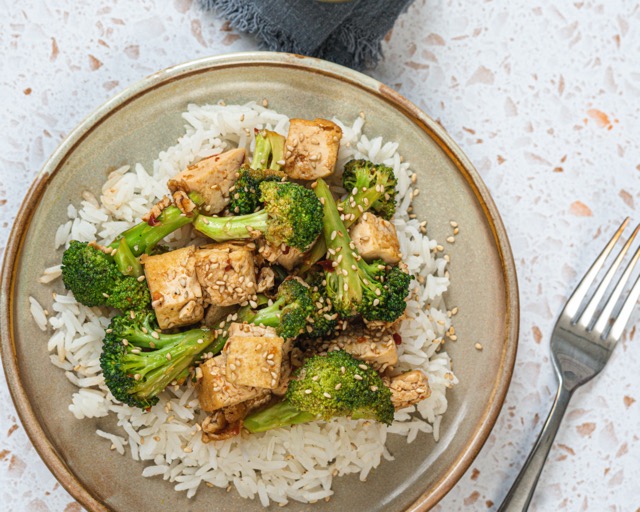 Vegan Tofu Broccoli Stir Fry Under 5 Ingredients!

5 ingredient Tofu Broccoli Stir Fry Recipe
The most delicious recipes are made with the simplest ingredients. Especially after a long day, you want something warm to fill up your stomach and this 5-ingredient Tofu & Broccoli recipe will be the perfect recipe to feel right at home. So, don't reach for that UberEats app tonight, because I am going to show you how you can save money and make this savoury, delicious meal that will take you less than 20-mins of your time. It will be faster than the deliveries and taste fresher than the takeouts.
Alternative ways to make this recipe:
You can substitute or add more of your favourite vegetables. Some great vegetable choices that goes wonderfully with hoisin sauce are; carrots, chinese broccoli, buk-choy, baby corn, mushrooms. Because of the simplicity of this recipe, you can use the sauces as a base to create your own masterpiece. Chinese cuisine is packed with flavours and creativity with colours and many different types of super foods.

Sesame Tofu Broccoli Stir-Fry
Stir-frying is an ancient Chinese cooking technique using small amount of very hot oil stirred with veggies and meat tossed in a wok. Chefs will spend years perfecting this skill to feed delicious meals for their family and friends because food brings people together. The Chinese culture emphasizes on sharing meals because it is the most sacred ways of sharing life to enhance relationships and reducing stress.
Inspired by tradition, my biggest motivations is also to develop recipes that everyone can enjoy, regardless of their preferred diets. I encourage you to share this delicious recipe as an excuse to catch-up for your next home cooked meal!
How many servings does this make?
This recipe is made for 4 servings, but you can add more ingredients for larger serving.

Ingredients:
Kitchen Equipment:
Easy Tofu Recipes with Broccoli - Under 5 Ingredients!
This is the perfect go to recipe for when you are feeling hungry after a long day at work. Don't reach for that phone to call Ubereats! Instead, turn on your rice cooker or a crock pot. With a steamy, white bed of rice on its way, we are sauteing the most delicious and simple Tofu.& Broccoli recipe you will ever have!
Instructions
In a large pan, heat 1 tbsp oil over medium-high.
Add broccoli and cook, stirring occasionally for 4-5 minutes. Season with salt and pepper and then transfer to a bowl or plate.
Meanwhile, in a small bowl, whisk together hoisin sauce, soy sauce, chilli garlic sauce, and rice vinegar. Set aside.
In the same pan, heat 1 tbsp olive oil over medium-high heat.
Add tofu, and cook without stirring for 2-3 minutes, until browned.
Flip the tofu and cook for another 3-4 mins, flipping as needed until all sides are browned.
Add broccoli back to the pan. Add sauce and cook for another 2 minutes, stirring to coat the tofu and broccoli.
Serve over rice, and garnish with sesame seeds and green onion.
Hey I'm Candice aka The Edgy Veg – I veganize popular food recipes for vegans, plant-based diets, eco-conscious eaters & people who are trying to eat more plants over… y'know animals or their by-products. I hope you enjoy this tasty vegan recipe!
---
Looking For More Vegan Recipes?
Made this recipe? Let me know what you think by leaving a ★★★★★ star rating & comment below. It truly helps me & I really appreciate any support! Feel free to share your food photos on social and tag me @edgyveg so I don't miss it!