Easy Tofu Recipes with Broccoli - Under 5 Ingredients!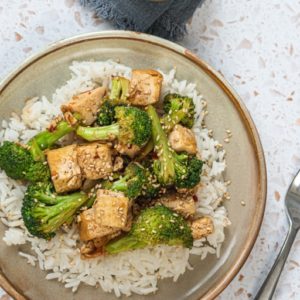 In a large pan, heat 1 tbsp oil over medium-high.
Add broccoli and cook, stirring occasionally for 4-5 minutes. Season with salt and pepper and then transfer to a bowl or plate.
Meanwhile, in a small bowl, whisk together hoisin sauce, soy sauce, chilli garlic sauce, and rice vinegar. Set aside.
In the same pan, heat 1 tbsp olive oil over medium-high heat.
Add tofu, and cook without stirring for 2-3 minutes, until browned.
Flip the tofu and cook for another 3-4 mins, flipping as needed until all sides are browned.
Add broccoli back to the pan. Add sauce and cook for another 2 minutes, stirring to coat the tofu and broccoli.
Serve over rice, and garnish with sesame seeds and green onion.
Recipe by
The Edgy Veg
at https://www.theedgyveg.com/2022/07/27/vegan-tofu-broccoli-stir-fry-under-5-ingredients/