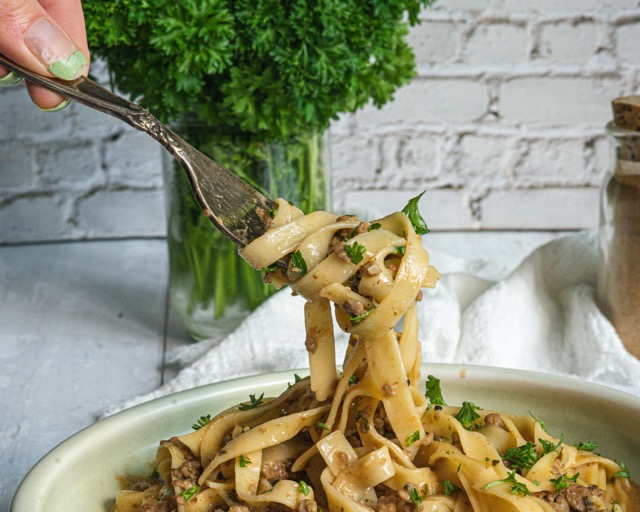 Easy to Make Vegan Beef Stroganoff

Vegan Beef Stroganoff
What is your favorite go-to vegan recipe? Recently, mine has been this vegan beef stroganoff recipe that has truly won over my heart. This hearty meal captures the intense savory flavors of mushrooms, onions, and vegan beef that is often served with tangy sour cream. It almost resembles the taste of beef stew, with half of the effort that goes into it. You can also dip your favorite vegan garlic bread to add to the extra joy of crispy, juicy goodness. You will definitely want to invite your favorite guests for this one.
Alternative ways to make this recipe:
You can add vegan cream cheese or half a cup of the vegan whipped cream into this recipe to make it even creamier. You can also add in different varieties of mushrooms like portobello, oyster, cremini, shitake, etc. The combined flavors of vegan meat and mushrooms will make this recipe even juicier.

Beef Stroganoff
The Beef Stroganoff is such a hearty and delicious pasta recipe that is well known for its delicious meaty flavor with a touch of creaminess. With just a few ingredients and a vegan twist, this Beef Stroganoff will be your next go-to recipe to make in the kitchen. Beef Stroganoff was originally invented by a French Chef named Andrew Dupont who often created recipes for the elderly. He made small cuts of meat for those whose teeth were no longer strong enough to chew meat. As a result, he created a soft and tender recipe to feed the aging population. On the contrary, this recipe is also well known in the elite society of Russia, where Count Stroganoff, a powerful and wealthy militant often prepared "open tables" for fancy parties where all guests can enjoy a tasty meal that can often be divided into portions. In both cases, Beef Stroganoff is a memorable dish that brings everyone together.
How many servings does this make?
This recipe is made for 4 -6 servings but you can always increase the serving size.

INGREDIENTS FOR GRILLED CHEESE MAC AND CHEESE (VEGAN):
KITCHEN EQUIPMENT:
https://www.youtube.com/watch?v=tAM5pzGb9Ts&t=306s
Easy to Make Vegan Beef Stroganoff
Using a few key ingredients, you can create this delicious one pot Vegan beef stroganoff. You never have to give up your favorite dishes to go vegan. Replace ingredients you already love and enjoy with vegan alternatives and in under 15mins, you will ask yourself, "why did I not go vegan sooner?".
Ingredients
Salt and pepper
chopped parsley to serve
Instructions
In a large skillet over medium-high heat, cook veggie ground until heated through.
Add garlic and cook stirring for 1 minute or until fragrant.
Add parsley, paprika, onion powder, Worcestershire sauce, dijon mustard and stir to combine.
Stir in broth, and bring to a boil.
Reduce heat to medium high, and stir in cream of choice. Bring back up to a simmer.
Add noodles, and make sure they are covered with liquid and simmer until the noodles are soft, about 5 minutes.
Reduce heat and stir in sour cream.
Serve with chopped parsley and enjoy!
Hey welcome to The Edgy Veg
– we veganize popular food recipes for vegans, plant-based diets, eco-conscious eaters & people who are trying to eat more plants over… y'know animals or their by-products. We hope you enjoy this tasty vegan recipe!
---
LOOKING FOR MORE PASTA RECIPES?
Made this recipe? Let me know what you think by leaving a ★★★★★ star rating & comment below. It truly helps me & I really appreciate any support! Feel free to share your food photos on social and tag me @edgyveg so I don't miss it!