Easy to Make Vegan Beef Stroganoff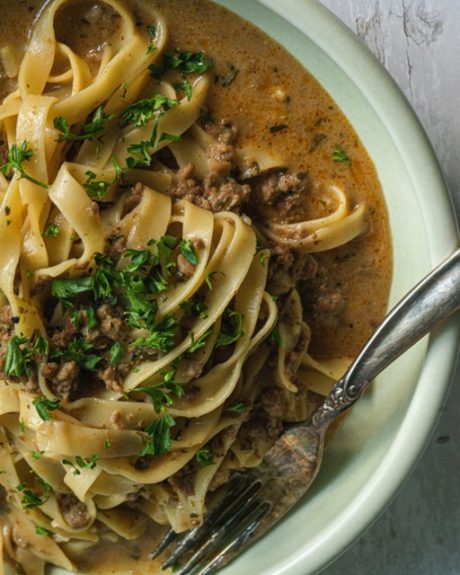 Salt and pepper
chopped parsley to serve
In a large skillet over medium-high heat, cook veggie ground until heated through.
Add garlic and cook stirring for 1 minute or until fragrant.
Add parsley, paprika, onion powder, Worcestershire sauce, dijon mustard and stir to combine.
Stir in broth, and bring to a boil.
Reduce heat to medium high, and stir in cream of choice. Bring back up to a simmer.
Add noodles, and make sure they are covered with liquid and simmer until the noodles are soft, about 5 minutes.
Reduce heat and stir in sour cream.
Serve with chopped parsley and enjoy!
Recipe by
The Edgy Veg
at https://www.theedgyveg.com/2022/07/04/easy-to-make-vegan-beef-stroganoff/