I decided to take a break from Christmas recipes this week to bring you a Taco Bell recipe that you've been asking for– The Chili Cheese Burrito. In theory you could turn any leftover chili into a burrito, but here on The Edgy Veg I really try to make things as authentic as possible. So, I made everything from scratch trying to replicate the true flavour of Taco Bell.  For the chili part of this burrito I made what I call "poor man's chili", a quick and easy chili with only a handful of ingredients, and no bean soaking required. James says it's spot on, what do you think?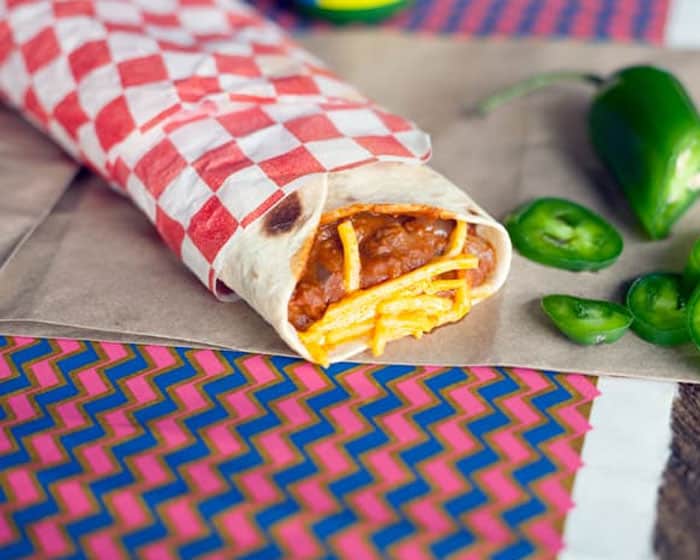 Taco Bell Chili Cheese Burrito
A copycat recipe for the Taco Bell chili cheese burrito. This burrito combines chili flavored vegetarian ground beef, refried beans and vegan cheddar cheese in a tortilla. This Taco Bell recipe is super easy and so delicious.
Instructions
Heat coconut or olive oil in a saucepan over medium high heat and sauté the onions until translucent. This should take about 5-10 mins.
In a bowl, dissolve the corn starch in the water with a whisk.
Add the tomato paste and water mixture to the saucepan with the onions and stir until smooth.
Add the cayenne pepper; chili powder, salt, vinegar, and jalapeños, stir.
Heat the mixture until just about boiling, add the veggie ground beef and the refried beans, mix well.
Add half of the cheese, and cook over low heat for 10 minutes, stirring constantly.
Let simmer for 30 minutes, or until thickened.
Spoon some chili into each tortilla, top with cheese and wrap up the tortilla.
I like to toast both sides to help it stay together, and melt the cheese.