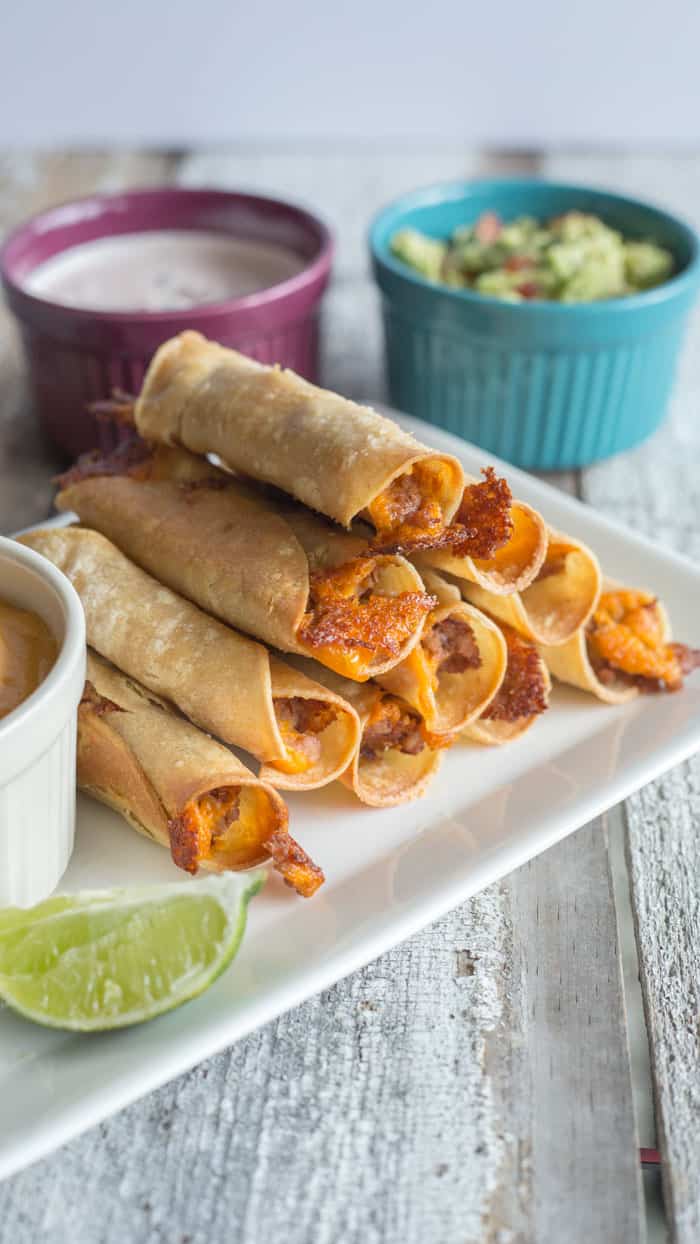 Baked Taquitos with Creamy Salsa and Guacamole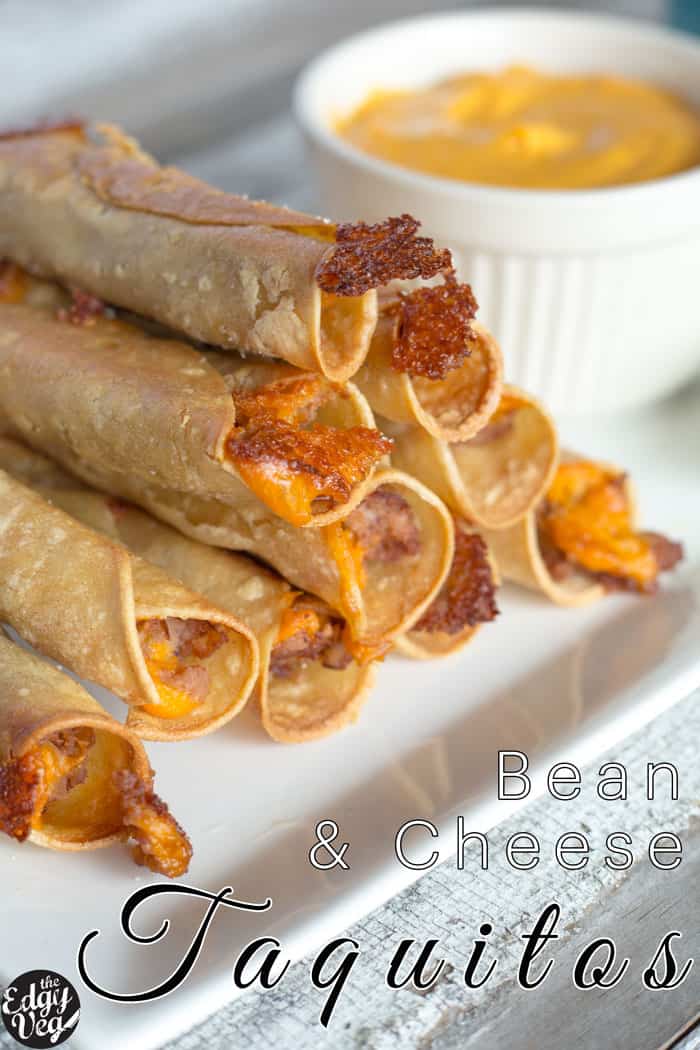 It's that time again! That time of year sports fanatics lose their minds, and I end up at a few parties solely for the food. I'll be honest, I know nothing about sports, the Super Bowl or football. So Super Bowl Sunday is literally just another day for me, except I'm also stuck making a whole bunch of comfort food for rowdy dudes. Given that you most likely have enough on your plate (ha! Puns…) I thought my contribution to your party platter this year should be quick and simple. So, I would like to introduce to you, the bean and cheese taquito! Taquito's are one of my favorite party foods of all time for a wide variety of reasons. One of the biggest ones being that they are a snap to make, require minimal ingredients, minimal cooking time, and taste amazing. This recipe is not not only good for super bowl game time appetizers, but also a really quick recipe anytime you need kick-ass party food.
I may not have the pleasure of choosing which potentially inebriated guests during the Super Bowl celebration I'm cooking for, but at least I know that these are the quick option in a sea of buffalo wings, corn dogs, chili and nachos. This easy vegan recipe is so good, even meat eating football lovers will gladly eat 15 of these each during the game
The first step in this recipe is to pre-heat your oven, just set it to 350′. I prefer to make my taquitos with corn tortillas. The crisp factor is much higher than any other type of tortilla and the flavor is quite complimentary to the rest of the ingredients. Take your tortillas and heat them in the microwave for roughly 15 seconds, just long enough that they become pliable. You don't want these guys to rip or tear while you roll them.
Take a bowl of refried beans (when I have to host, I buy premade organic) and spread a spoonful of them evenly onto the middle of each corn tortilla. On top of the beans add a spoonful or less of homemade cheese sauce. Remember this is a vegan recipe, no real cheese allowed. When you have your beans and cheese added roll up your tortilla creating a taquito and put a toothpick in it to hold it all together. Take your creation and put it on a plate for now. Repeat this process making 10 to 20 of these depending on how many people you're expecting.
Take a baking pan, put some olive on it and spread it evenly. Lay your taquitos down onto the pan seam first. Brush each of these with some olive oil. You will then put these into your preheated oven for about 15 minutes. After 15 minutes pull them out and flip them, then cook them in 5 minute increments and keep an eye on them so they don't burn. You do not want them to burn, trust me.
While those are crisping up it's time to get started on the sauce. You are already halfway there as you have already made your cheese sauce and  you most likely have some left over. This is now dip. How easy was that? Your next dip is also an easy one to put together. Creamy salsa- a household favorite of ours. In a medium sized bowl add half a cup of vegan sour cream, a 1/4 cup of salsa, some diced jalapenos, and then just whisk it all together. Voila! You now have a creamy salsa sauce for everyone to dip their taquitos in. The last sauce is pretty much a necessary item with any Tex-Mex style meal. You need to make some guacamole. This is easy as well, just cut your avocado in half, remove the seed, cut out the insides and put them into a bowl.
Mash your guacamole with a fork until its fairly creamy then add in some diced onions, diced tomatoes, some freshly squeezed lime juice, and a bit of cilantro. Stir that all together well and take your taquitos out of the oven. Plate them with your sauce in dipping containers to the side and serve. Your guests will definitely be impressed, and you get to eat delicious taquitos.