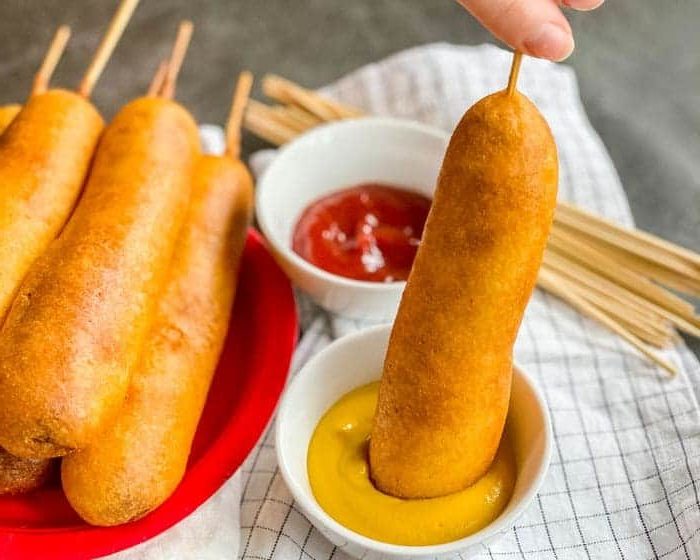 How To Make Vegan Corn Dogs / Pogos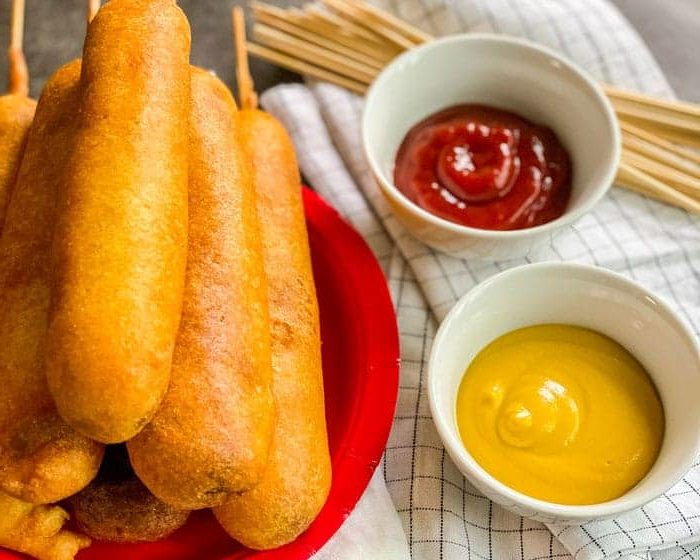 As a kid I loved to watch the guy at the corn dog stand dip the wieners in the thick creamy batter and fry the daylights out of them. When I was with my mother I knew I couldn't have a greasy battered dog of my own, so I simply stood there and admired how the other kids ate them; the care they took making the perfect swirl of ketchup or mustard, and then dipping it in the saucy-stuff anyway.
I remember the first time I had a corn dog, I was with my dad. He hated most fast food, but seemed to be okay with the battered stick wiener. He brought us to the corn dog man, pointed at him and said, "See girls, that's how it's done, right before your eyes. This will be better than any pogo we ever buy at the store." He bought my sisters and I each one, and I swear to this day, that THIS day is the reason my sister will still swear that hots dogs are her favourite food.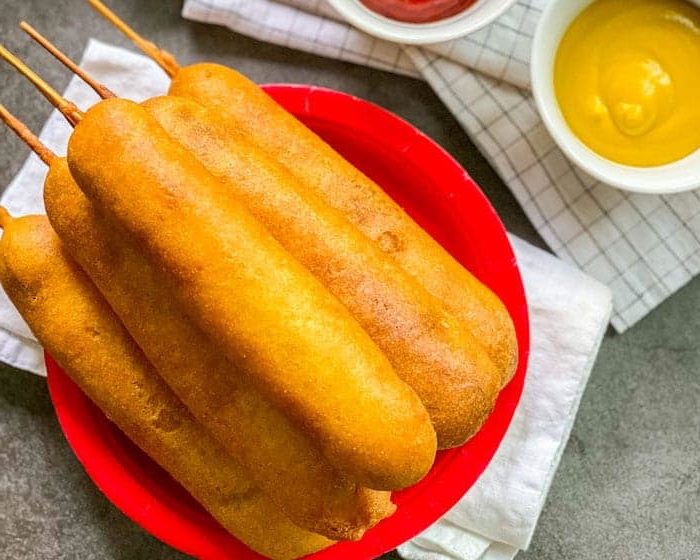 Foods do something to us, they promote memories both fonds and horrific. I looked at Pogos and remembered my dad.
Now that I'm vegan, I wanted to show you how to make vegan corn dogs / pogos (here in Canada).
NOTES:
Let your batter sit for a few minutes before coating the veggie dogs. This is key because it will thicken as it sits and then will coat the veggie dogs more evenly.
The key to making the batter stick to your veggie dogs is making sure they are patted dry before dipping.
How To Make Vegan Corns Dogs / Pogos
A vegan version of a beloved carnival snack. I've had a hard time finding a good vegan version of a pre-made corn dog (pogo).
Ingredients
¾ cup cornmeal (fine)
¾ cup organic all-purpose flour + extra for sprinkling
2 tsp baking powder
2 ½ tbsp granulated white or cane sugar
¼ tsp sea salt
¼ tsp pepper
¾ cup unsweetened soy milk
¼ cup aquafaba (chickpea liquid)
veggie wieners, patted dry
wooden skewers
organic frying oil of your choice
Instructions
Heat your oil between 350F-375F in a deep pot over medium-high heat or in heat in a deep-fryer. If you are stovetop frying you'll need roughly 4 to 5 cups of oil to deep fry as well as a thermometer.
In a large bowl, whisk to combine cornmeal, flour, baking powder, sugar, salt, and white pepper. In a separate bowl, whisk together the soy milk and aquafaba. Mix the wet ingredients into the dry, until well combined. You can also do this in a food processor or blender.
Pour your batter into a tall glass, and dust some flour on a dinner plate.
Skewer your wieners and roll in the flour. One at a time, dip your skewered dogs into the tall glass of batter and fry until lightly browned roughly 3-5 minutes.
Drain on paper towels or wire cooling rack. Serve with ketchup and mustard.
–