Baked Taquitos with Creamy Salsa and Guacamole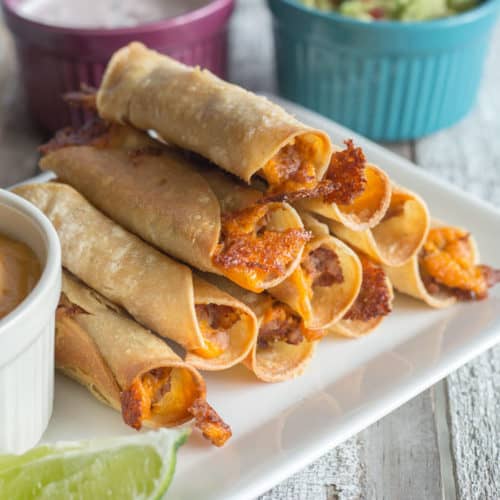 Preheat oven to 350 degrees.
Grease a large baking sheet generously with olive oil. Set aside.
Heat corn tortillas for 10 seconds in the microwave to soften them.
Spoon roughly 1 Tbsp of refried beans onto the middle of the tortilla. Spread across the middle lengthwise.
Spoon roughly 1 Tbsp of nacho cheese onto the beans and spread in the same fashion.
Roll tightly and secure with a toothpick and place on baking sheet seam side down.
Repeat process until all tortillas are filled, rolled, secured and placed on the baking sheet.
Brush the tops of the taquitos with olive oil and sprinkle with some sea salt.
Bake in oven for 15, flip and bake for another 5 minutes, until edges of the taquitos are slightly browned.
While the taquitos are cooking, prepare the creamy salsa dip, guacamole or any other dip you are using.
Serve with dips of your choosing.
Recipe by
The Edgy Veg
at https://www.theedgyveg.com/2017/01/30/baked-taquitos-creamy-salsa-guacamole/