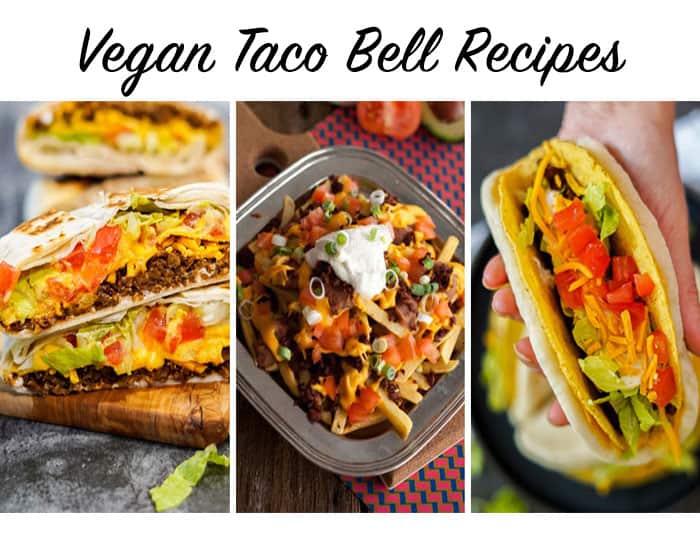 Best Vegan Taco Bell Recipes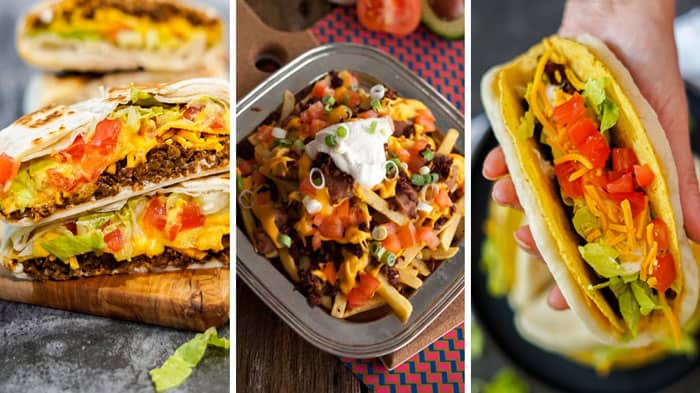 Looking to make the best vegan Taco Bell recipes at home including a Taco Bell Crunchwrap Supreme (vegan), Cheesy Gordita Crunch (vegan), chili cheese burrito (vegan) and Fries Supreme (vegan)? You came to the right place!
Vegan Taco Bell Recipes
Not only can you get your Taco Bell cravings fix but also save money and eat a little healthier with these plant-based homemade recipes, some as quick as 10 minutes. These vegan Taco Bell recipes are SO easy to make and could be made for the whole family!
In no particular order, here are the vegan versions of popular Taco Bell classics!
This easy vegan Taco-Bell copycat recipe uses 9-ingredients and can be made in under 30 mins. This vegan Crunch Wrap Supreme recipe uses easily accessible vegan alternatives to replace meat and dairy products that Taco Bell uses. This recipe tastes just like the original without the use of dairy or meat products. Get the recipe here!
Sometimes you'll find yourself craving a late-night classic like a Taco Bell Cheesy Gordita Crunch. In this 10-minute recipe, I'll show you how to turn 9 simple ingredients into a flavourful, crunchy taco wrapped gently in a layer of cheese and soft flatbread. Get the recipe here!
This recipe can be made into the full burrito or just eaten as a warm bowl of chili, it's so easy! In this 45-minute recipe, I'll show you how to turn 14 simple ingredients into a flavourful scoop of chili wrapped in a soft flour tortilla. Get the recipe here!
These stacked fries are covered with seasoned vegan ground beef or chorizo, warm zesty nacho cheese sauce, diced ripe tomatoes, green onions, and cool vegan sour cream. Whip it up in about 30 minutes for the most amazing nachos on fries. Get the recipe here!

Vegan Taco Bell Recipes
Looking for vegan taco bell recipes? Try my vegan Taco Bell crunch wrap supreme, gordita crunch, chili cheese burrito and supreme fries recipes.
Instructions
Plan what vegan taco bell recipes you want to make.
Gather all your ingredients for each vegan recipe.
Enjoy your delicious vegan Taco Bell at home!
---
Hey I'm Candice aka The Edgy Veg – I veganize popular food recipes for vegans, plant-based diets, eco-conscious eaters & people who are trying to eat more plants over… y'know animals or their by-products. I hope you enjoy this tasty vegan recipe!
---
Looking For More Vegan Fast Food Recipes?
Made this recipe? Let me know what you think by leaving a ★★★★★ star rating & comment below. It truly helps me & I really appreciate any support! Feel free to share your food photos on social and tag me @edgyveg so I don't miss it!
Share my Recipes on Pinterest!