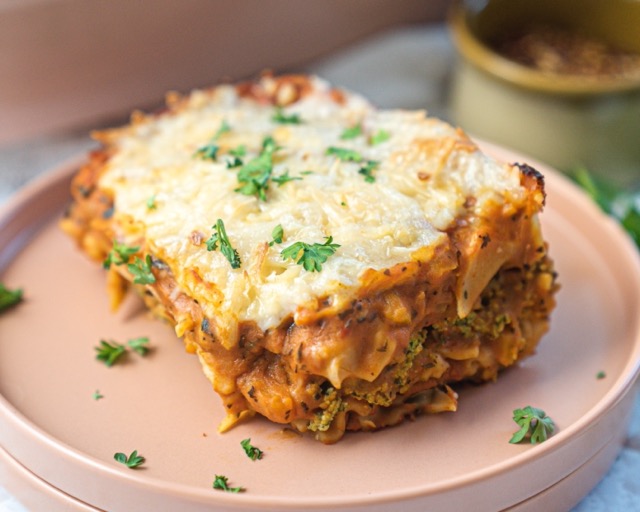 Lazy Vegan Butternut Squash Lasagna Recipe

Lazy Vegan Butternut Squash Lasagna
Do you love lasagna but haven't been eating it as often as you would like to because of all the work that goes behind it? I totally get it! That is why I have created this lazy butternut squash lasagna recipe that you can make in under an hour with minimal effort. All you need is a blender, a pot, and your favorite baking pan to make this delicious dish whenever you are feeling lazy! The sweet, creaminess of this dish is guaranteed to be one of your favorite vegan dishes of all time.
Related Post: Best Vegan Lasagna Recipe
 Pro Tips:
Other Recipes to pair with this recipe: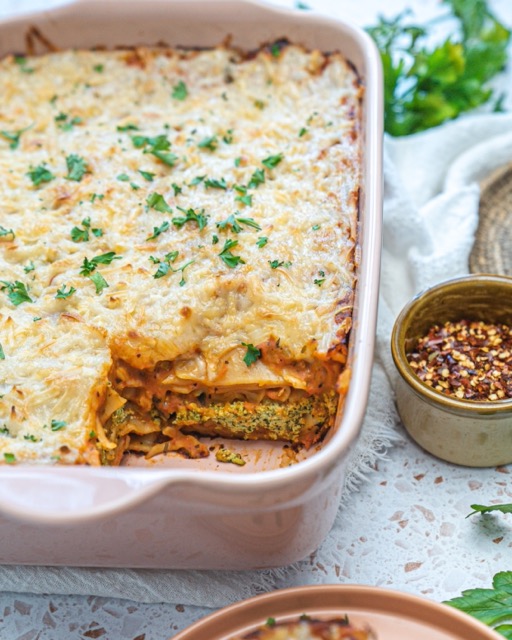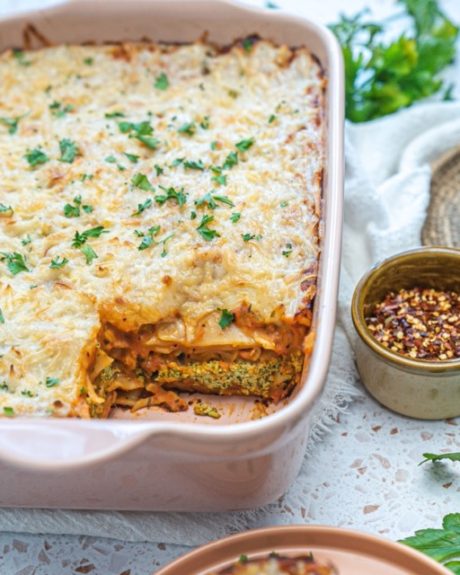 Butternut Squash Lazy Lasagna
If you love lasagna as much as I do, but haven't found the perfect vegan lasagna replacement yet, this just might be your next favorite dish. I have made many different types of pasta dishes, and I must admit, this butternut squash adds in that extra sweetness and cheesy texture you will love and enjoy in a classic lasagna recipe.
Instructions
Preheat oven to 400F.
In a large pot, heat olive oil over medium-high heat and saute celery with a pinch of salt for 1-3 mins, or until slightly softened. Remove from the pot and set aside.
Add the squash to the same pot and cook for 1-2 minutes. Add ½ cup water, cover and simmer until squash is tender, stirring occasionally, about 15 mins.
Meanwhile, in a food processor, add the pressed tofu, 1 tbsp nutritional yeast, 2 cups of spinach, basil, and a salt to taste. Blend until smooth, and ricotta-like in texture.
Transfer half of the squash to a food processor or blender, along with onion powder, and garlic powder and blend until smooth, adding small amounts of water as needed.
Add the puree back into the pot, along with the set aside celery, Italian seasoning, red pepper flakes (if using), black pepper, tomato sauce, and ¾ cup water. Bring to a boil, reduce heat to a simmer.
Stir in the lasagna pieces, soy milk and 2 cups spinach. Cover the pot, and simmer for 5-7 minutes, stirring frequently until the liquid has reduced and the pasta is beginning to soften.
Mix in 1 cup of cheese and transfer half of the pasta mixture to a tall 11-inch x 9-inch or a short 13-inch x 9-inch casserole dish. Spread out the mixture evenly.
Top with an even layer of the tofu-basil ricotta.
Transfer the other half of the pasta mixture onto the ricotta, and smooth the top.
Top with the remaining dairy-free cheese, cover with foil, and bake for 15 mins.
Uncover, and bake for an additional 10-15 minutes, or until sauce is bubbly, the cheese has melted and pasta is tender.
Transfer to a wire cooling rack, and let stand for 5 minutes before serving. Serve garnished with fresh parsley.
Nutrition Information
Serving size:
7-8 servings
INGREDIENTS:
KITCHEN EQUIPMENT:
Hey welcome to The Edgy Veg – we veganize popular food recipes for vegans, plant-based diets, eco-conscious eaters & people who are on a mission to prevent animal cruelty! We hope you enjoy this tasty vegan recipe!
---
Looking For More Pasta Recipes?
Made this recipe? Let me know what you think by leaving a ★★★★★ star rating & comment below. It truly helps me & I really appreciate any support! Feel free to share your food photos on social and tag me @edgyveg so I don't miss it!