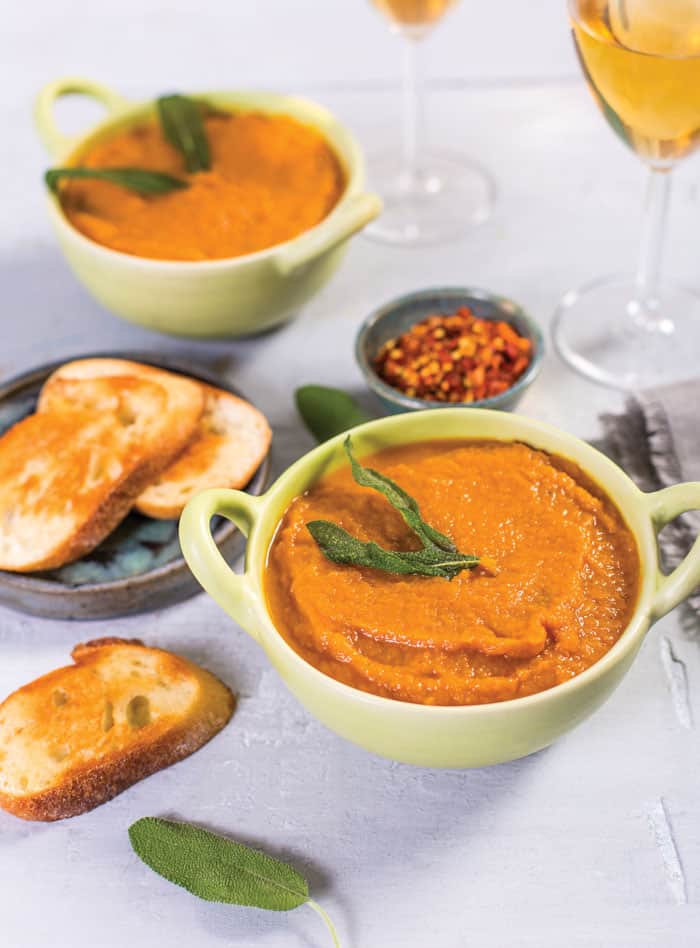 Pumpkin Sage Soup | Vegan Pumpkin Soup Recipe
A lovely and hearty pumpkin sage soup to warm you from the inside out. Pumpkin soup made with carrots, potatoes, sage and garlic.
This #SweaterWeather Pumpkin Sage Soup is my absolute favourite! I'm not going to lie to you, I'm lazy as hell in the winter. As soon as October hits, I go into a 6 month hibernation. I don't shave my legs – the hair keeps me warm, there's no way I'm going outside, and cooking becomes a serious chore. So, I hacked dinner. I
spend one-afternoon making soup, then I freeze it, and thaw it when I need a quick fix that's warming and also good for you! PLUS it makes a great Holiday dinner side or even a main! The earthy flavours are a perfect compliment to the rest of your vegan holiday feast.
Enjoy this with a fresh slice of my 3-Ingredient Vegan Bread!
This recipe serves 4-6 depending on whether you're using it as an appetizer or a main. In a large soup pot, heat 2 tbsp coconut oil and sauté 1 large white onion and 4 cloves minced garlic, until fragrant. Then add 2 tsp coriander, 1 tsp chili powder, 2 tbsp sage, 1 stalk celery, 2  carrots and 1 gold potato. Sweat for 5 mins.
Add 4 cups vegetable broth, 6 cups pumpkin, 1 tbsp lemon juice, 2 tsp salt and 1 tsp black pepper and stir to combine. Then, bring it all to a boil, and reduce heat and simmer for 35 mins. After 35 mins carefully transfer the soup into a high-speed blender in batches and puree until completely smooth. Taste and season to your preference before serving. If you're a spice freak like us, drizzle some spicy oil along the top before serving, and sprinkle with some chili flakes.
To make pumpkin purée: Preheat oven to 400°F (200°C). Cut a large pumpkin in half and place cut side down on a baking sheet lined with parchment paper. Roast for about 45 minutes, until skin is dark and flesh is soft. Remove from the oven, let cool for 15 minutes and scoop flesh from skin with a spoon. Transfer to a food processor and purée until smooth

Pumpkin Sage Soup | Vegan Pumpkin Soup Recipe
This pumpkins sage soup is the easiest vegan soup you'll ever make. Since I'm lazy AF in the winter, I make this a ton! This vegan pumpkin soup is packed with pumpkin, potatoes, carrots and sage. Make it spicy or keep it mild. I like to hack dinner and spend one afternoon making soup that I can freeze. For all you fellow bears out there, this recipe is a great repeat dinner idea.
Ingredients
2 tbsp coconut oil 30 mL
1 large white onion, sliced 1
4 garlic cloves, minced 4
2 tsp coriander seeds 10 mL
1 tsp chili powder 5 mL
2 tbsp dried sage 30 mL
1 celery stalk, chopped
2 carrots chopped 2
1 yellow-flesh potato, peeled and diced
4 cups water 1 L
6 cups pumpkin purée (fresh or canned) 1.5 L
1 tbsp freshly squeezed lemon juice 15 mL
Sea salt and freshly ground black pepper
Fresh sage leaves (optional)
Instructions
In a large stock pot, heat coconut oil over medium-
high heat.
Add onion and garlic; sauté for about 3 to 5
minutes, until translucent.
Add coriander, chili powder, sage, celery, carrots and potato; sauté for 5 minutes, until
the potato starts to stick to the pot.
Add bouillon cubes, water, pumpkin, lemon juice, 2 tsp (10 mL) sea salt and 1 tsp (5 mL) pepper; stir to combine.
Bring to a boil; immediately reduce heat to medium-low and simmer for 40 minutes, stirring occasionally, until thickened slightly.
In three batches, carefully transfer soup to blender.
Remove the plug in the lid and blend on High, until completely smooth. Transfer back to the stock pot, warm over medium heat and season to taste with sea salt and pepper.
Garnish with fresh or toasted sage leaves, if desired.
Notes
To make pumpkin purée: Preheat oven to 400°F (200°C). Cut a large pumpkin in half and place cut side down on a baking sheet lined with parchment paper. Roast for about 45 minutes, until skin is dark and flesh is soft. Remove from the oven, let cool for 15 minutes and scoop flesh from skin with a spoon. Transfer to a food processor and purée until smooth