18+ Amazing Vegan Easter Recipes
Easter is just around the corner and we all know the best part about Easter is… vegan Easter recipes! Here is a list of vegan Easter recipe ideas to enjoy during the holidays! Whoever you're with, they'll be thrilled if you make one or more vegan, dairy-free, egg-free Easter treats!
Here is a list of all my possible vegan Easter desserts, mains, appetizers, and drinks to enjoy! Leave a comment letting me know of other ideas you want me to make a vegan recipe for Easter!
VEGAN EASTER RECIPES
Enjoy this easy vegan creme eggs recipe using 5 ingredients in 35 mins! It's gluten-free, dairy-free, and egg-free which makes it perfect to share with those who might have allergies! These taste just like the Cadbury Creme Egg you remember, but plant-based!. Get the recipe here!
You can't have a vegan easter without a vegan eggs recipe! This recipe for vegan scrambled eggs makes 4 servings and uses 8 simple ingredients. My tofu scrambled eggs recipe is actually one of my most popular vegan recipes! Get the recipe here!
This vegan Carrot Cake recipe is so delicious that even the Easter Bunny himself would have a hard time resisting. This combination of healthy cake ingredients and decadent cream cheese frosting makes for an unforgettable carrot cake that is far more than just an Easter treat. Get the recipe here!
For a vegan Easter dessert, you could make my vegan ice cream! It's a vegan cookie dough ice cream that uses coconut cream/milk! You can always add any toppings of choice! Get the recipe here!
This vegan "egg" salad is super easy and takes only 30 mins to make into vegan egg salad sandwiches. I tested it on all my friends and they couldn't believe it wasn't a real egg salad!  Get the recipe here!
This vegan chicken pot pie is a budget-friendly, meat and dairy-free take on the classic dish. It is full of vegetables like carrots, potatoes, and peas, as well as a rich homemade vegan white stew and a flaky puff pastry. This vegan pot pie recipe is perfect for an easy easter lunch or dinner. Get the recipe here!
If you're looking for vegan fish recipes for Easter Friday, highly recommend making this vegan fish & chips recipe! For this recipe, I use banana blossoms and rice paper to really make the vegan fish naturally flakey, tasty and the texture so similar to fried fish. Get the recipe here!
Nothing says Vegan Easter Brunch than vegan smoked salmon on a toasted bagel with vegan cream cheese! This carrot lox or vegan "smoked salmon" is a very popular recipe that people make around Easter/Spring! Get the recipe here!
I discovered how to make an easy vegan turkey roast that's quick & tasty! I wanted to make it easy for you to make a vegan roast for the holidays, so I'm going to show you how to take a $5 store-bought vegan roast (like tofurkey) and take it to the next level by roasting it with veggies and seasoning! Get the recipe here!
I feel like mashed potatoes were always at the Easter table growing up and wanted to share the best vegan mashed potatoes for those looking for a quick & easy side dish at Easter. Get the recipe here!
This delicious vegan stuffing tastes just like traditional Holiday stuffing that you grew up with, but completely vegan. This vegan stuffing is baked in the oven, and is just as moist and fluffy as the turkey version. Get the recipe here!
Talk about another holiday stable: gravy! This 10-mins easy vegan gravy recipe uses simple ingredients & makes the best vegan gravy for Easter. Get the recipe here!
This easy vegan no-knead bread recipe uses 3 simple ingredients with water: flour, yeast, and salt. It's one of the easiest loaves of bread to make with 5 mins to mix the ingredients while you allow it to rise for half a day before baking it in the oven. Get the recipe here!
This vegan tuna salad tastes exactly like traditional tuna salad but plant-based using chickpeas! No kidding! Great for easter brunch or lunch that you can serve in a sandwich, wrap or on it's own.. Get the recipe here!
Why buy Reese's Peanut butter cups that aren't vegan, when you can make your own vegan peanut butter cups in 20 mins. Perfect easter treats for you or your family. Get the recipe here!
These no-bake funfetti energy balls are quick & easy to make for breakfast or snack for the whole weekend! It takes 15 mins to make + 1 hour in the fridge to refrigerate. Perfect for easter vegan treats!  Get the recipe here!
These vegan Ferrero Raffaello coconut candies are the perfect Easter treat. This vegan Raffaello recipe is so easy to make and even more delicious than the original. Get the recipe here!
Nothing says Easter breakfast or brunch than a vegan omelette! After testing so many vegan omelet recipes, I can honestly tell you this is the best recipe for vegan omelets. Get the recipe here!
These Pink Cupcakes are quick to make and use the traditional golden vegan cupcake mix. Make healthy pink food colouring using beets! It's the easiest way to make food colouring at home. Get the recipe here!
This is the best chocolate banana bread recipe ever! Using Biscoff cookies, dark chocolate chips, bananas, flour, and a few simple ingredients, this banana bread will have everyone saying "wow this is good". Get the recipe here!
If you're looking for vegan egg bread for easter, try my popular vegan challah bread recipe! It's pretty similar to a vegan egg bread using aquafaba instead of eggs!  Get the recipe here!
Warm, cheesy, filling, and easy to make, this Vegan Lasagna is the perfect easter meal to share, or to make ahead. It stores well in the fridge and eaten through the week, or make a few trays and freeze them, ready to bake any day. Get the recipe here!
If you're looking for vegan Charcuterie Board inspiration or a "vegan grazing table" for your easter celebrations, this is everything you need to make one. Get the recipe here!
Turning the traditional pecan pie recipe into a vegan-approved dessert is not just 'pie in the sky' talk here. This delightful, down-to-earth pecan pie dessert is easy AND it's heavenly! Get the recipe here!
This Vegan Peanut Butter and Jelly French Toast is a quick and easy vegan breakfast recipe with a fun twist on traditional French Toast, and a drool-worthy contender for a vegan, egg-free Easter Brunch. Get the recipe here!
Chocolate bounty bars are popular chocolate bars to give at Easter so I thought I would share my vegan bounty bars recipe that uses 6-ingredients to make at home! These are super easy to make, can be frozen to last long, and way better than the processed ones in stores! Get the recipe here!
This Vegan Shepherd's Pie recipe is perfect for an Easter meal! It's a meaty, hearty and easy veggie Shepherd's Pie made with a saucy mushroom and ground round stew, filled with corn, peas, and carrots, and topped with fluffy mashed potato. Get the recipe here!
If you're looking for a vegan brussels sprouts recipe that's a unique dinner dish with roasted, garlic brussels sprouts and vegan bacon and sausage, you've found the best recipe. Get the recipe here!
If you're looking to make a decadent Easter cake that's vegan, try this Vegan coconut lime cake (that you can also make into cupcakes)! It's so pretty and really is an Easter Cake that everyone will say "WOW" you made this? Get the recipe here!
If you're looking for a simple vegan breakfast in bed during Easter, you can't go wrong with delicious vegan pancakes topped with berries and coconut whipped cream. Get the recipe here!
If you're looking to make meringues on Easter, check out my recipe for eggless meringues using aquafaba (aka liquid from a can of chickpeas, which is an amazing egg replacer). Get the recipe here!
This vegan Dairy Queen Strawberry Cheesecake Blizzard copycat recipe is easy to make, and best of all, seriously delicious. Making it perfect for an Easter treat! 3 ingredients and 5 minute prep time to veganize a piece of your childhood, what more could you ask for? Get the recipe here!

Vegan Easter Recipes
Finding vegan Easter recipes can be challenging... so I wanted to make it easy for you to find vegan recipes for Easter. Whether you want vegan recipes for appetizers, mains or desserts, finding the best vegan Easter recipes can be a challenge for vegans... especially when celebrating holidays around non-vegans! I wanted to make it easier for you by sharing my vegan recipes that would be great for your easter celebrations!
Instructions
Plan what vegan Easter recipes you want to make.
Gather all your ingredients.
Choose recipes you can make ahead of time
Enjoy your Easter with delicious vegan food!
Wishing a happy and healthy Easter to all my Edgy Veg readers!
What traditional dishes are you whipping up in the kitchen this week?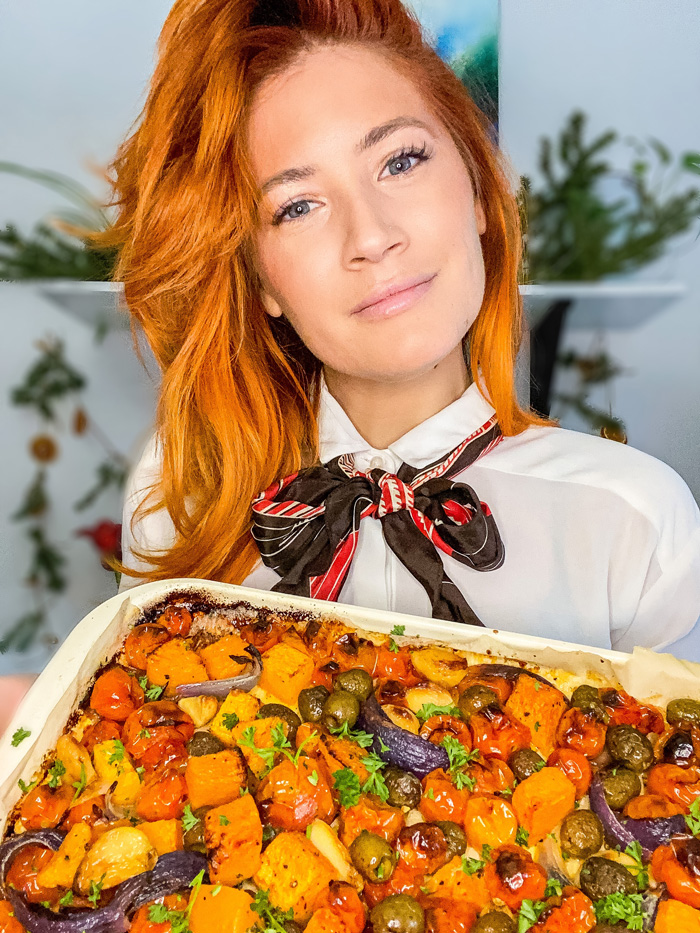 Hey I'm Candice aka The Edgy Veg – I veganize popular food recipes for vegans, plant-based diets, eco-conscious eaters & people who are trying to eat more plants over… y'know animals or their by-products. I hope you enjoy this tasty vegan recipe!
---
Looking For More Vegan Recipes?
Make a recipe? Let me know what you think by leaving a ★★★★★ star rating & comment below. It truly helps me & I really appreciate any support! Feel free to share your food photos on social and tag me @edgyveg so I don't miss it!
Share My Recipe on Pinterest!