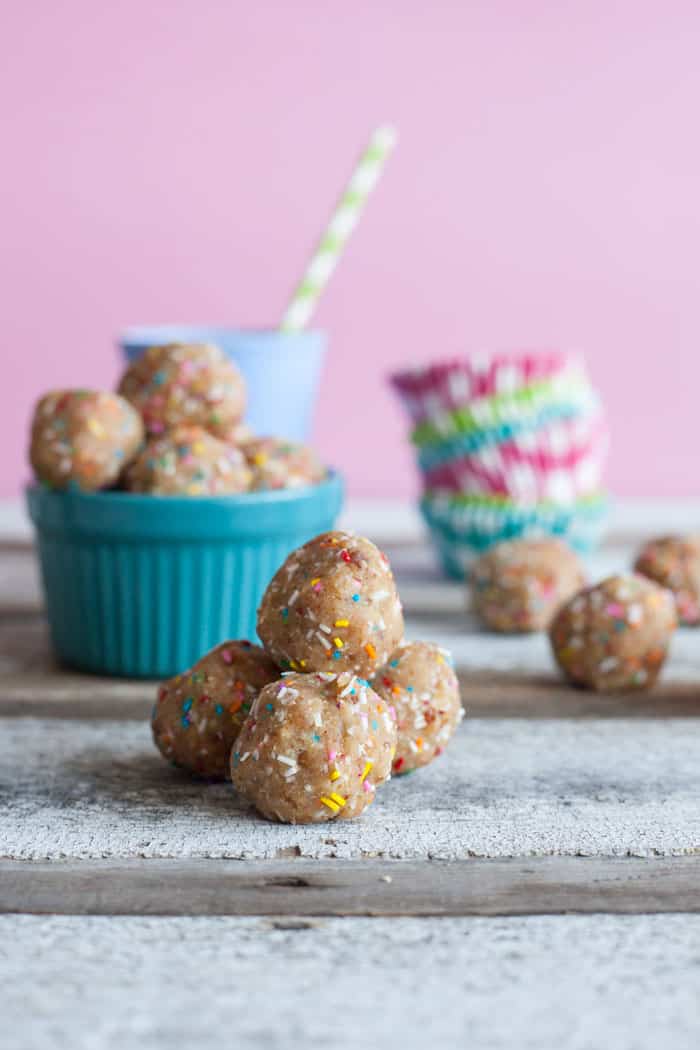 No Bake Energy Balls | Birthday Cake Protein Bites | Vegan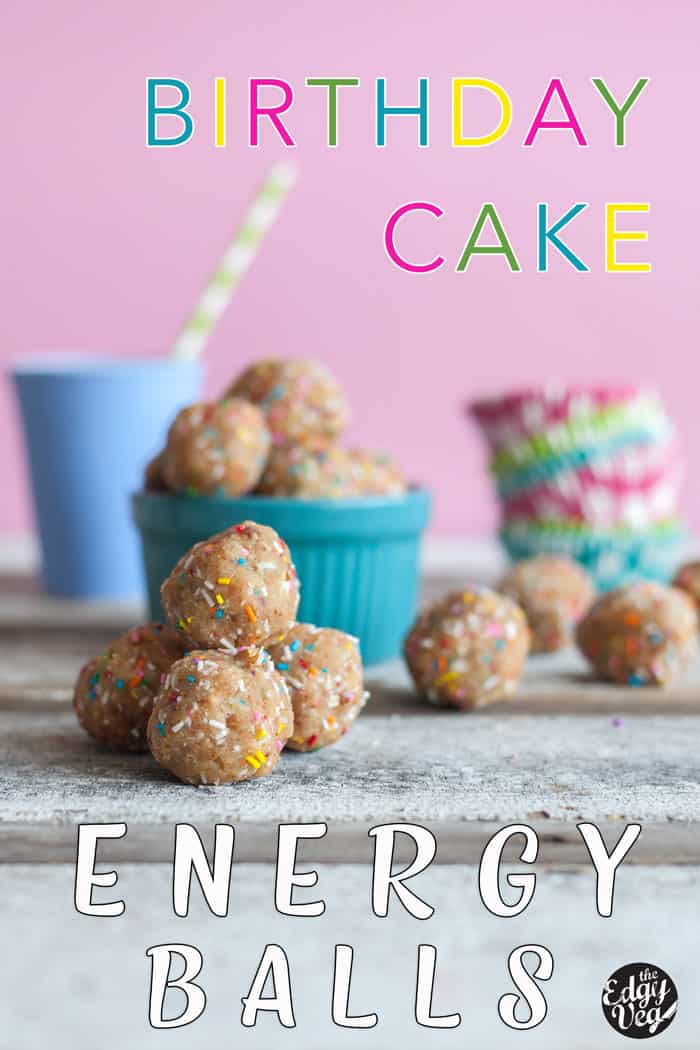 It's time update your snack game kids! I know, I know it's my THIRD blog post about Energy Balls this week. What can I say? I like them balls! These are ones I created for all you parents out there. I know it's tough to get your kiddos to east healthy (ier, ish) snacks, so these ones look fun and colourful for your picky eaters.
The base of any good No-Bake Energy Ball is oatmeal, nut butter, and dates and/or agave. You can mix in literally anything else you want suit your tastebuds' style, or whatever you've got laying around. I always have SOMETHING on hand to make these guys. Which makes a quick make ahead breakfast easy-peasy. Plus they're kid approved. I know, I know, you're like "…but Candice YOU don't have kids!" and you would be right- but I know kids and as with all my recipes, I had them taste tested- this time by KIDS! These are also fun for adults, and can be made in advanced. They store well, freeze well and travel well. Any questions? Try my Chocolate Blueberry flavoured ones or these Chocolate Chip Walnut ones as well!
No Bake Energy Balls | VEGAN | Birthday Cake
These no bake energy balls are a quick and easy make ahead breakfast and snack for the whole week ahead! Perfect for school snacks and breakfast on the go! Plus these energy bites are vegan!
Instructions
In a food processor add nuts and process until it turns into a butter.
Add oats, coconut flour, dates, agave, almond extract, vanilla and salt and process until combined. The mixture should be sticky.
Add coconut and sprinkles and pulse to mix.
Transfer to a bowl and refrigerate for 30 mins.
Using an ice cream scoop or spoon, scoop mixture into your hand and roll into a ball and place on a lined baking sheet or plate. Repeat until all the batter has been rolled.
Cover and refrigerate balls for another 30 mins and then place in a sealed container for up to one week or in the freezer for up to 1 month.
Nutrition Information
Serving size:
2 balls
Calories:
361
Fat:
18.3g
Carbohydrates:
41g
Sugar:
34g
Fiber:
8.1g
Protein:
5.3g