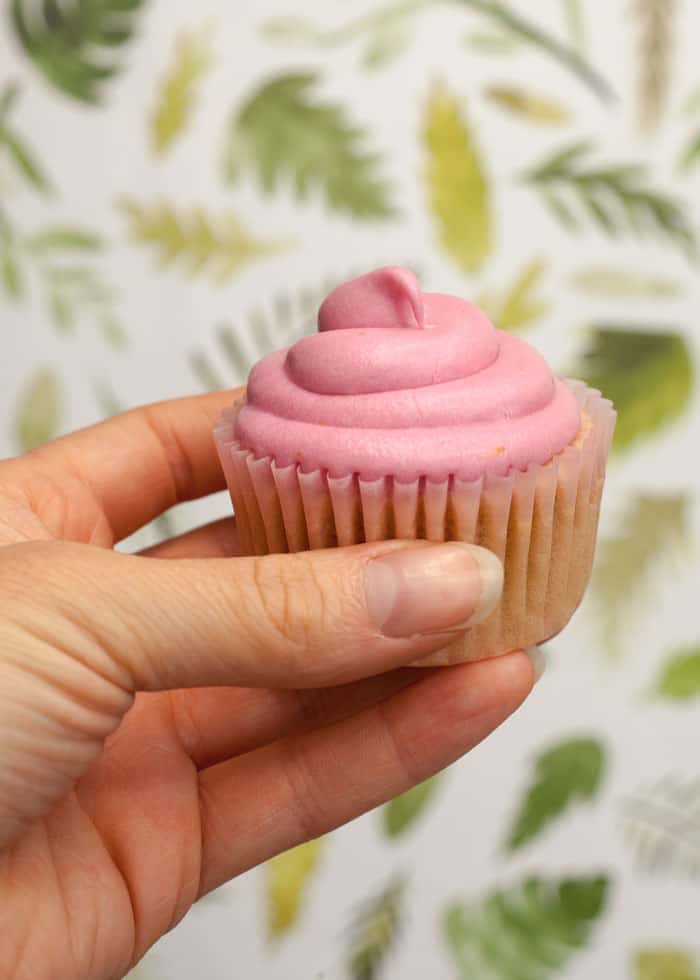 Pink Vanilla Cupcakes | Vegan Cupcakes Recipe

These vegan cupcakes are delicious and easy to make! Perfect for Valentine's Day, baby showers, or whenever you pink cupcakes are required! These are traditional golden vanilla cupcakes dyed pink with homemade beet food colouring. Oh and they're vegan cupcakes, obviously. It's really hard to find vegan food dye, and because I would rather not send you on a wild goose chase, I decided to dye these cupcakes with an ingredient we can all get our hands on; beets.
So why don't I used red food dye? And why isn't red food dye vegan? Carmine, also known as; Cochineal, Crimson Lake, Carminic Acid, and Natural Red #4, a is a red dye derived from tiny red scale insects. Yuck, I don' know about you, but I'd rather not have my cupcakes with a side of bug juice. There are so many natural and yummy ways to dye your food naturally, let me know if you'd like a full post on how I dye my food blue, green and even yellow, by leaving me a comment below.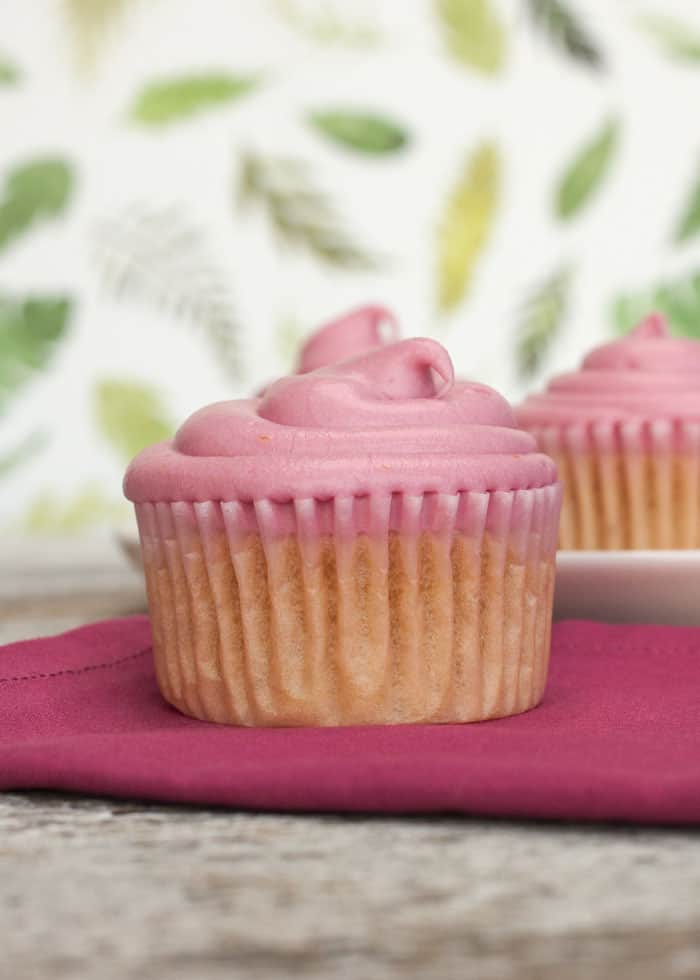 Anyway, back to L-O-V-E…
Valentine's Day is just a few days away. Elaborate monetary gestures and flowers are great, but you know what really makes a special "I love you THIS much gift"? Homemade treats you baked with your own hands! At least that's how it is around here. Personally, I HATE baking and decorating. I simply don't have the patience or finesse for that type of thing. So, if you receive a plate or basket of homemade baked, and decorated sweet treats, you know that I think you're F@*$ing special!
James and I have been apart for about 2 weeks, so I am really looking forward to this holiday this year. It's been a busy year of book writing, learning how to be good dog parents, and wedding planning, that we haven't had a lot of time for ourselves. We're going to be making a serious effort this year, because love is an emotion that requires nurturing and constant attention. I am so excited to go out on Wednesday night and celebrate love with my husband, and not talk about the book, or our business together for the first time, in a long time. I will also be sharing stories and photos from our wedding and other adventures over on Instagram, so make sure you follow us if you want to learn more about our story.
Okay, let's get baking… To make the food colouring we are going to peel, and chop 1 small beet, and add it to a blender or food processor with 1 tbsp water. Blend it until you have a thick red pulp. If you're having trouble blending, add more water, 1 tbsp at a time. Strain the beet pulp, using a fine mesh sieve or cheesecloth, over a glass bowl. Make sure you're using glass because it will stain anything else. Discard the solids or save for a smoothie or juice, and use the juice for dying.

To make the cupcakes,
start by preheating your oven to 350F and line a cupcake pan with cupcake liners. In a small bowl, whisk together 1 cup soy milk and 1 ½ tsp apple cider vinegar to make vegan homemade buttermilk. In a large mixing bowl, whisk together 1 ¼ cup flour, ¾ tsp baking powder, ½ tsp baking soda, and ¼ tsp salt. In a separate bowl or the bowl of a stand mixer, beat together the ½ cup sugar, ¼ cup vegan butter and 2 tbsp soft coconut oil. Beat in 2 tsp vanilla extract and the vegan soy buttermilk we made until well combined. Slowly beat the flour mixture into the wet mixture until well combined. Now, using an eye dropper or something else that allows you precise control, beat in drops of beet juice one drop at a time, until you reach your desired shade of pink. Scoop the batter into prepared cupcake liners, filling the cups ⅔ of the way full and bake for 20 mins, or until a toothpick comes out clean when inserted into the center. Remove the cupcakes from the oven and the cupcake pan, and allow them cool on a wire rack completely before icing.
To make the vegan cream cheese frosting,
beat 1 cup softened cream cheese and ¾ cup vegan butter in a medium mixing bowl or the bowl of your stand mixer, until smooth. Add the 1 ½ tsp vanilla extract, and 4 cups powdered sugar, 1 cup at a time, until smooth. Add the zest of lemon and drops of beet juice,and beat on high until light and fluffy. Add additional powdered sugar as needed to make a light and fluffy frosting. Pipe or dollop onto cooled cupcakes and decorate as desired.  
If you're interested in learning more about the harmful effects of food colorings and additive's check out this excerpt from yourdailyvegan.com…
The Seven Deadly Primary Colors
The Seven Deadly Primary Colors are the most common colors used in the US. This by no means is an exhaustive list, there are many more that I don't cover here. But this is a good place to start to demonstrate how awful these synthetic colors are.
#1.  FD&C Blue No. 1, Brilliant Blue FCF.
Tested on animals such as mice, rats, and dogs.  Beagle dogs were fed Brilliant Blue FCF in the diet for periods up to 1 year to determine the maximum amount of chemical one could ingest before it caused death.
Previously banned in Austria, Belgium, Denmark, France, Germany, Greece, Italy, Norway, Spain, Sweden, and Switzerland (among others) but is "certified safe" as a food additive in the EU and the US.  It causes allergic reactions in humans, particularly in individuals with pre-existing conditions.
#2.  FD&C Blue No. 2 – Indigotine
Tested on animals such as mice, rats, and dogs.  "Accidental ingestion of the material may be harmful; animal experiments indicate that ingestion of less than 150 gram may be fatal or may produce serious damage to the health of the individual."
Indigotine is a synthetic replacement for plant-derived indigo, often used as a textile dye.  It is also used in capsules as it is accepted for food use- even though it is harmful to eyes, skin, and respiratory tract.
#3.  FD&C Green No. 3 – Fast Green FCF
Tested on animals such as mice, rats, and dogs.  Four beagles/group, equally divided by sex, were fed Fast Green FCF at 0, 1.0, or 2.0% of the diet for 2 years to determine it's effects at high-levels of ingestion.  (here's a hint, it's many)
Fast Green is an eye, skin, and lung irritant.  It has its very own MSDS.  A little scary, right?
#4.  FD&C Red No. 40 – Allura Red AC
Tested on animals such as mice and rats.  In one test, rats were impregnated and fed doses of Allura Red AC.  On Day 20 (prior to birth) they were examined for gross abnormalities followed by euthanasia.  Caesarean sections were then performed to study the fetuses skeletal or soft tissues.
Red.  One of the most prolific artificial colors in candy.  Allura Red has been determined to cause behavioural & developmental problems in children.  If that wasn't bad enough, it is a carcinogenic & mutagenic azo dye.  That's right.  It causes cancer growth in cells.
#5.  FD&C Red No. 3 – Erythrosine
Tested on animals such as mice and rats.  "Chronic studies revealed an increased incidence of thyroid follicular cell hyperplasia and adenomas in male rats that received 4% FD&C Red No.3 in the diet (2464 mg/kg/day) during life-time (30 months) following in utero exposure."  In other words, it gave the rats tumors and initial stages of cancer.
This artificial red is what is known as a toxic endocrine disruptor.  This means it disrupts normal hormone function.  Another malevolent azo dye allowed in food.
#6.  FD&C Yellow No. 5 – Tartrazine
Tested on animals such as mice and rats.  From one study, "At the end of week 13, all rats were deprived of food, but not water, overnight and then blood samples were collected via the abdominal aorta for hematology and serum biochemistry.  Animals were then killed by exsanguination from the abdominal aorta."
Yellow No. 5 is an unqualified human health hazard.  It's hard enough to fathom why any artificial color is permitted in regulated food, let alone this toxic mess.
#7.  FD&C Yellow No. 6 – Sunset Yellow FCF
Tested on animals such as mice, rats, and rabbits.  Sunset Yellow in petrolatum or in aqueous solutions studied and found not irritant to rabbit skin and was minimally irritant to the rabbit eyes.
Yet another azo dye.  Consumer advocates have petitioned the government to ban this and other artificial colors, citing studies that have concluded that these toxins increase hyperactivity in children.
The seven listed here aren't the only ones out there.  Citrus Red 2 is approved for one use only in food- to color the peel of oranges.  That's a pretty big vegan conundrum, if you ask me, considering that it too, is tested on animals.