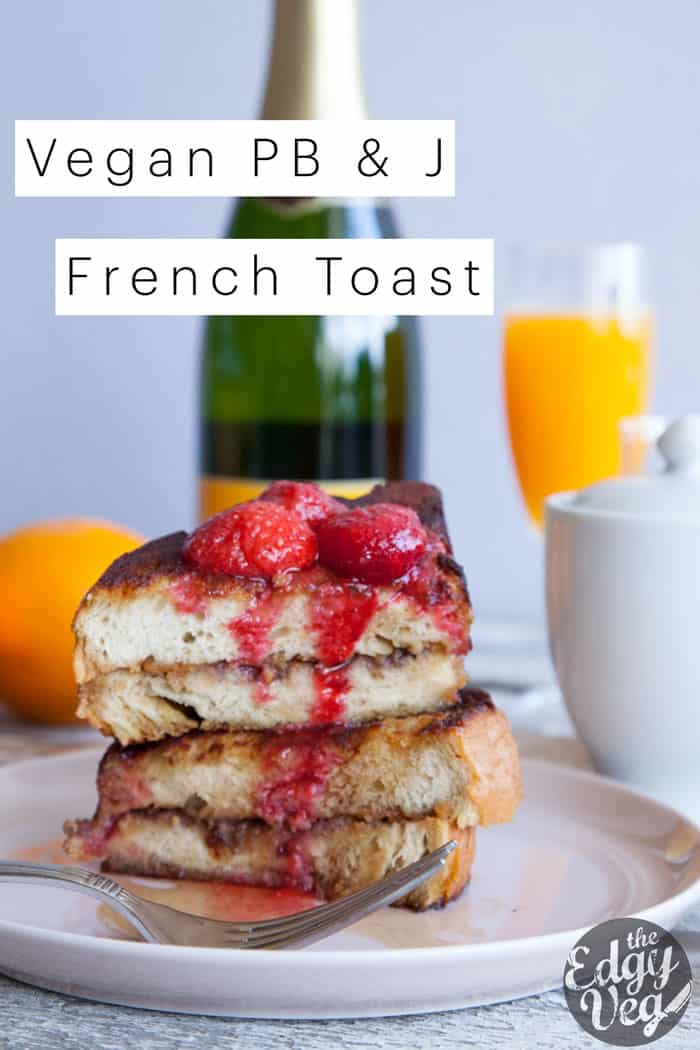 Vegan Breakfast: Vegan Peanut Butter and Jelly French Toast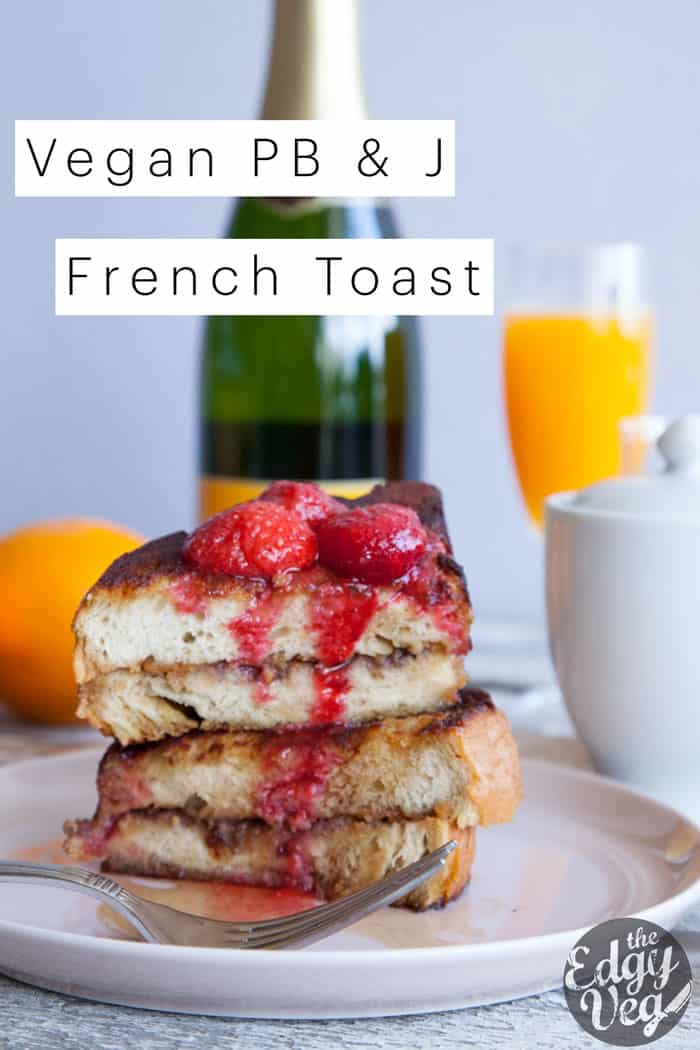 I am so happy to bring you a quick and easy recipe for a true Breakfast of Champions, and a drool-worthy contender for Sunday Brunch. There is no denying that French Toast is delicious, and for years I had tried numerous attempts at this decadent breakfast dish—but was never met with a worthy contender.
French Toast actually goes by many names. It's also called German Toast, Gypsy Toast, Poor Knights, and Spanish Toast. The earliest known reference to French Toast is in collection of French recipes called the Apicus that dates back to the 4th or 5th century. Since that time people have adopted this recipe in countries all over the entire world and given it their own special flair, creating numerous variations on what many of us have come to know French Toast to be.
When I started testing this recipe, It was important to me to capture the true essence that is French toast, but bring a new life to the dish as well. So, I decided not only to make it Vegan friendly, but also at the same time make it crave-worthy with everyone's favourite breakfast condiment–Peanut Butter.
To replicate the egg-like creamy substance you would typically dip your toast in prior to frying, I decided to use silken tofu. You can use any tofu really, but I recommend using the softest tofu you can find, specifically saying that Silken Tofu is the best Tofu hands down. It blends easily and nicely, and has a somewhat creamy consistency. I wanted the egg-like mixture to have a but of sweetness, to give this dish a rich and robust flavor, so I sweetened it using vanilla and my favorite sugar—coconut sugar. Coocnut is a fabulous natural sugar with a low Gycemic index rating and has a deep brown sugar, caramel-like flavor. For extra egg-like flavor we, this recipe also uses… wait for it… Nutritional Yeast! What a surprise!!! (not really at all…)
Nutritional yeast is a deactivated yeast, often a strain of Saccharomyces cerevisiae sold in the form of flakes or as a yellow powder and can be found in the bulk aisle of most health food stores, and vegans put it in EVERYTHING; just in case you aren't familiar with it. Due it's creamy, cheesy flavor it makes a perfect substitute for recipes that call for those ingredients when they aren't part of your dietary plan. Hence, why vegans put this shit in everything…
I recommend using a food processor or a high speed spender to make this recipe; but as long as you can get that batter smooth and creamy—I don't care what you use. 😉
Moving on to the bread. I usually don't eat white bread, but when it comes to French toast (or burgers) I just can't handle that whole grain stuff. Everything in moderation, right? This is why I like to choose a rich hearty loaf of sourdough bread. You can use any type of bread you like with your French Toast just keep in mind that spongier bread is going to give you a better overall French Toast experience.
The special thing about this recipe for French Toast is that it is not only Vegan approved, but decadent and tasty as well. The substitutions used to make it Vegan do not detract from the flavor in any way, if anything they actually add to it. Being a brunch lover, I am pretty serious about my French Toast; if it isn't just as rich and delicious as the original I won't have any part in it. You could call me a brunch snob—I'm cool with that.
When you've followed the recipe below carefully, and you're mere seconds away from drooling, just plate it, cut it in half, sprinkle your favorite spice on top and your Decadent Vegan Brunch is complete.
Vegan Breakfast: Vegan Peanut Butter and Jelly French Toast
This quick and easy vegan breakfast recipe is fun twist on traditional French Toast, and a drool-worthy contender for a vegan, egg-free Sunday Brunch.
Instructions
Melt the butter i a small pot over medium heat (or in a microwave).
Mix together the melted butter, almond milk, coconut sugar, silken tofu, nutritional yeast, and vanilla in a food processor or high speed blender until smooth and creamy. Add more nutritional yeast to taste, and transfer to a large bowl.
Take two pieces of bread and spread jam on one side and peanut butter on the other to create a PB & J sandwich.
Heat a large frying pan (cast iron or non-stick work best) over med-high heat and melt a tbsp or two of butter.
Dip your PB & J sandwich in the tofu mixture and coat generously on both sides.
Place the sandwich onto the now heated butter coasted pan and cook for about 3-4 minutes on both sides, or until golden brown. Tip: I also like to cook the flat part of the sandwich by standing it upright for about 2 minutes, or until crispy.
Remove from the pan and serve with powdered sugar, maple syrup, or berry coulis, and a side of veggie sausage and a Mimosa!
Notes
Try swapping out the tofu for pumpkin puree for a season fall treat!