Vegan Breakfast: Vegan Peanut Butter and Jelly French Toast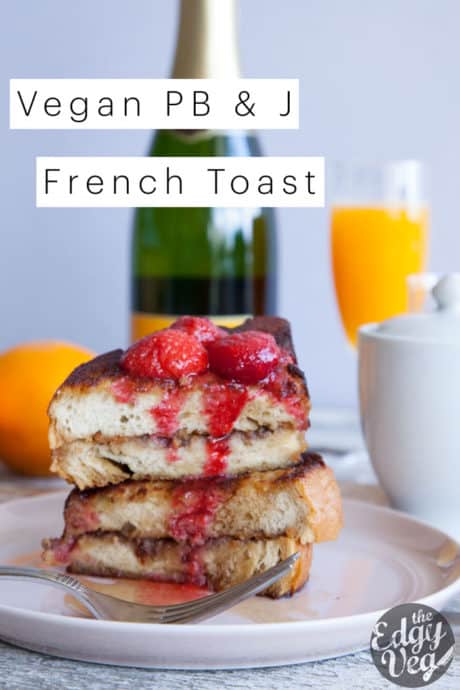 Melt the butter i a small pot over medium heat (or in a microwave).
Mix together the melted butter, almond milk, coconut sugar, silken tofu, nutritional yeast, and vanilla in a food processor or high speed blender until smooth and creamy. Add more nutritional yeast to taste, and transfer to a large bowl.
Take two pieces of bread and spread jam on one side and peanut butter on the other to create a PB & J sandwich.
Heat a large frying pan (cast iron or non-stick work best) over med-high heat and melt a tbsp or two of butter.
Dip your PB & J sandwich in the tofu mixture and coat generously on both sides.
Place the sandwich onto the now heated butter coasted pan and cook for about 3-4 minutes on both sides, or until golden brown. Tip: I also like to cook the flat part of the sandwich by standing it upright for about 2 minutes, or until crispy.
Remove from the pan and serve with powdered sugar, maple syrup, or berry coulis, and a side of veggie sausage and a Mimosa!
Try swapping out the tofu for pumpkin puree for a season fall treat!
Recipe by
The Edgy Veg
at https://www.theedgyveg.com/2016/06/06/vegan-breakfast-vegan-peanut-butter-and-jelly-french-toast/