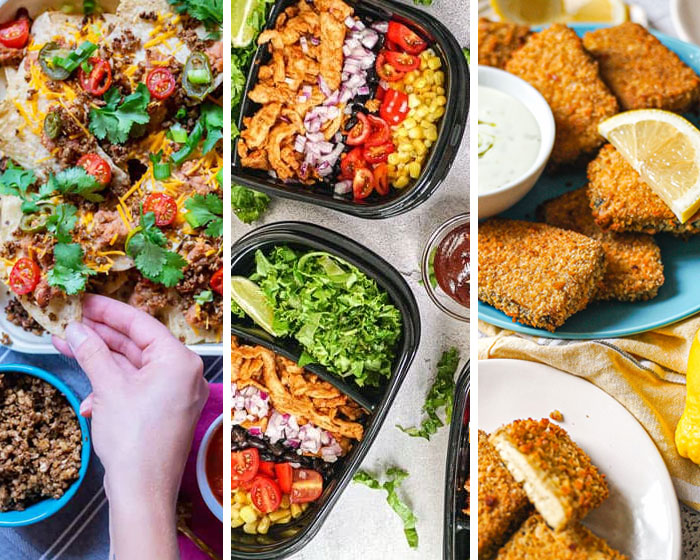 15+ High Protein Vegan Recipes
Looking for high protein vegan recipes? I've included 15+ vegan high protein recipe ideas; everything from high protein breakfast ideas and smoothies to high protein meals for lunch and dinner!  I listed my top protein-rich ideas that taste and look delicious while being packed with high protein and other nutrients!
High Protein Vegan Recipes
This list of high-protein vegan recipe ideas is for anyone looking for plant-based snacks, smoothies and meals for their family and friends; whether you're vegan or not-so-vegan. From here, you can change up the recipes however you'd like.
These light and fluffy vegan high protein pancakes are packed with protein and the topping choices are endless. You can eat them with peanut butter or jam, or syrup and butter, and I like to add a couple of chocolate chips and chopped walnuts! Get the recipe here!
If you love new vegan salad ideas AND meal prep, you'll love this vegan soy curl chicken salad recipe! Perfect back-to-school or back-to-work meal prep lunch! Packed with veggies, soy curls and beans, this recipe will keep you full during the day. Get the recipe here!
This recipe will show you how to level up your morning oatmeal with my chocolate protein-baked oats recipe. These high-protein oats are chocolatey and flavourful healthy baked oatmeal! Get the recipe here!
By doubling up on the proteins in this recipe, you are using tofu and seitan as a protein combination to give you an amazing texture and nutrition in this recipe. This vegan chicken will absolutely keep you full and satisfied. Get the recipe here!
This simple protein veggie smoothie tastes like a milkshake but is full of nutritious green veggies and protein! Quickly blend it & sip it for a simple grab-and-go breakfast to keep you fueled all morning! If you don't have or enjoy protein power, simply leave it out or swap it for a more whole-food option like hemp seeds, chia seeds, and flax! Get the recipe here!
Here is an easy vegan meal prep idea! It's a high-protein vegan taco salad recipe in under 15 mins! With this easy vegan meal prep recipe, you can make a week's worth of lunches using 10 ingredients! These healthy and filling meal prep taco salads are packed with protein with so many topping choices based on your dietary preferences. Get the recipe here!
Made in 5 mins or less, with no cook time, this high-protein vegan beef recipe is perfect to use ingredients you may already have in your pantry. This vegan ground beef alternative is delicious, quick to make and SO good for you! Get the recipe here!
This is perfect for a light lunch or if you prefer snacking throughout the day but you can also add heavier food as you please. You can switch it up and prepare 5 days of lunches with different treats in each one. Get the recipe here!
If you're looking for a super easy, healthy breakfast for the family or for a great breakfast meal-prep for the week, this vegan menemen is for you! This is a Turkish-Style tofu scramble with tomato that is full of flavour! You also serve it with potatoes, toast, or on its own. Get the recipe here!
This is a fun way to switch up the way you use tofu and enjoy something most of us loved as kids. All you have to do is marinade the tofu then batter and cook them. Get the recipe here!
I love the concept of monkey bread, a load of pull-apart gooey dessert bread. I'm going to show you how to make monkey bread with added protein! Breakfast is one of the many ways that I love to add protein powder into my recipes. Get the recipe here!
Soy curls are one of my favourite vegan meat replacements. They have a perfect texture, they are shelf-stable and easy to prepare. Just soak the dried soy curls, marinade in seasoning, strain and brown in a pan. It's that easy to have vegan beef strips ready for a dish. Get the recipe here!
This vegan egg recipe uses mung beans! Some people are allergic to soy so this vegan egg recipe is perfect for those with allergies. I also find that mung beans are better for shelf stability and last longer. If you need a new way to do vegan scramble, this one is for you. Get the recipe here!
This thick meaty and saucy sandwich is inspired by my favourite late-night food that hits the spot no matter where you are in the world, from Berlin to Toronto to Tel Aviv, a shaved meat and veggie sandwich covered in sauce never fails to bring a smile to my face. Get the recipe here!
In under 10 minutes, you can make this simple to-go meal that is perfect to keep you going throughout the day. Whether you're in need of a packed lunch or addition to salad or sandwich, this is an easy protein bump to your meal. Get the recipe here!
Looking for a vegan roast high in protein? Check out my recipe to learn how to make an easy vegan turkey roast that's quick & tasty! Take a $5 store-bought vegan roast (like tofurkey that's high in protein) and roast it with veggies and seasoning! Get the recipe here!

15+ High Protein Vegan Recipes
You've got to try these high-protein vegan recipes! I have everything from protein smoothie recipes to vegan meat replacements high in protein! If you're looking to make high-protein vegan foods, you came to the right page with 15+ vegan recipes listed below to try!
Instructions
Plan which high-protein vegan recipes you want to make.
Gather all your ingredients.
Enjoy your delicious vegan protein meals!
---
Hi! I'm Candice aka The Edgy Veg!  I veganize popular food recipes for vegans, plant-based diets, eco-conscious eaters & people who are trying to eat more plants over… y'know animals or by-products of animals. I hope you enjoy this tasty vegan recipe!
---
Looking For More Vegan Recipes?
Made this recipe? Let me know what you think by leaving a ★★★★★ star rating & comment below. It truly helps me & I really appreciate any support! Feel free to share your food photos on social and tag me @edgyveg so I don't miss it!
Share My Recipe on Pinterest!